A RATIONAL VS AN IRRATIONAL LOOK AT WHY I PERSONALIZED THE PRO XT/XTR BUILD PIVOT SWITCHBLADE WITH FUNN AND GRANITE DESIGN PRODUCTS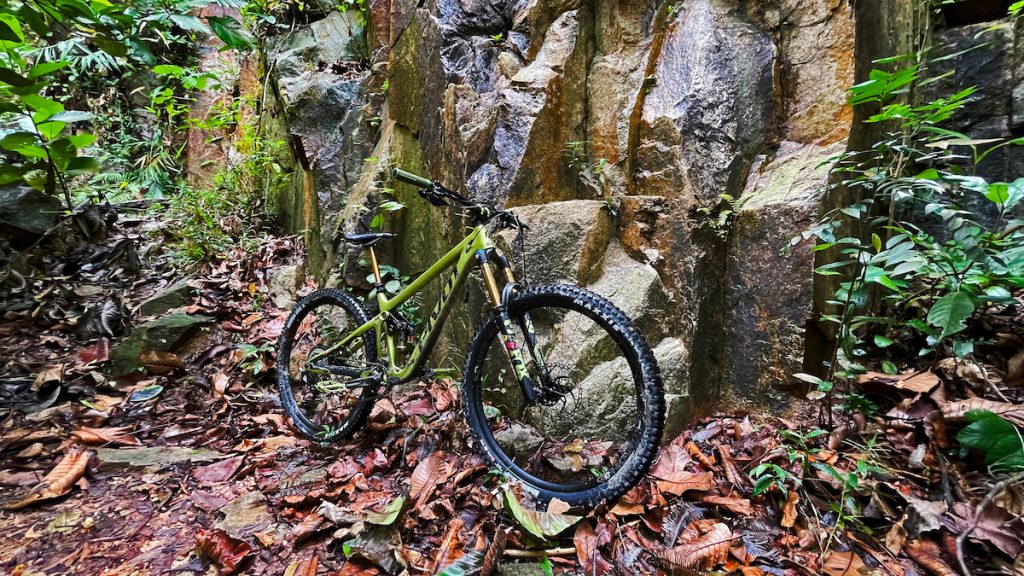 There's something magical about the Pivot Switchblade. Before riders owning other brands' bike start hurling rocks, hear me out first. I will explain why. This is not your typical bike review. (Ed: The Switchblade V3 has gotten it's fair share of serious straight-edged reviews, so this editor will talk about something more light-hearted.) This article is tagged as a Bikezilla's Editor's Note, which means there would be some personal opinions thrown in. Feel free to share your comments. Before that, here's why the Switchblade is "magical" and why would I personalise my build with a full array of Funn and Granite Design products. Here goes!
PIVOT SWITCHBLADE V3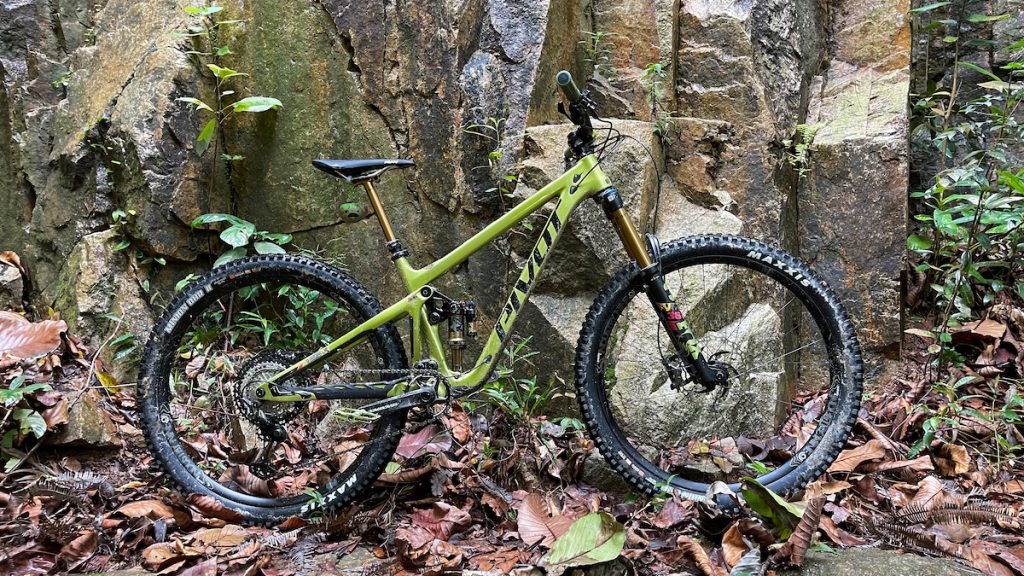 Up onto my 3rd Pivot mountain bike, I have directly and indirectly convinced a handful of riders who had since sworn their loyalty to Pivot Bikes. In one particular example, just a couple months back, I managed to get one skeptical but very ardent mountain biker to try a Pivot Switchblade. He was stoked on first ride. He described – in his own words – that the bike made the trail easier to ride, listed some sections in Bukit Timah MTB Trail that he used to put in conscious effort to clear and how easy it is to clear them now. By the way, his previous bike was a pricier build from a famous brand.
And so I am now the happy owner of a Switchblade V3. (Ed: Thanks Bikezilla)
I was already sold on the Switchblade way back when the V1 was launched. Contrary to some mixed opinions on the V1, I found that bike a lot of fun to ride Singapore's trails with. Be it our own NPark trails or some other "fine" trails. The plus-size setup prompted me to take lines that are more technical just so I can enjoy it's squishy yet efficient bull-dozing capabilities. It was a 135mm rear travel bike, but the plus-sized setup made it a lot of fun. The geometry was long, low and slack enough for its time but it did seem like it could go just a tad further. The bottom bracket seemed to garner quite a bit of complains for being "way too low". I did experience quite a bit of pedal strikes on that bike but had learned to time my pedal strokes to avoid scrapings on rocks over time. The frame shape also didn't age beautifully. Looking at the Switchblade V1 frame, its shape does indeed look dated now. While the memories of the fun rides lingered, the bike itself would be a nostalgic reminder of a period Pivot Cycles had a different design language.
I missed owning a Switchblade V2 due to a shortage of supply in this parts of the world during the Covid bug period. It turned out to be a small blessing in disguise. The V3 was announced sometime in 2021 and I finally got mine in Electric Lime. Pivot Cycles should really name their Switchblade V3 as the Switchblade V2S – if they name their bikes in the same fashion as iphones. In short, the V3 is actually a V2 with an updated Universal Derailleur Hanger (UDH) rear triangle.
WALK THRU ON THE FRAME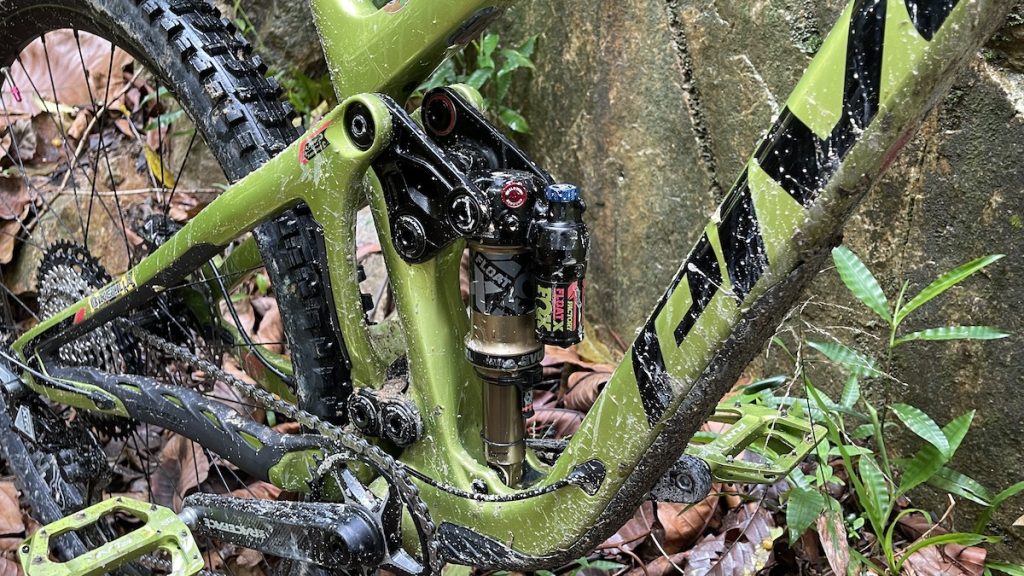 Whatever the name this current iteration is called, we have a beautiful and capable bike here.
The 142mm-travel Switchblade V3 frame has a vertical shock layout which allows for a more compact design (than the V1) yet having better stiffness. Due to this layout, there is less material used on the shock and linkage area making the frame a little lighter than the previous model. Compared with the previous model's horizontal shock placement, this layout produce a more progressive shock rate. Another advantage of this layout is the frame now has a lower standover height. With the introduction of Fox Live, this current design makes it easy to integrate the system onto the bike. For those who prefer to have their water bottles mounted on their bikes, this frame accommodates a large bottle.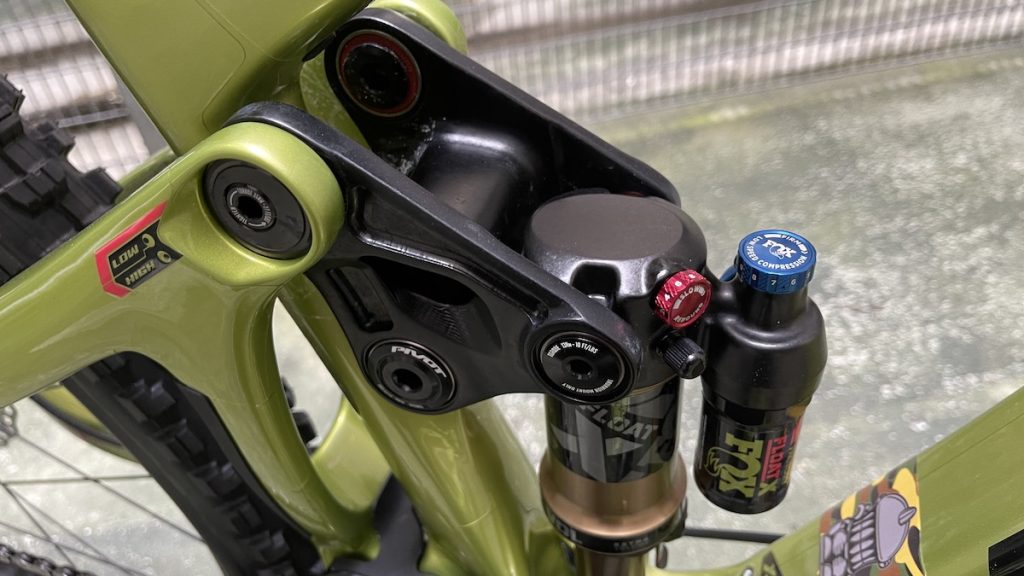 In short, the Switchblade V3 frame has long reach, slack head angle, steep seat tube angle, short seat tube with long insertion depths that accommodates looong dropper posts (Ed: Long dropper post is best product this year!) These ingredients come together in a package that translate into a balanced ride that is efficient and encouraging. If you need numbers to better understand the bike feel, here's the low bottom bracket and high bottom bracket settings' geometries.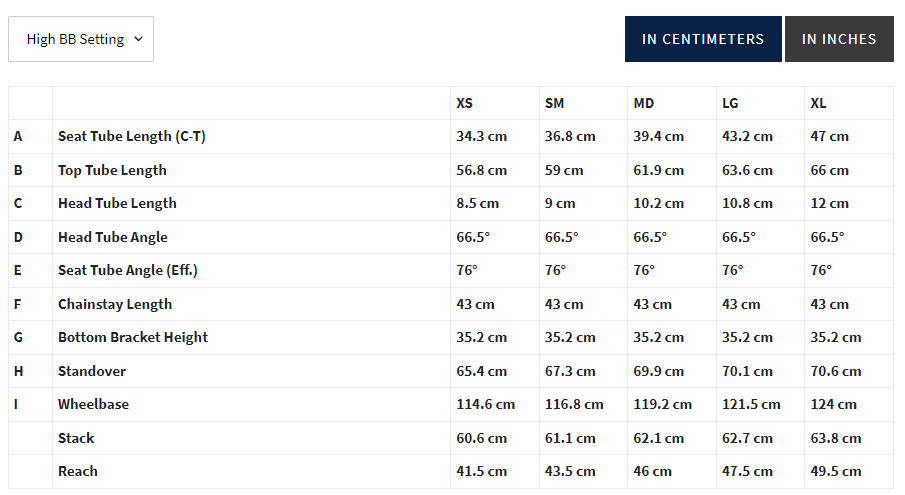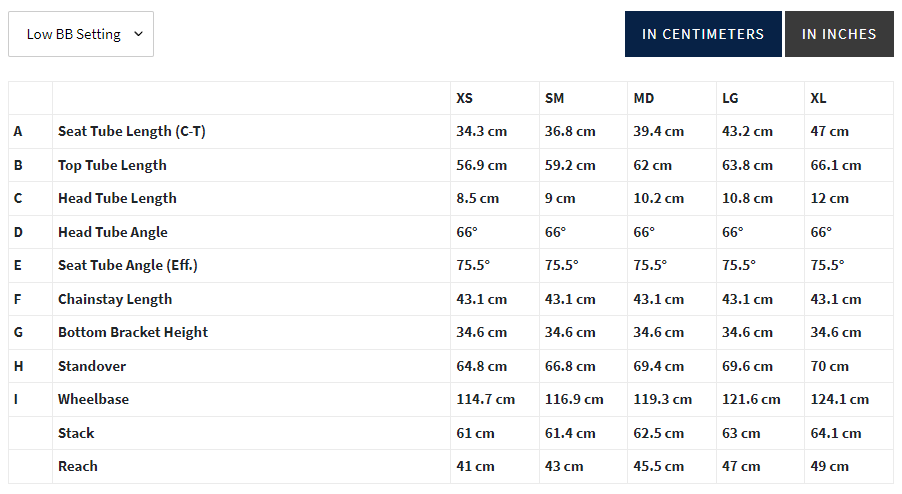 I have heard feedbacks from fellow riders that these geometry are nothing too extraordinary, so on so forth. Of course they aren't extraordinary for today's long-low-slack mountain bike industry! We are not looking for a Grimm Donut here. But, add the DW Linkage to the full bike's equation and the story is complete! Go for a test ride to fully feel what I am describing.
All bikes come set with low bottom bracket setting as default from factory. The BB setting can be adjusted easily from a linkage bolt. And there is no need to remove other parts of the bike before adjusting. As advised by Pivot Cycles, low BB setting is recommended for fast, technical and steep terrain. High BB setting is for those who prefer a little more clearance and slightly quicker handling, rides at trails that have lots of climbs, roots and rocks. The high BB setting will steepen the head angle by 0.5 deg. It is recommended to switch setting to High BB for mullet or plus-size setup.
PRO XT/XTR BUILD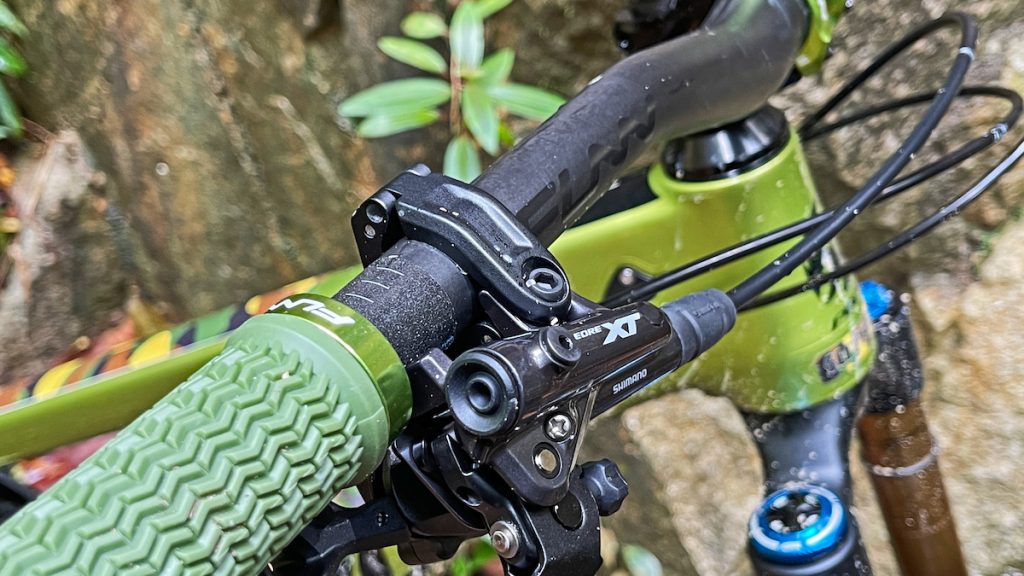 Our Switchblade is a standard Pro XT/XTR build out of the box. The build comes with a Fox Factory Float X rear shock and 160mm Fox Factory 36 29″ GRIP 2 with 44mm offset. The 12-spd drivetrain (except cranks which are Race Face Aeffect R 32T) and brakes are all Shimano XTs with the exception of an XTR rear derailleur. Our batch of Switchblades came with Industry Nine Enduro S alloy rims laced to Industry Nine 1/1 hubs on Maxxis Minions DHF 29″ EXO+ Maxxterra and DHR2 29″ EXO+ Maxxterra. (The newer shipments comes with DT Swiss XM1700 with DT Swiss 350 hubs). The cockpit is actually very comfortable – Full set of Pivot Phoenix items: Team Enduro/Trail Stem 45mm with Team Low Rise Carbon Handlebar 780mm and Factory Lock-On Grips and finally topping off with a WTB Volt Pro and 175mm Fox Factory Transfer.
FIRST RIDE!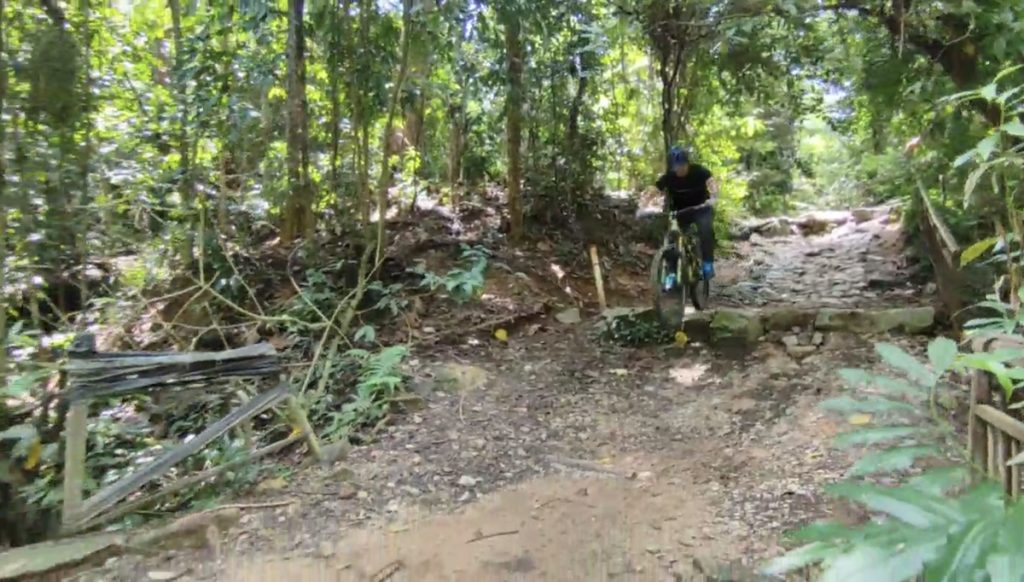 I am a 1.69m tall rider with long arms and not too long legs – yes the kind of proportions you would imagine on a gorilla. As such, I chose a medium size frame. When it come to fitting, my first concern is always the standover. On my very first mounting this bike, I had a happy first impression. The standover of the Switchblade V3 is prominently lower than the V1! The cockpit felt stretched (longer than the V1) but the saddle is very comfortable. After tuning the fork and rear shock to my weight and preference, I went on to have my first full impression of the Switchblade V3.
This V3 is a little heavier than my previous V1 build – due to the aluminum Industry Nine wheelset instead of the Reynolds carbon wheelset. While the bike felt heavier, it was quickly forgotten once pedaling start. The aluminium Industry Nine wheelset engage reasonably well. I am not expecting instant response here as the 1/1s are Industry Nine's budget hubs afterall. The Maxxis Minions did not feel overly draggy during commute to trailhead and was lively at the trails.
The V1 has always given me the impression that the Switchblade was a squishy plus bike that would monster truck its way at the trail. It was fun. The V3 felt quite different altogether. For the start, it has a 29″ wheels setup, weigh a tad heavier, has a different rear shock layout and a long-low-slack geometry that made me felt was a "prayer answered" to the previous V1's geometry shortcoming! The bike felt more spacious and I felt more "seated in" the bike than previously.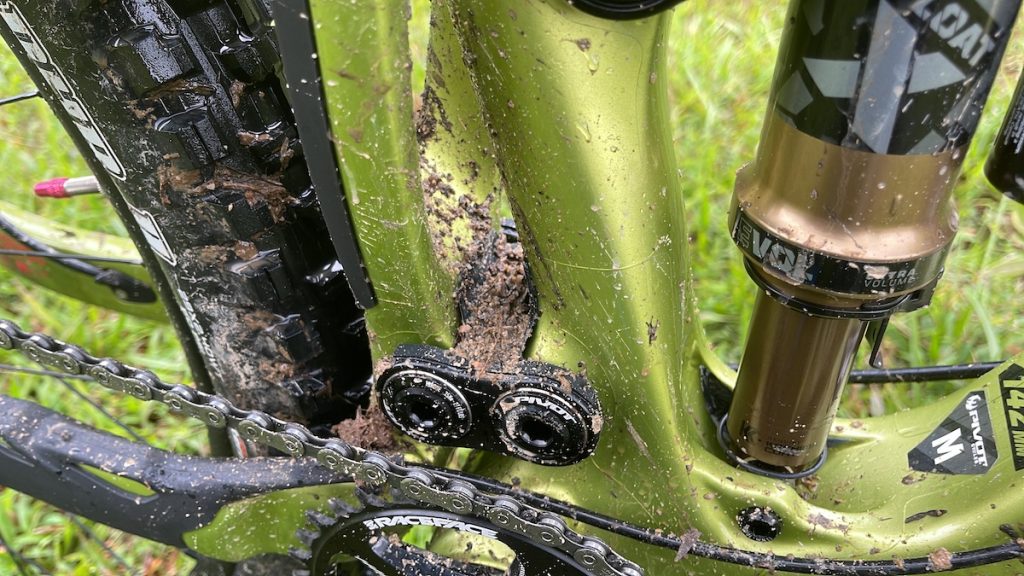 One small concern: the gap where the rocker meets the swingarm and the frame's main triangle is the busiest section of the frame. It is here that dirt could trap easily, especially on wet days. Pivot Cycles added a rubber sheet to prevent the dirt from going deeper into the swingarm and frame gap. Over time, the rubber sheet may need to be replaced. It is also not a complete guarantee that the dirt would not find their way into the gap even with a perfectly intact rubber sheet covering it. A small price to pay for the love of duo linkage bikes? My advice is to just check that section during washing.
I needed some familiarization time with the longer wheelbase. Once the trail riding starts, the welcoming trail manners of the bike starts to shine. As expected, this bike climbs efficiently, descent with confidence and a tinge of fun, corners predictably and pops off kickers and stuff with great balance and some level of playfulness. Do note that "some level of playfulness" here is a rider-fit issue and opinion. Given a taller rider, who rides an M-size frame, I am sure the bike would be more flickable. I would credit the DW Links and the Fox Factory FloatX for the great traction control when riding INTO berms. My first impression on the Switchblade was as magical as I have expected it to be!
The V3 is definitely an improvement over the V1 and would easily rank as one of the best trail/enduro bike in the market currently.
But … Could I make it just a little more ME? From "Stock Magical" to "Personalised Magical"? A little better in terms of fitting for this short rider? Could I quicken the steering just a little?
A shorter stem – from 45 mm to 35 mm should solve the minor issue here.
FUNN AND GRANITE DESIGN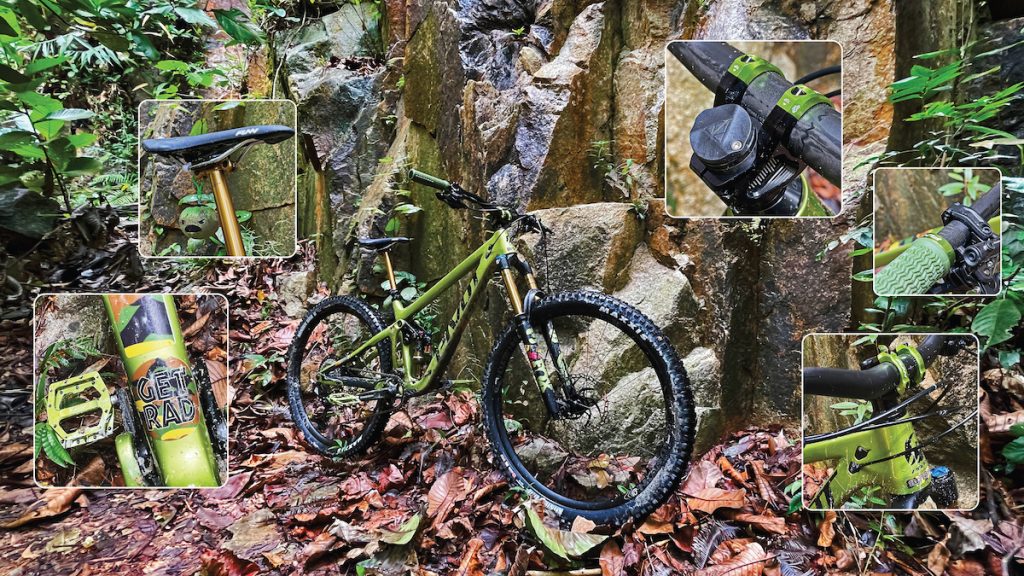 Thanks to Funn MTB and Granite Design, I found my solutions to the fine-tune that I was hoping for. Enter the Funn Equalizer 35 mm Stem! Just a swap to a shorter stem and I managed to fit this gorilla of a rider to the Switchblade perfectly. The steering feels more responsive now. I would say that this preference is personal and would vary from ride to rider. I have been using 35 mm stems on all my bikes for the past 7-8 years. Naturally, I have gotten used to that feeling. Anyway, bike fits more snugly now and the steering is on-point.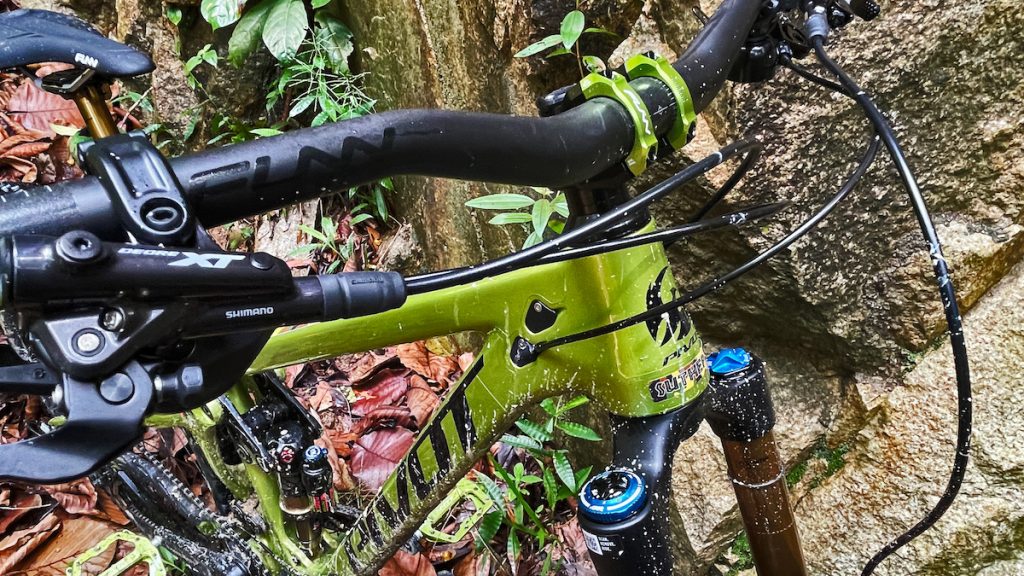 Along with the problem solving Equalizer Stem, Funn MTB and Granite Design sent a full Media Care Package that consist of the Funn: Black Ace Carbon Handlebar, a full 2 years' supply of Holeshot Grips, Funndamental Pedals, Skinny Saddle, Granite: Stash RT Rachet Tool Kit, Rockband Mountain Bike Frame Carrier Strap, Punk CO2 Inflator, Talon tire Levels and Cricket Bell. Awesome! Color themed matching and moving on to "Personalised Magical"
The Switchblade V3 is now ready for another round of Bukit Timah MTB Trail!
HOW DOES IT RIDES NOW?
As expected, the shorter stem made the bike respond faster to my commands. A simple stem swap did not affect the rest of the bike's performance (for obvious reasons), and indeed made my fit on this bike more snug yet able to enjoy its roominess. While dropping the stem diameter to 31.8 with the Funn Equalizer 35 mm stem and Black Ace Carbon Handlebar might seem like a "downgrade" modification to some, I feel that the 31.8 mm compliance made the bar more forgiving (Probably only obvious over longer rides). I may be finding this adequate for now because I am riding mostly Singapore trails with the likelihood of some Indonesian and Malaysian trails in the near future. (Ed: Chiang Mai duties are handled by another bike at the moment.) When the need arises I might swap to a set of stiffer handlebars and stem set. But for now, these will do just fine.
Over the next few rides, I tweaked the fork and shocks a little bit in search of that "perfect" setting. The rides continue to be a lot of fun. The Switchblade is a bike that encourages the rider to ride more. It makes short work of gentle climbs, and make technical sections feel like welcoming perks to a ride. It has such good efficiency that I always have some spare energy to add another pop to a kicker whenever I ride.
This said, it is not the MOST agile bike out there at the moment – I accrue this to its relatively long wheel base. As such, I would not exactly label the Switchblade as "agile". Instead, I would say it is a very "versatile and accommodating all-rounder". This is the bike that you would ride 80% of the time for all your trail riding needs. Get this bike if you want to ride a lot, at all types of trail, everywhere.
RIDE MORE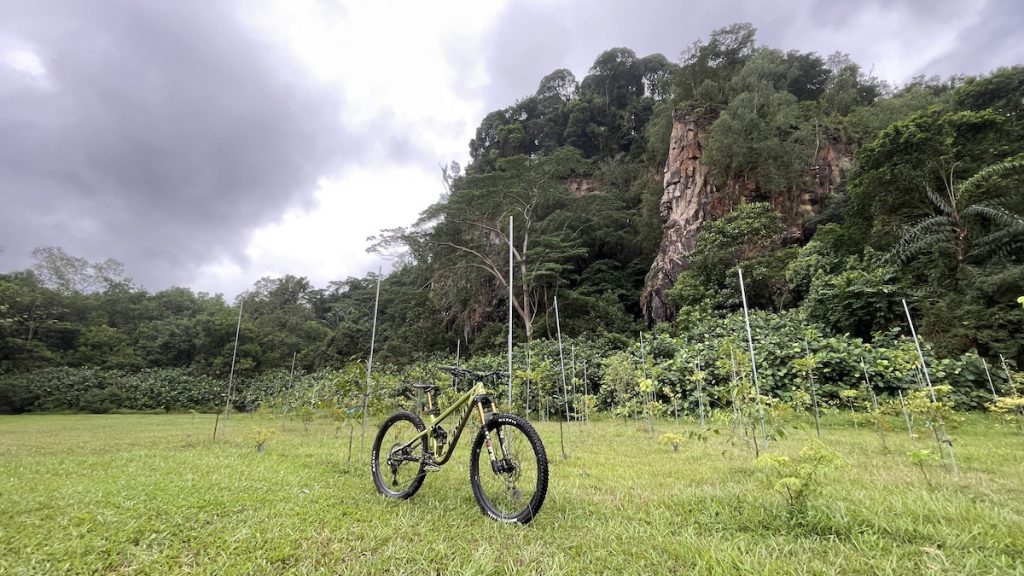 I will spend more time with the Switchblade and see what else I can discover from this amazing bike. As a rider, this bike performs "magically" for me. There are both strengths and weaknesses to the Switchblade V3. Personally, I am able to accept its minor design flaws, for example trapping dirt at small places. I welcome the spacious cockpit and find the slight tradeoff that made it a less-than-perfect-flickable rig for me acceptable based on it's chores as an all-rounder. In fact, the correct way to look at the Switchblade V3 is a "magical all-rounder". I totally appreciate its welcoming, efficient and confident riding feel which encourages me to ride more. This bike has the personality that I like. Feel free to share your comments with me.
Ride.
LIKE and FOLLOW us: Bikezilla Facebook Page • Bikezilla Bikers Singapore Group Page • BikezillaSG Instagram • Bikezilla STRAVA
Photos and story by Bikezilla
Video by Pivot Cycles