NICOLE AND MINNAAR CONQUER TESTING TRACK TO WIN DOWNHILL TITLES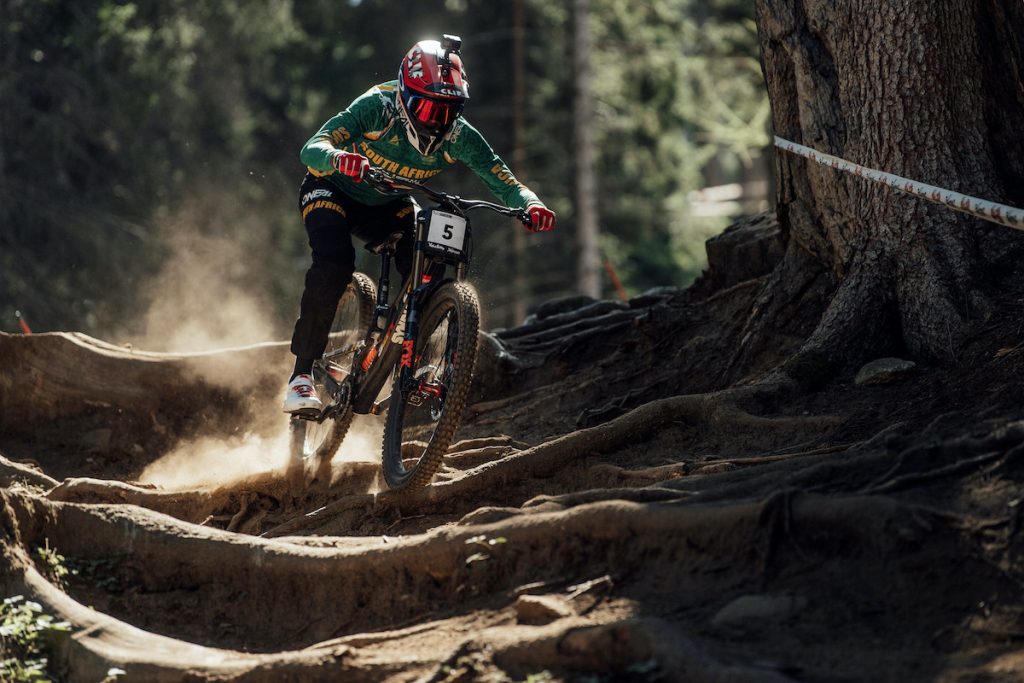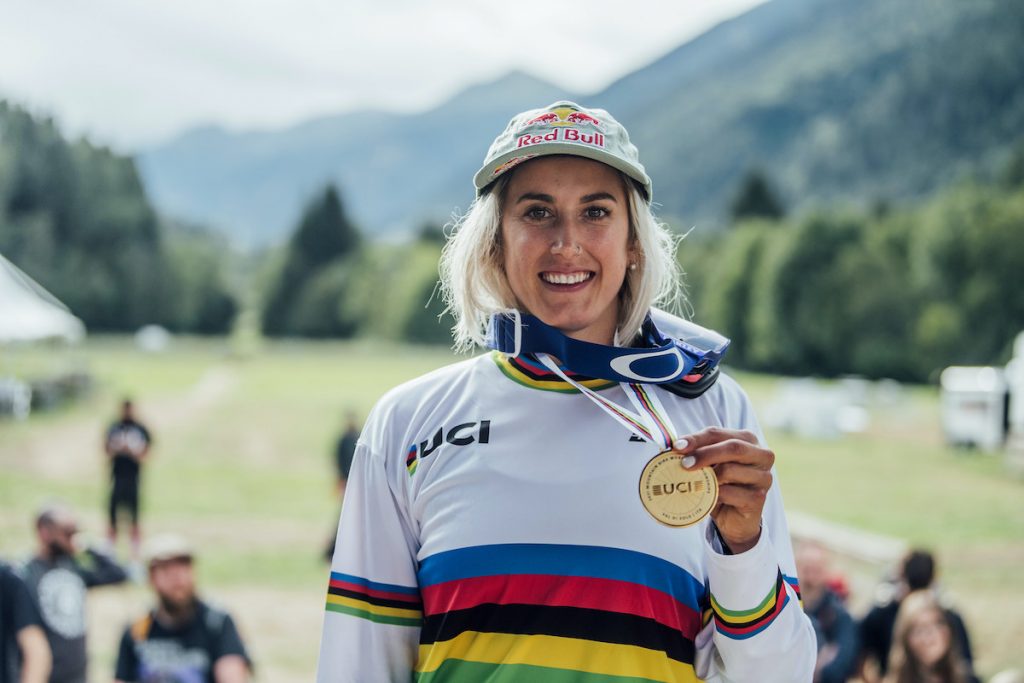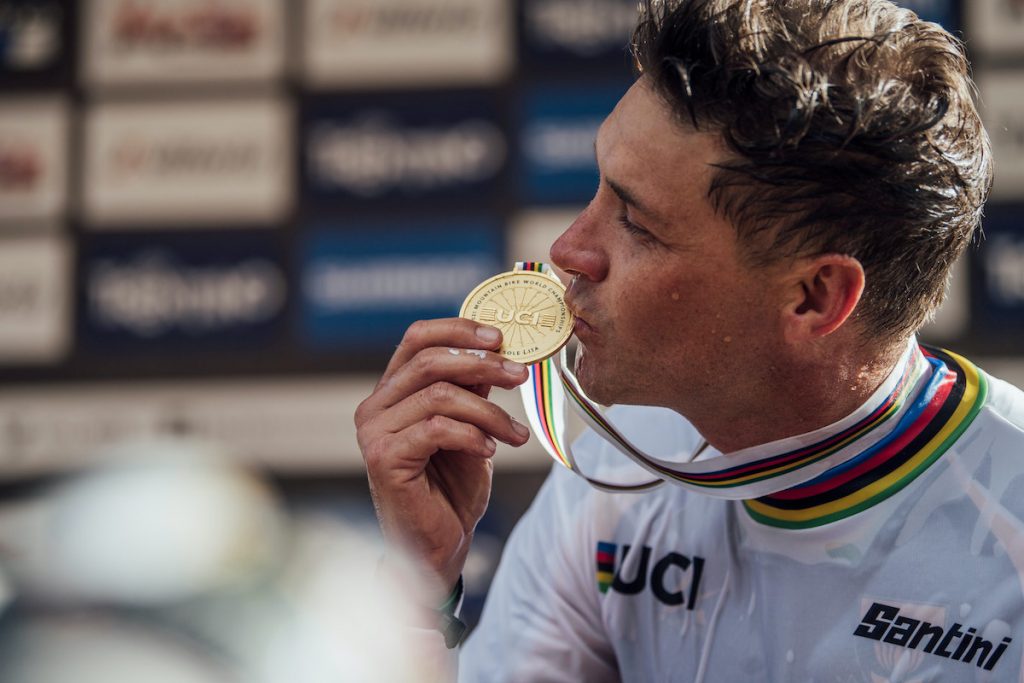 Myriam Nicole produced a perfect run to win the downhill title at the UCI Mountain Bike World Championships in Val di Sole, while South Africa's Greg Minnaar claimed the title for the fourth time.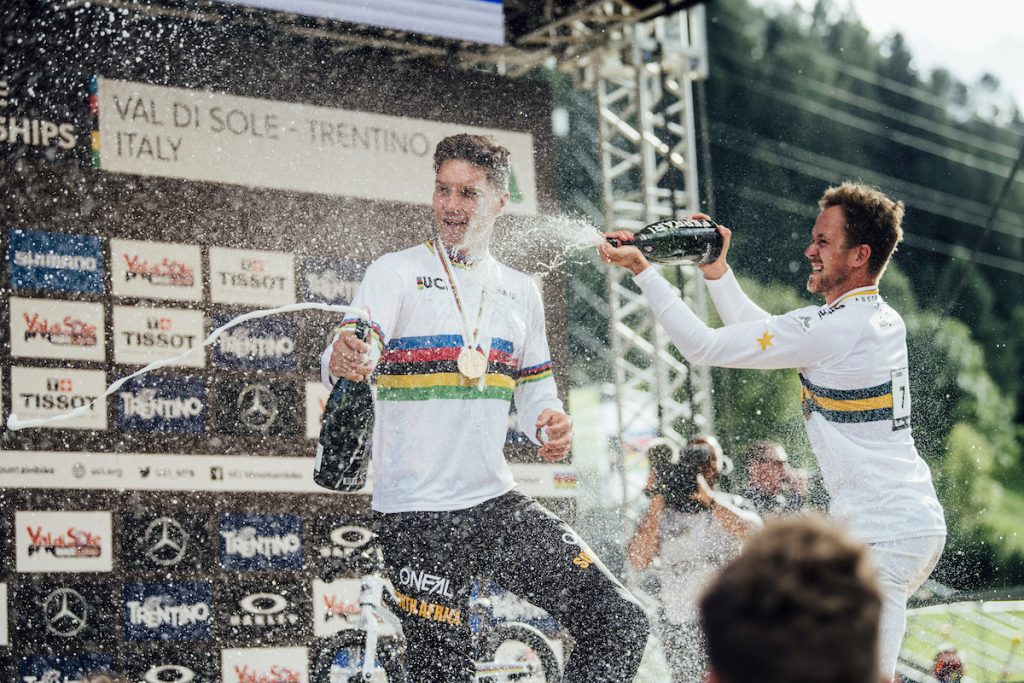 FRENCH AND SOUTH AFRICAN RIDERS CROWNED WORLD CHAMPIONS IN VAL DI SOLE
Heavy rain on Saturday evening had made the Black Snake course a slippery surprise during Sunday's practice runs. However, with a few hours to dry, the World Championships would play out on an amazing track in prime conditions.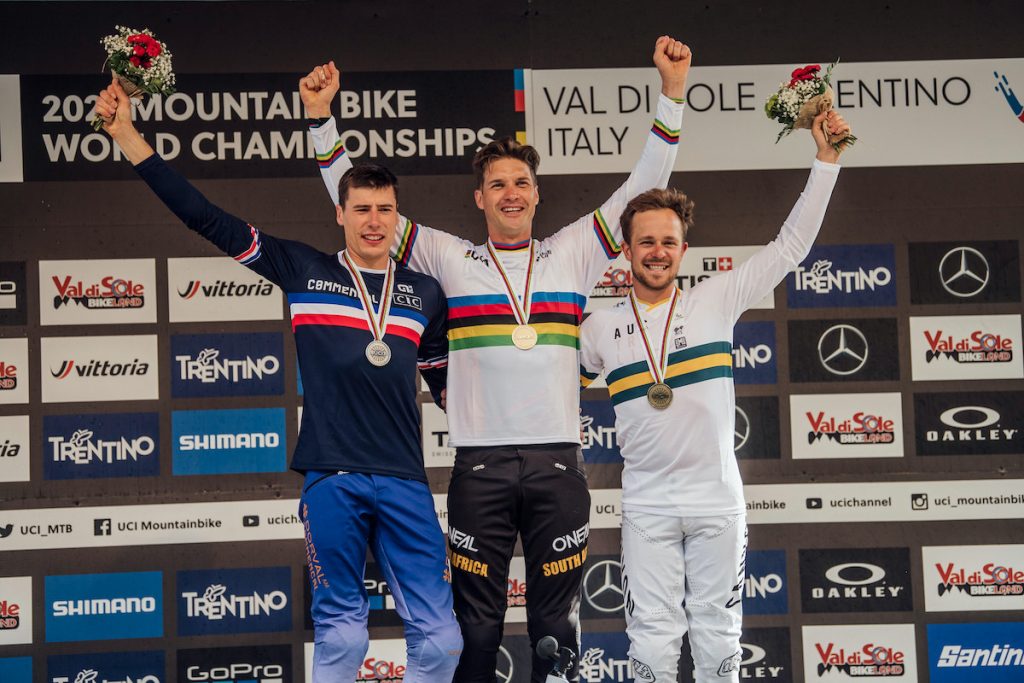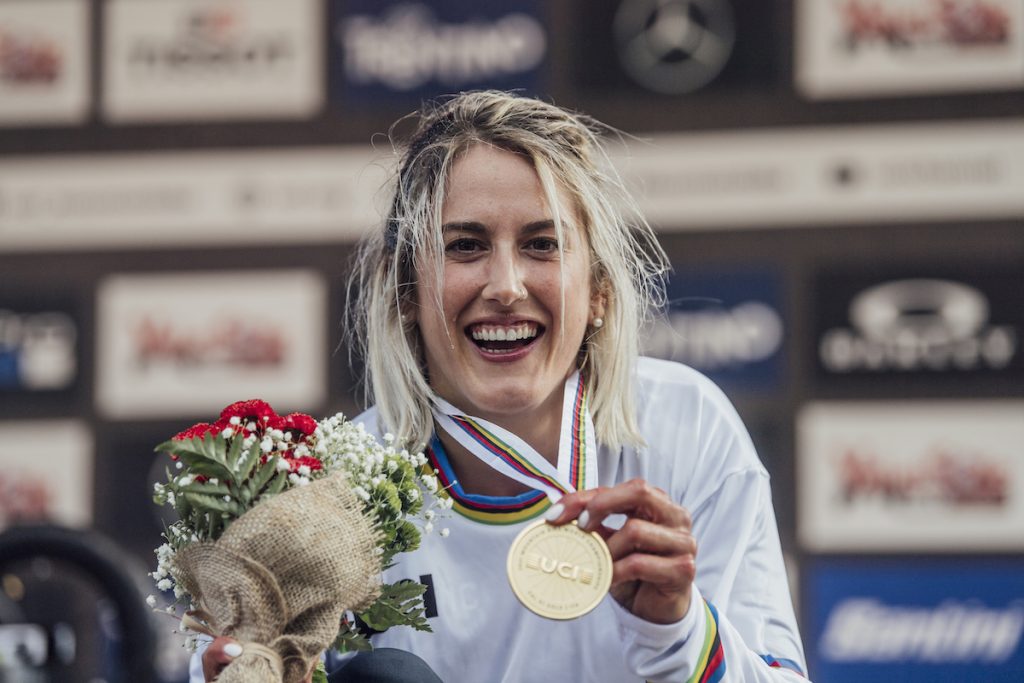 WOMEN'S RACE
In the Elite Women's race, the first of the big names to tackle the course was the fastest qualifier, Vali Holl. A rider with so much talent and yet little luck, the Austrian once again fell foul to race day demons with a crash ending her bid for glory.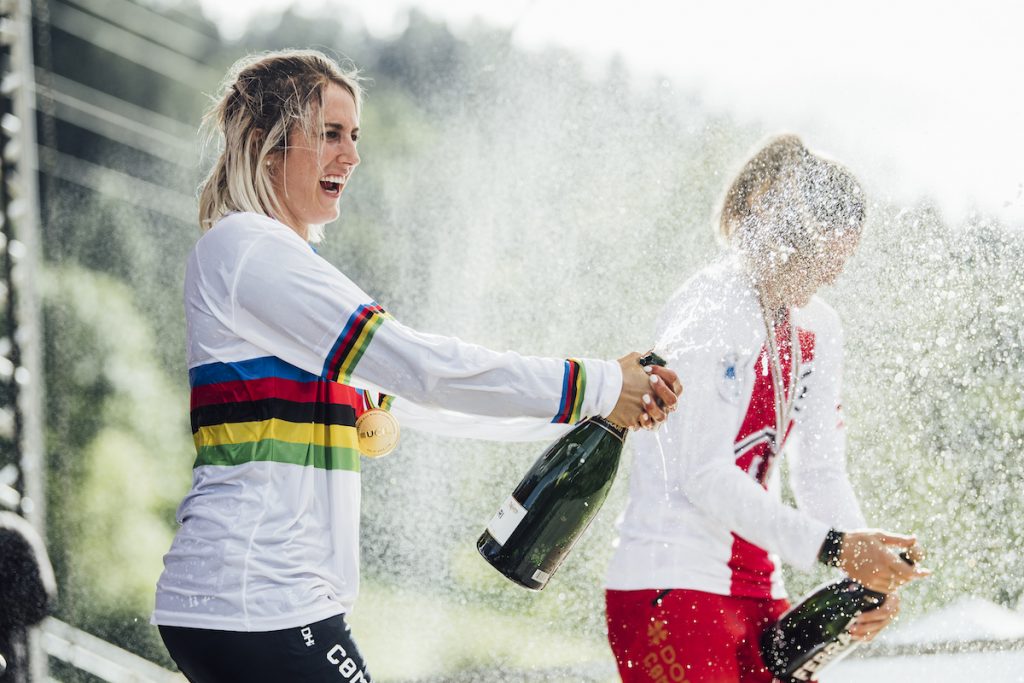 Tahnée Seagrave has been building speed and confidence all year and was certainly one to watch. However, when she decided to sit out qualification on Friday due to her neck injury, question marks were raised. And despite putting together a smooth run, she sensed others would go faster.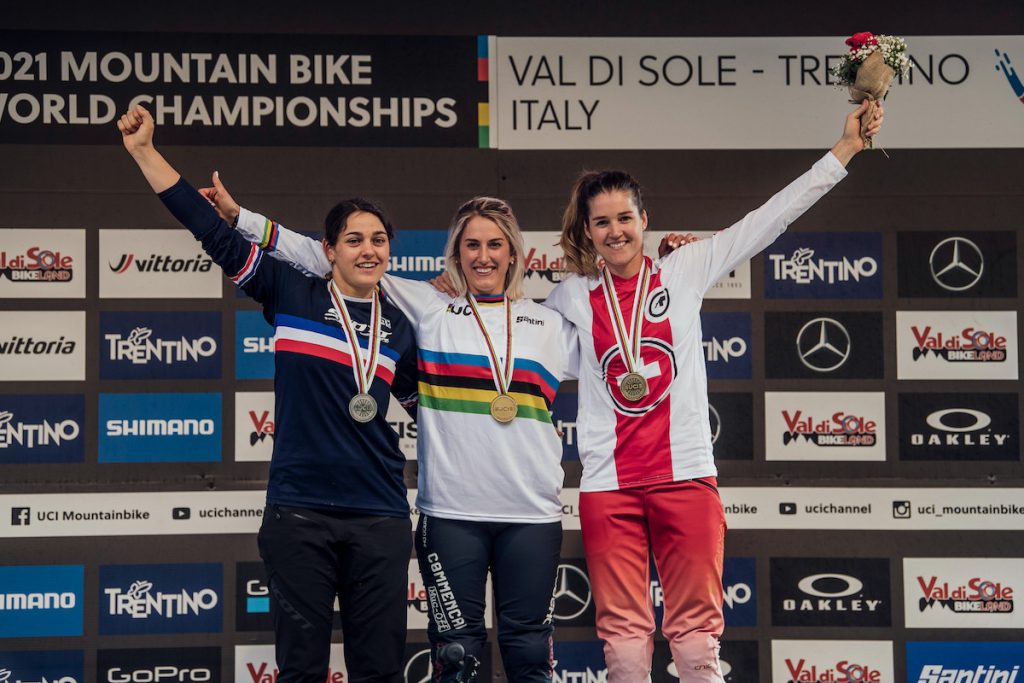 Eleanora Farina, with huge home support from the Italian fans, was pushing hard and on pace but just missed out on the hot seat, finishing 0.188 down on Seagrave's time.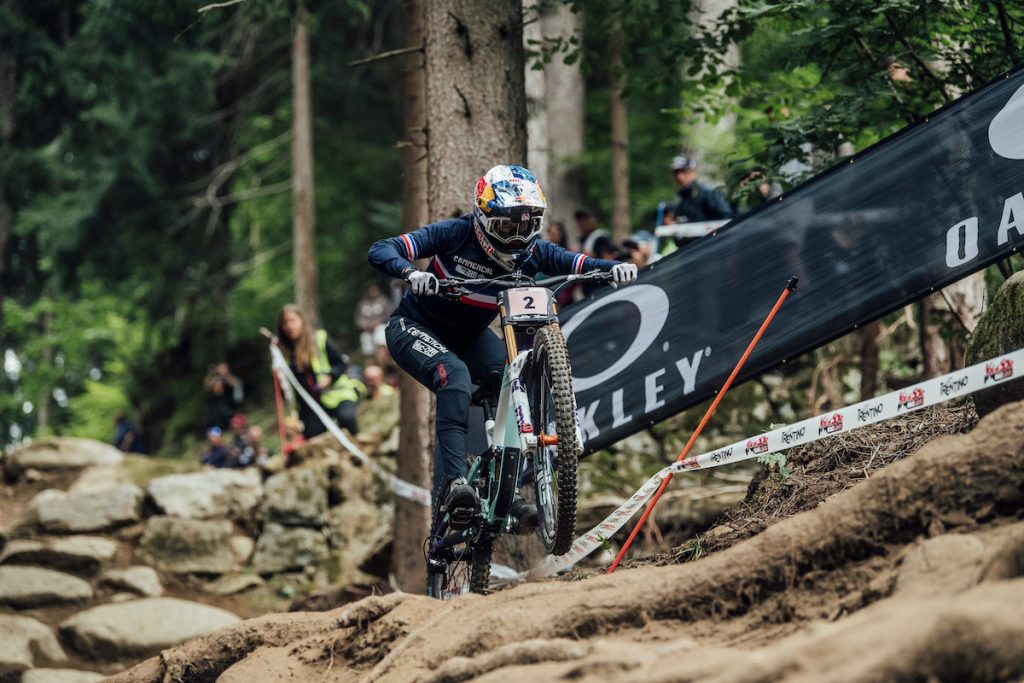 Marine Cabirou, who took her inaugural World Cup win in Val di Sole in 2019, was 1.179 down at the first split but her trademark aggressive style saw her throw everything at the Black Snake and she crossed the line a staggering 5.454 seconds ahead of Seagrave.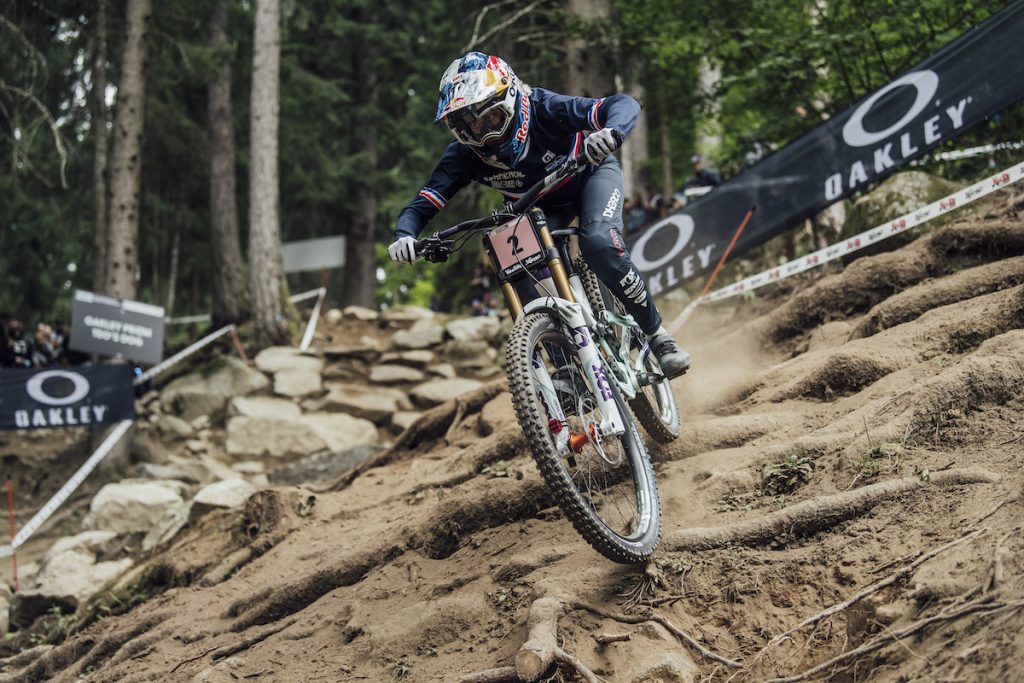 Defending World Champion Camille Balanche was the penultimate rider and she showed no ill effects from the nasty crash she suffered during her practice run on Sunday morning. Despite a bruised ankle, the Swiss rider was quick all the way down and absolutely sent the final jump to finish just 1.272 seconds off the pace in second place.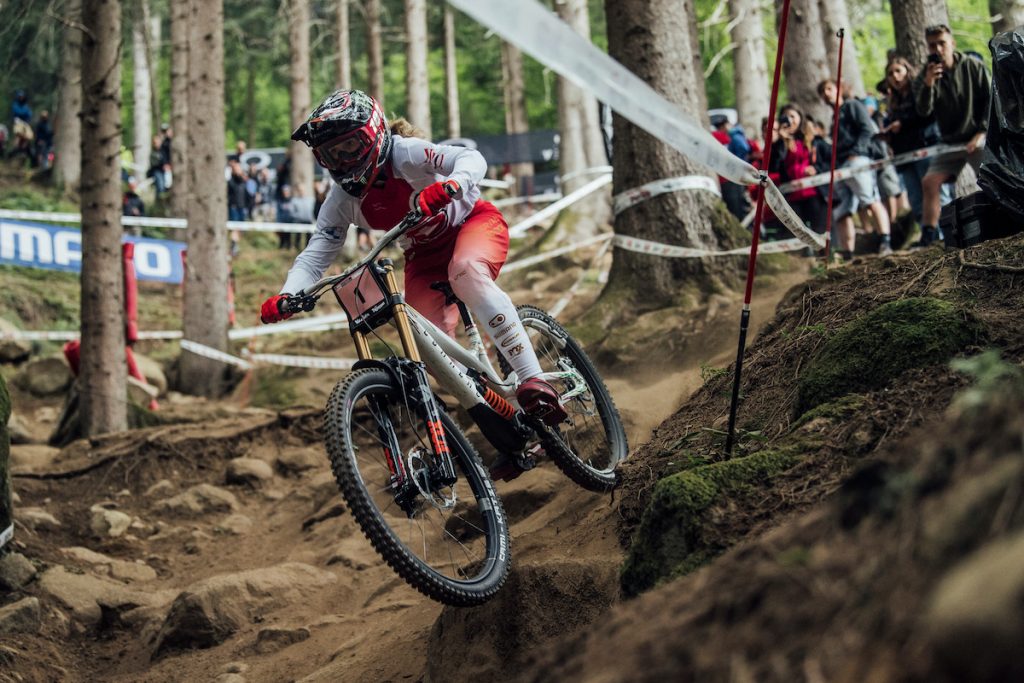 Nicole was the final competitor to tackle the course and showed exactly why she was viewed as a potential champion. Having won her first World Cup in Val di Sole in 2011, the French rider once again crushed the Black Snake with a smooth and fierce performance.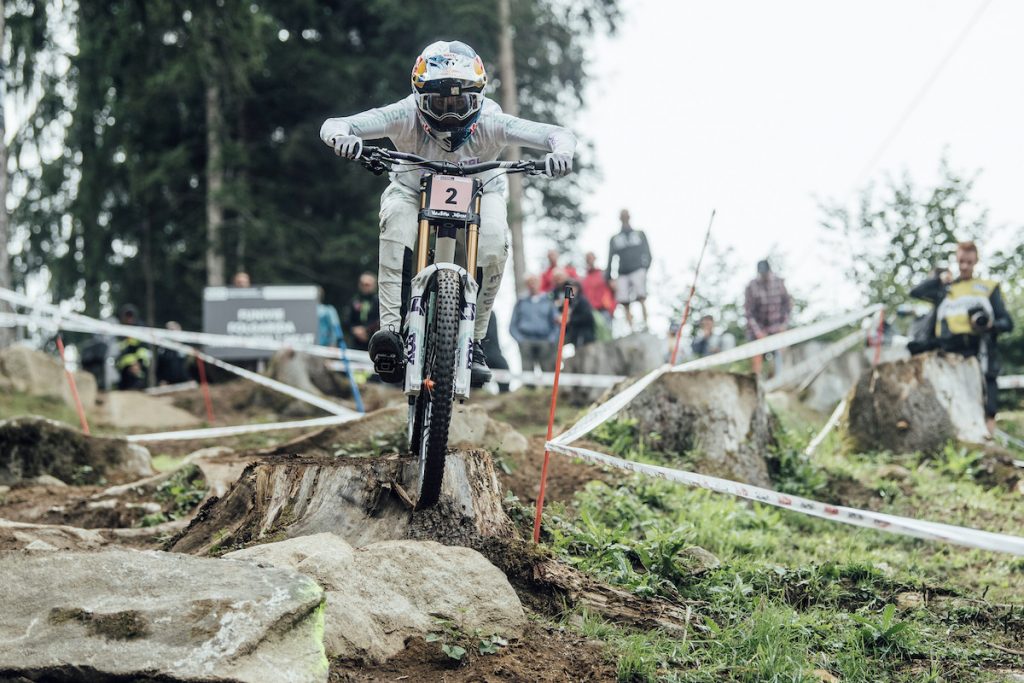 Dropping into the final turn Nicole was absolutely flying as she crossed the line a huge 4.827 seconds ahead of Cabirou to claim the rainbow jersey.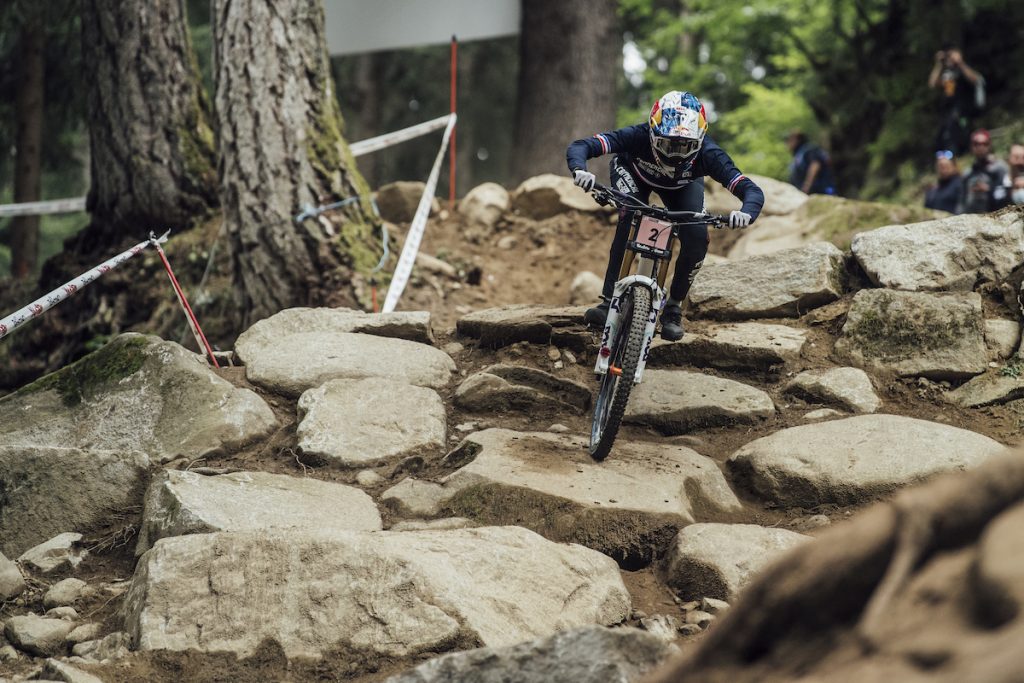 MEN'S RACE
In the men's race, the drama showed no signs of subsiding, with early casualties including Amaury Pierron with a completely smashed rim and defending champion, Reece Wilson, with a puncture off the final jump. Angel Suarez and Dakotah Norton also crashed out whilst on fastest runs.
Antoine Vidal was the man to occupy the hot seat for the longest time, starting his race almost two hours before the final run. Having qualified third, the enduro specialist backed up his performance on Friday to lay down the time to beat.
Finn Iles was the first to do so with a fast top section giving him enough buffer to hold onto a green split at the finish line. Luca Shaw deployed his relaxed style to good effect to go second with ten riders to go.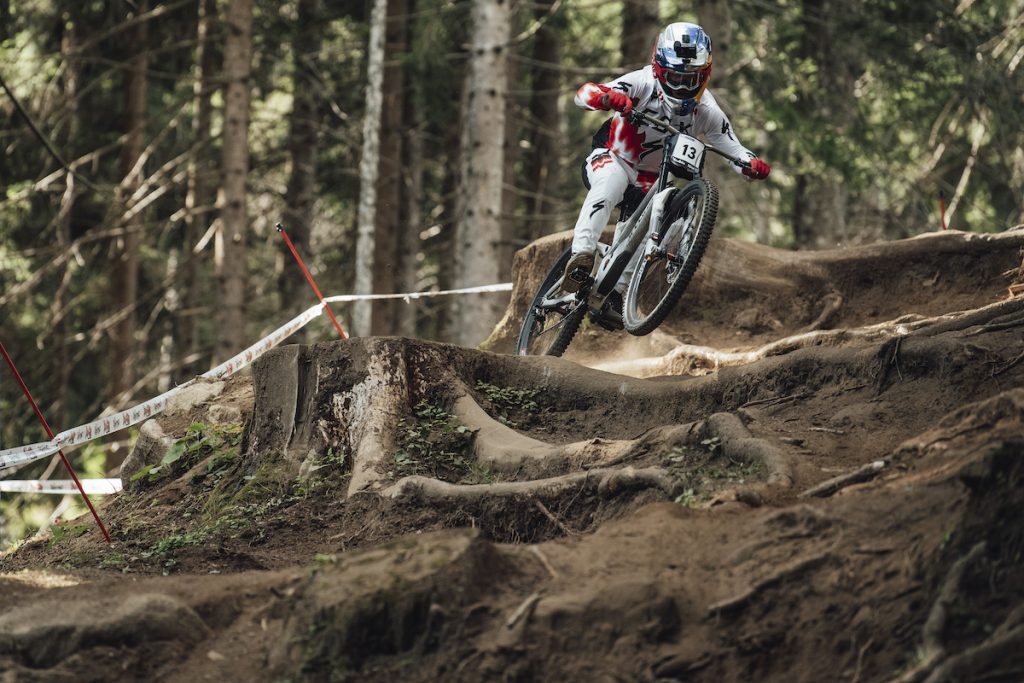 Danny Hart won the World Championships in Val di Sole in 2016 and was on another typically animated run, fastest at every split and taking the lead. Remi Thirion and David Trummer – the silver and bronze medallists from Leogang last year – failed to go faster.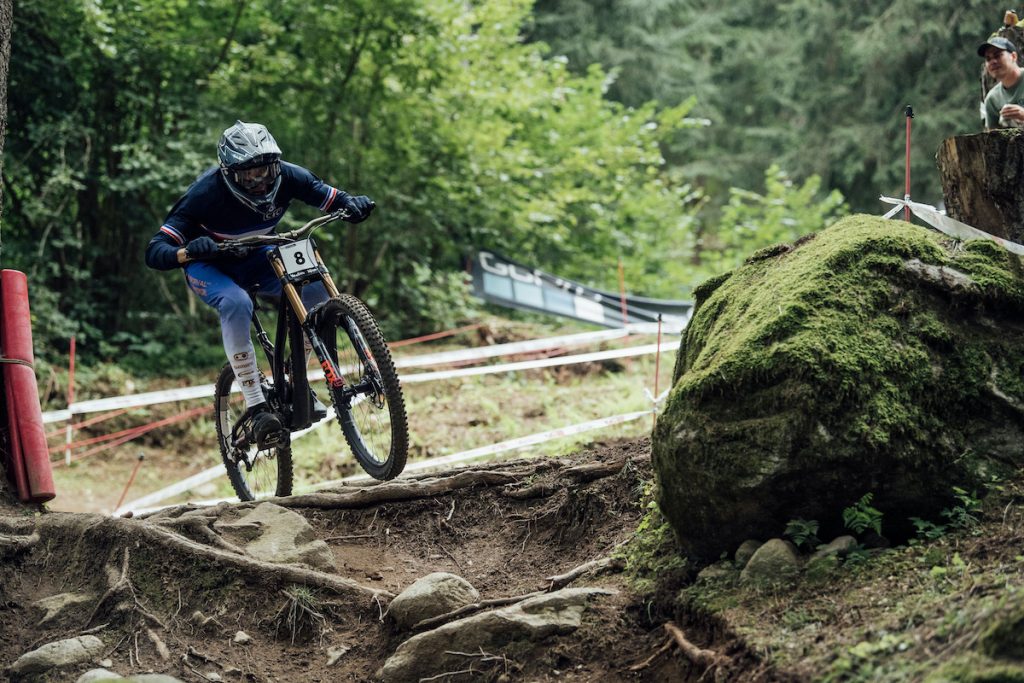 Benoit Coulanges then claimed the lead after nailing his run and nervously watched on as Troy Brosnan came within 0.214 seconds of his lead. Next up was Minnaar and things got tense.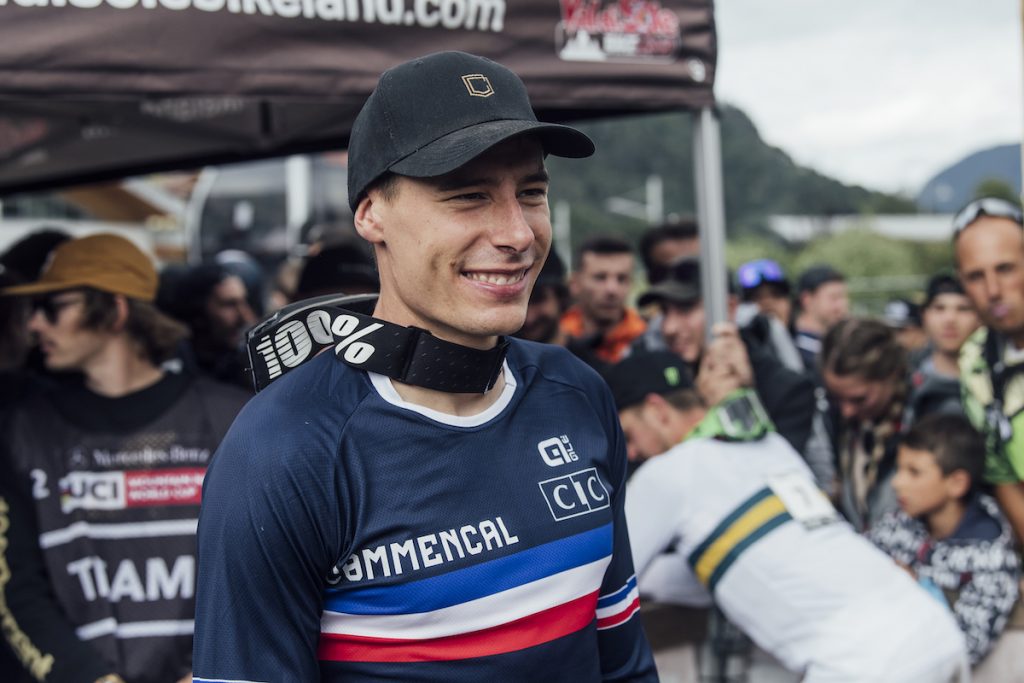 The South African was up at split one but red at two and three. Minnaar began to claw back time further down the track, soaking up the rocks and roots as he flew through the final berms to snatch the lead and send the crowd wild.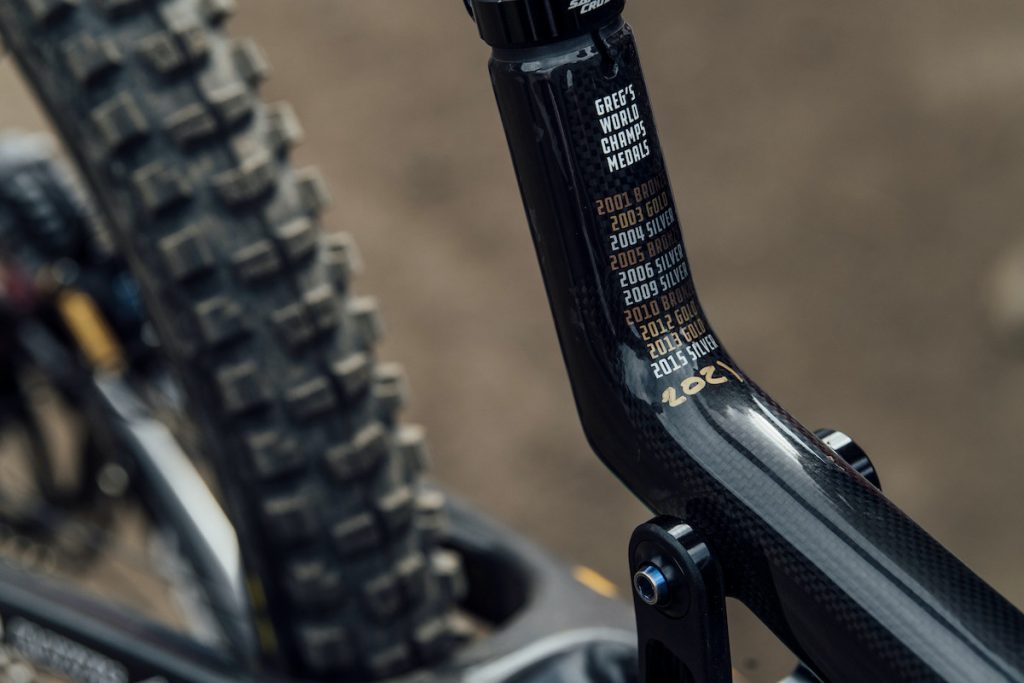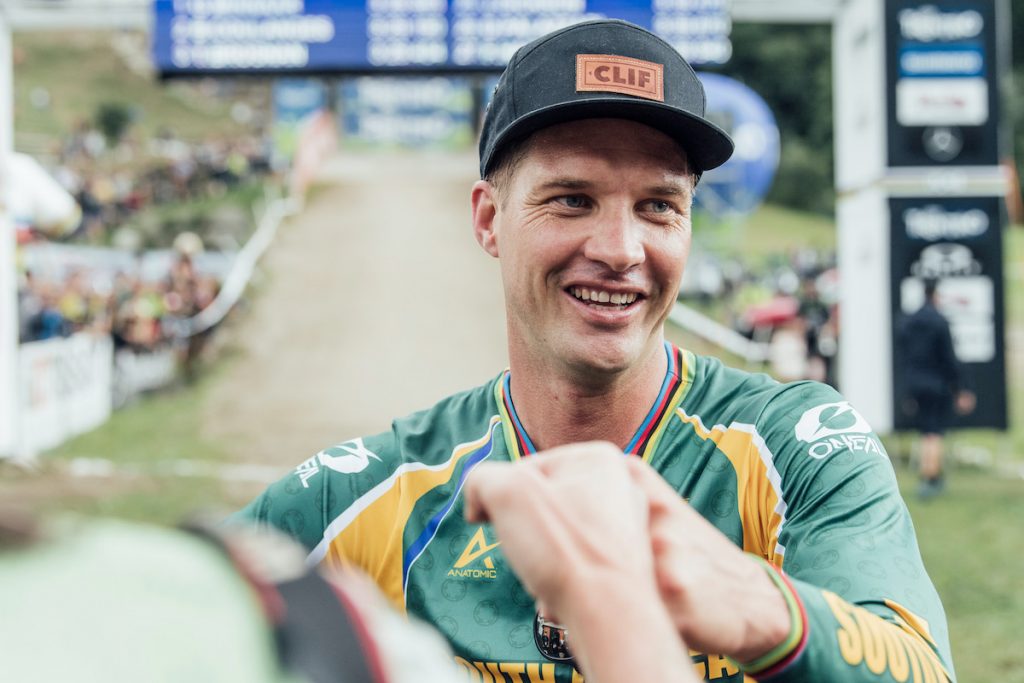 Loïc Bruni failed to threaten the leaders, as did World Cup leader Thibaut Daprela when a crash ended his chances. Loris Vergier was then fastest through the first two splits but dropped back to fourth, leading to huge celebrations as the 39-year-old Minnaar realised he had become a four-time champion.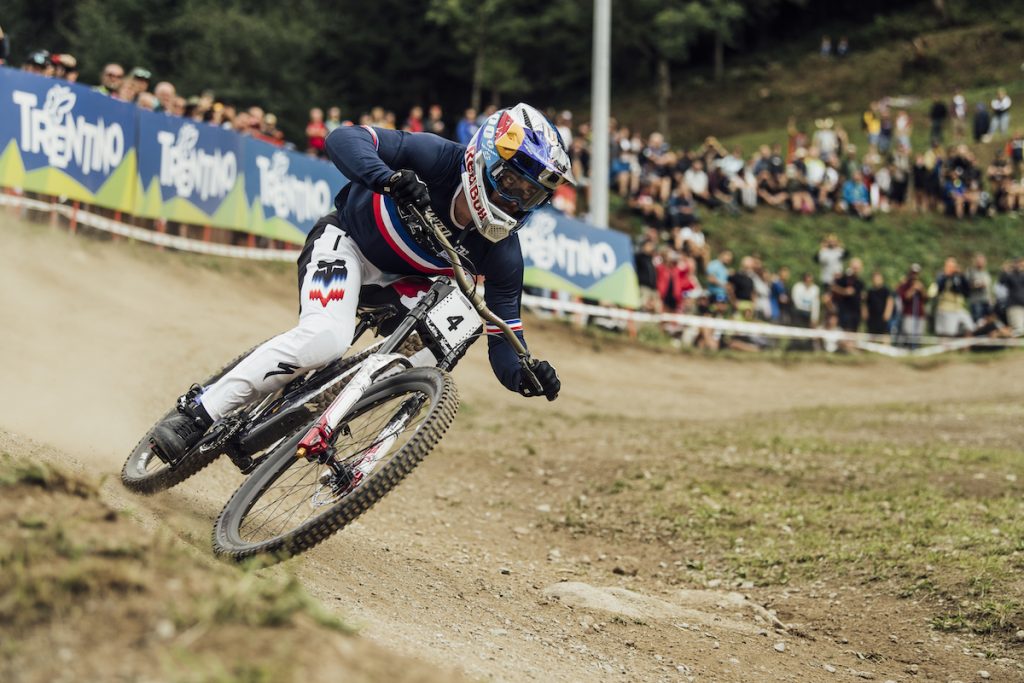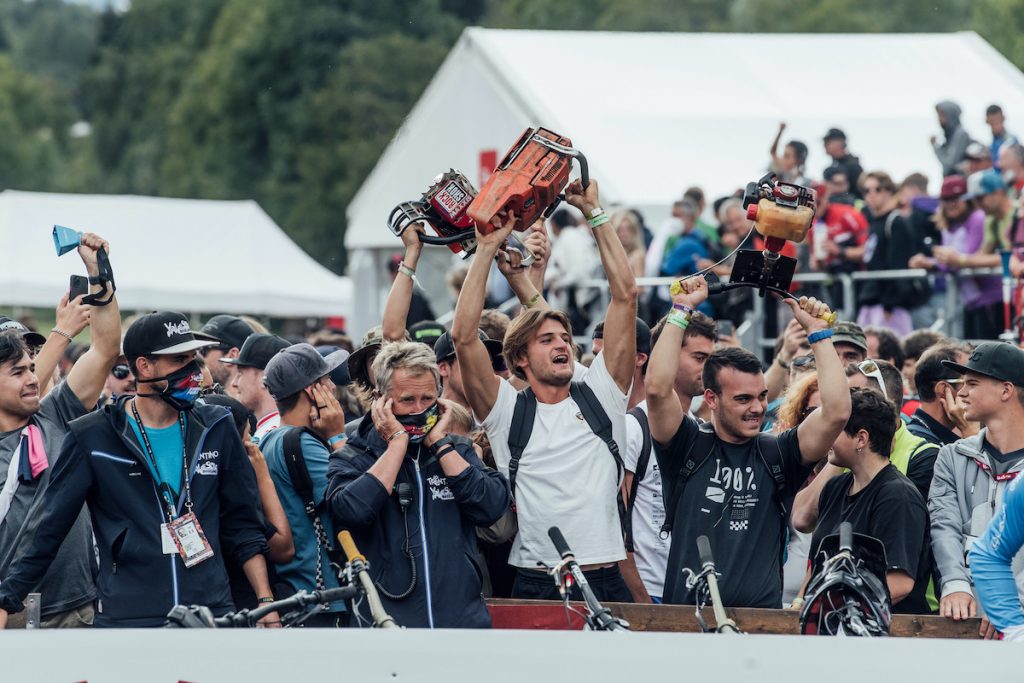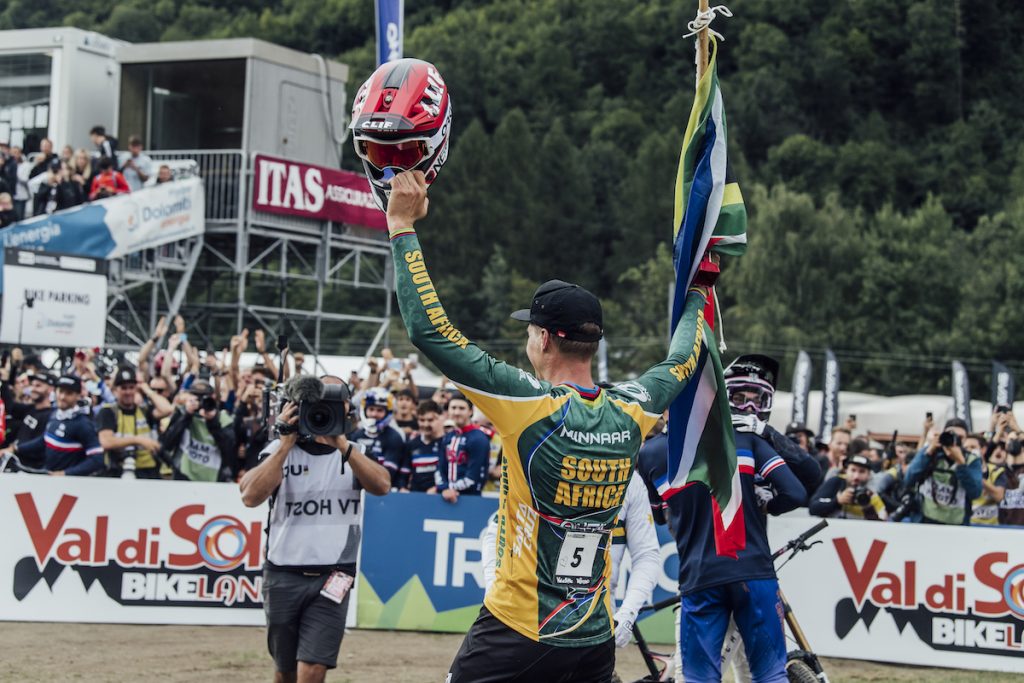 Women's DH result
1. Myriam Nicole FRA 4:06.243
2. Marine Cabirou FRA +4.827
3. Camille Balanche SUI +6.099
4. Monika Hrastnik SLO +9.085
5. Tahnee Seagrave GBR +9.781
Men's DH result
1. Greg Minnaar RSA 3:28.963
2. Benoit Coulanges FRA +0.227
3. Troy Brosnan AUS +0.441
4. Loris Vergier FRA +1.166
5. Danny Hart GBR +1.850
LIKE and FOLLOW us: Bikezilla Facebook Page  • Bikezilla Bikers Singapore Group Page • BikezillaSG Instagram • Bikezilla STRAVA
Story and photos by Red Bull