DESTINATION: NEXT LEVEL CYCLING TRIP – LAND AIR SEA 
WORLD DREAM CYCLECRUISE HONG KONG NAHA MIYAKOJIMA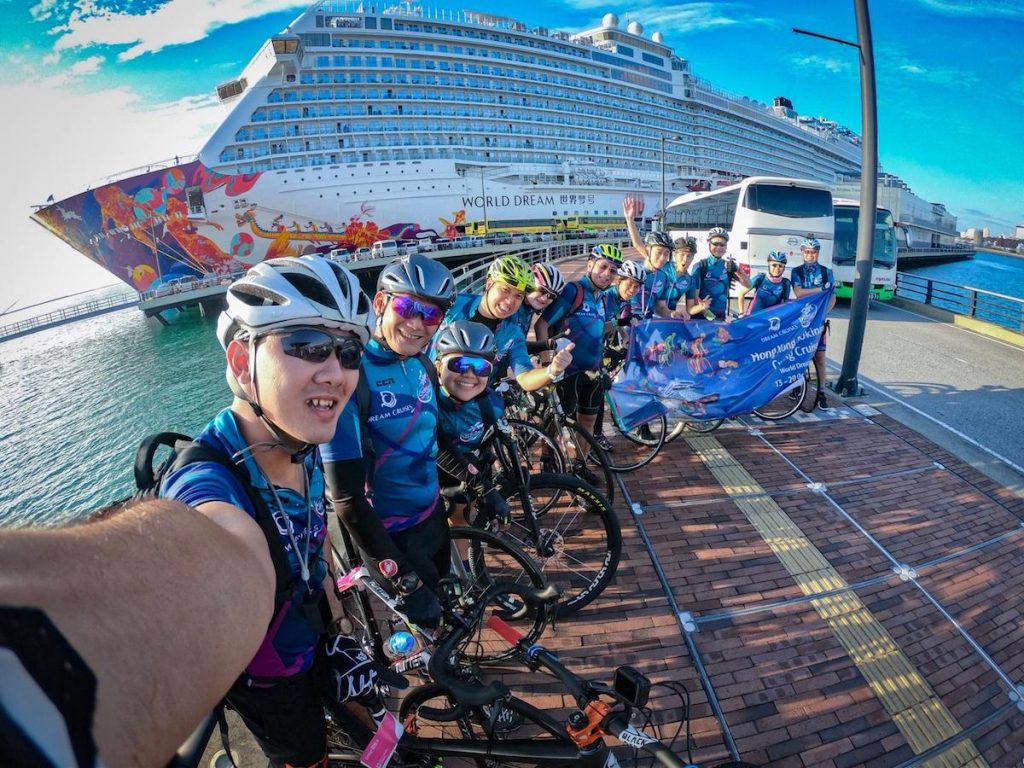 Usually, when we mention cycling trips, we think about going to another country with great terrain, ride our brains out, enjoy some local flavours & entertainment and finish off with a little shopping. That kind of wraps up how cycling trips would be, in a nutshell. What if we think out of the box a little and throw in a sea component? We are not talking about an after-ride boat cruise, we are talking about using a full-size, all-in cruise liner to bring us to where we gonna ride. Fresh enough? Let's go on a Fly-CycleCruise!
NOT A USUAL RIDING TRIP
There are riding trips that we rough it out with the boys and then celebrate with lots of bantering, booze and meat. Then there are times we wish to take things a little more leisurely – new cycling destinations with lots of breath-taking sceneries, some relaxing time with non-cycling family members and friends. Along came Dream Cruises' CycleCruise program. Some may remember our stories with Star Cruises. Yes, they are similar programs, (Cycle and Cruise in Taiwan and Japan, A tale of 2 Ports) but being a trip with the more luxurious label from Genting Hong Kong, this program is one-up from previous ones!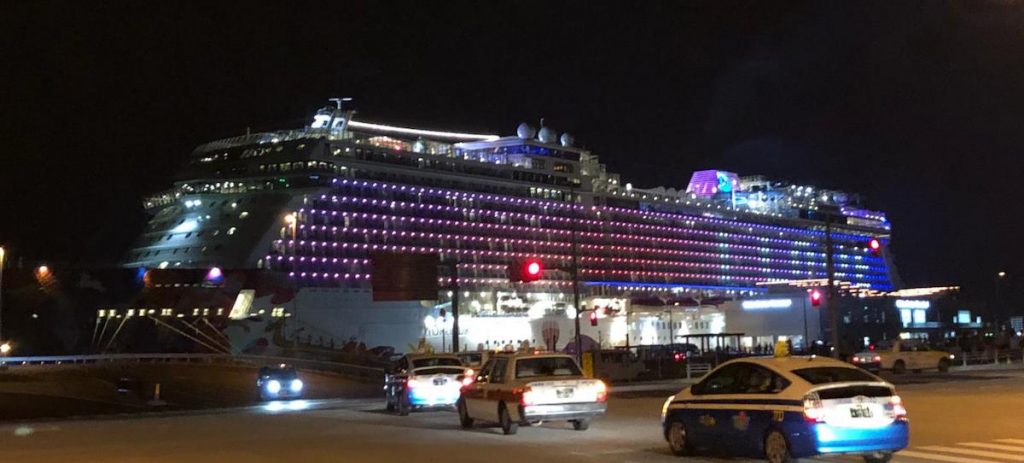 WHAT ARE WE SIGNING UP FOR?
To simply put, the Fly-CycleCruise Hong Kong Naha Miyakojima is a special (meaning non-regular) tour organised by Dream Cruises. The CycleCruise sails with the World Dream, a 19-storey luxury cruise liner that embarks from Hong Kong to Guangzhou-Naha-Miyakojima and back to Hong Kong on regular schedule. As such, the various regional Dream Cruises offices simply match a suitable return flight to Hong Kong. Replace the usual land excursions with cycling tours and WALA! You get to explore 3 different destinations (Hong Kong, Naha and Miyakojima) on 2 wheels.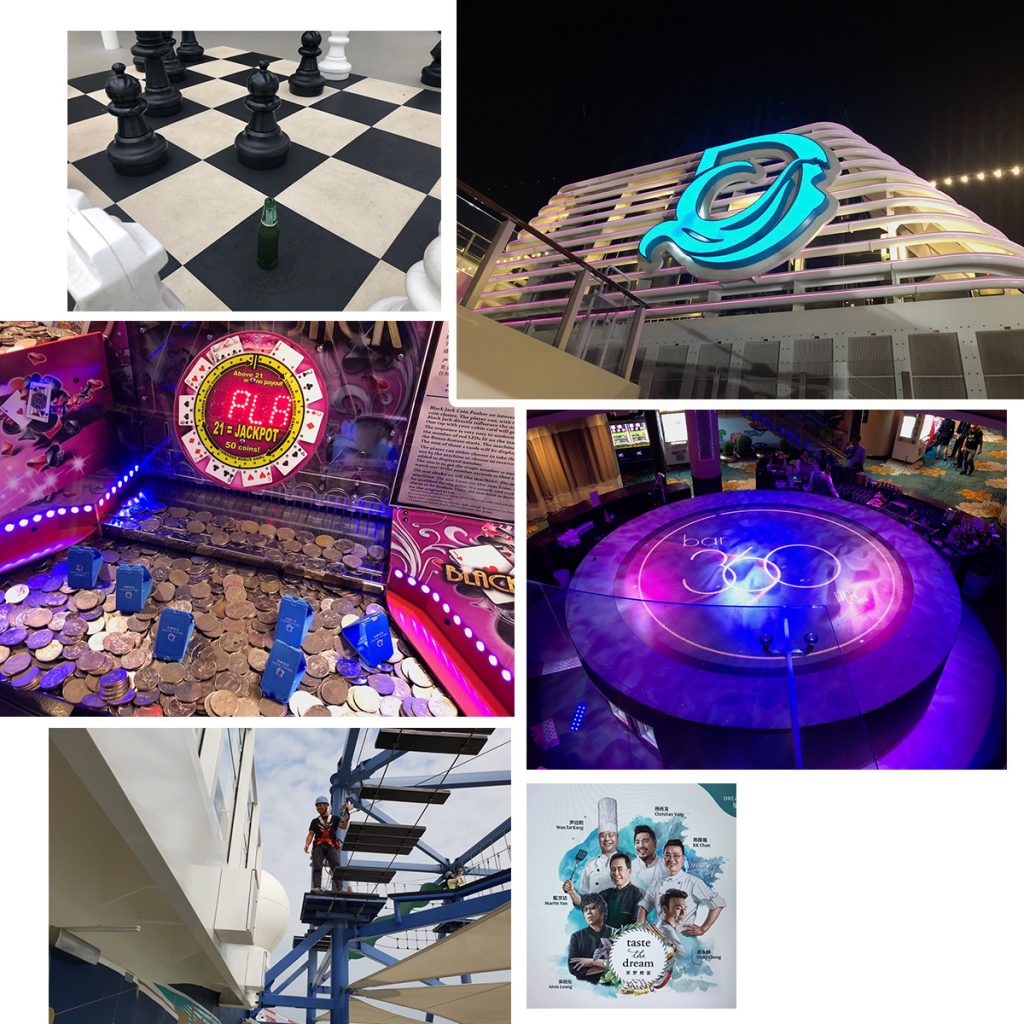 THIS ONE'S BIGGER AND BADDER
The World Dream is a huge ship brimming with facilities and activities. Guests get to experience the world's finest in one ship. (Ed: We were pleasantly stoked with this ship!). When we first set foot on board, the first impression that came to mind was … food (maybe we were hungry)! But there's really lots of food to go around! And then there's this air of festivity with all the crew welcoming and smiling at us. The welcome fanfare made our day. Once checked-in to our cabins, we were enveloped with a coziness that would soon prove to be valuable during this cycle trip. For those who would be staying in balcony staterooms, get ready for some soothing sound of the ocean whenever you wish.
As mentioned, we were really stoked with the World Dream. Here's a quick list of what this ship has to offer:
Staterooms with premium fittings and the Palace Suites should you decide to join their VIP list
Resort amenities and recreation options, including Genting Dream's Waterslide Park, Rock Climbing Wall and Ropes Course, and World Dream's ESC Virtual Reality Experience Lab.
35 food and beverage concepts (Ed: We didn't count this. This figure was provided by Dream Cruises)
Crystal Life Spa
Zouk Club
World Class performances at Zodiac
Free smiles and great ambient everywhere on board!
And being a cruise liner owned by a gaming giant, expect lots of gaming opportunities.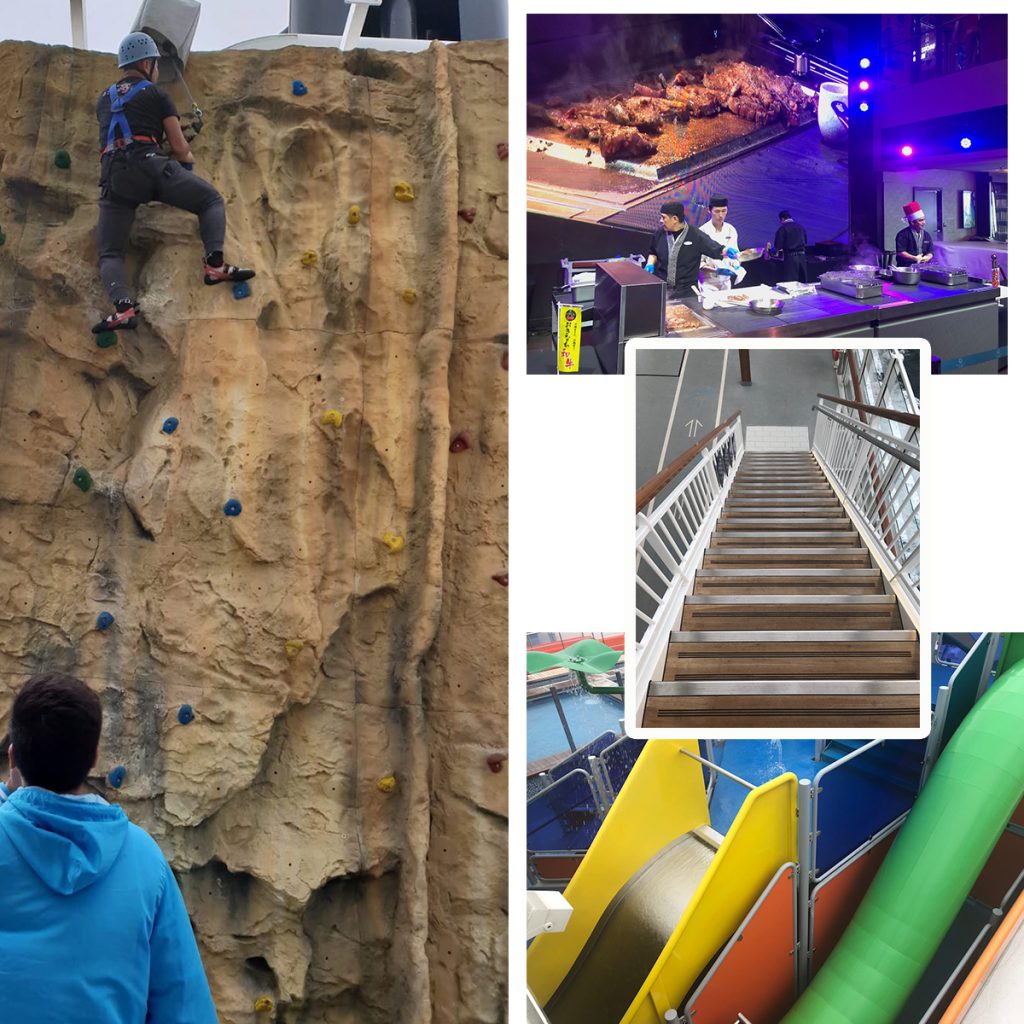 Seafaring life always have a uniform group/regimental vibe. That's not a bad thing when we understand that we are sailing on high seas along with thousands of other passengers and crews and living on limited resources and limited space. (Ed: World Dream may not give us the "limited resources and tight space" feel but I am sure you know what I mean here.) And with such conditions in mind, we were impressed with how well every procedure was conducted, and how efficiently information was disseminated. Besides the knowledgable and friendly crew assisting us throughout all the embarkations and disembarkations, there were daily print circulars; The Dream Daily which tells us everything we need to know on board from restaurant opening times to activities for the day. And for even more convenience, there is a Dream Cruises phone app which we can tap onto for information while we are moving about the ship.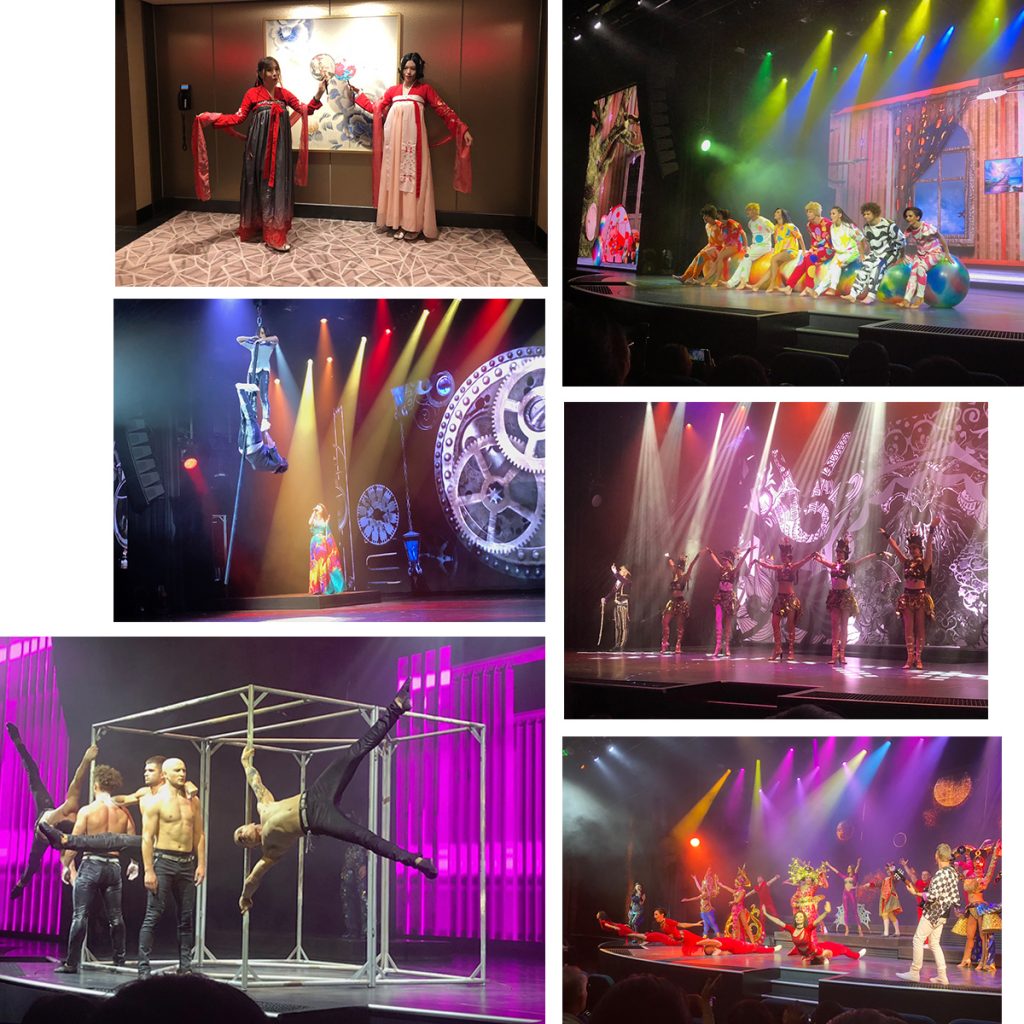 THE BEST BIT – LAND AIR SEA
We have not forgotten our main entrée for this trip – Cycling! 2 countries, 3 ports-of-call, soaking all in on our two-wheelers! These could be the cherry to top this wonderful land-air-sea combo.
2018 SUN HUNG KAI PROPERTIES HONG KONG CYCLETHON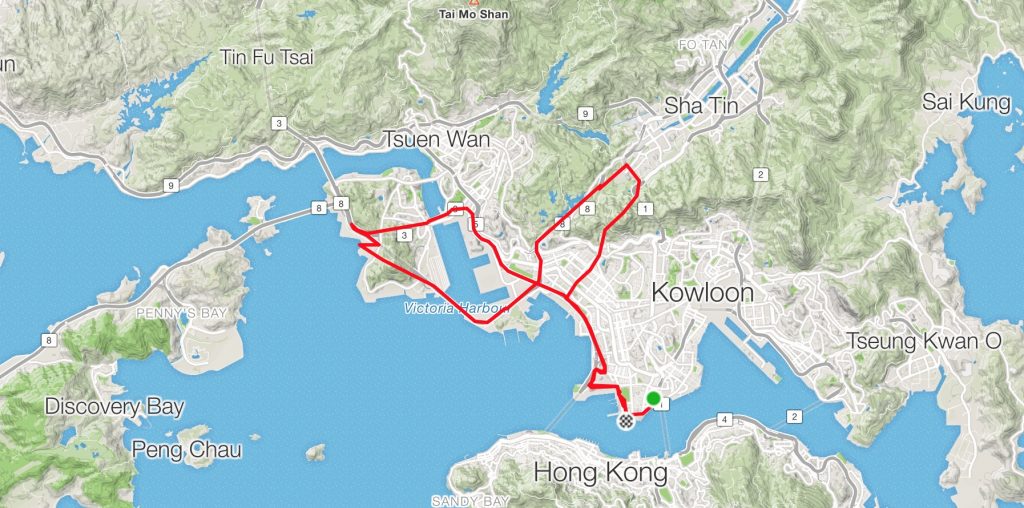 We were lucky to be able to match our CycleCruise on the same weekend as the 2018 Sun Hung Kai Properties Hong Kong Cyclethon. The ship's schedule allowed for the first ride of the Cyclethon: the 50km Ride. To qualify for this ride, particpants were required to hold a UCI, NCFL, Cycling Federation of Hong Kong China or membership/license of other associations or a certificate of completion of any professional cycling race or proof of corresponding rides by the said organiser from 2016/2017. Otherwise, a Cycling Technique Assessment would be required before the actual event ride.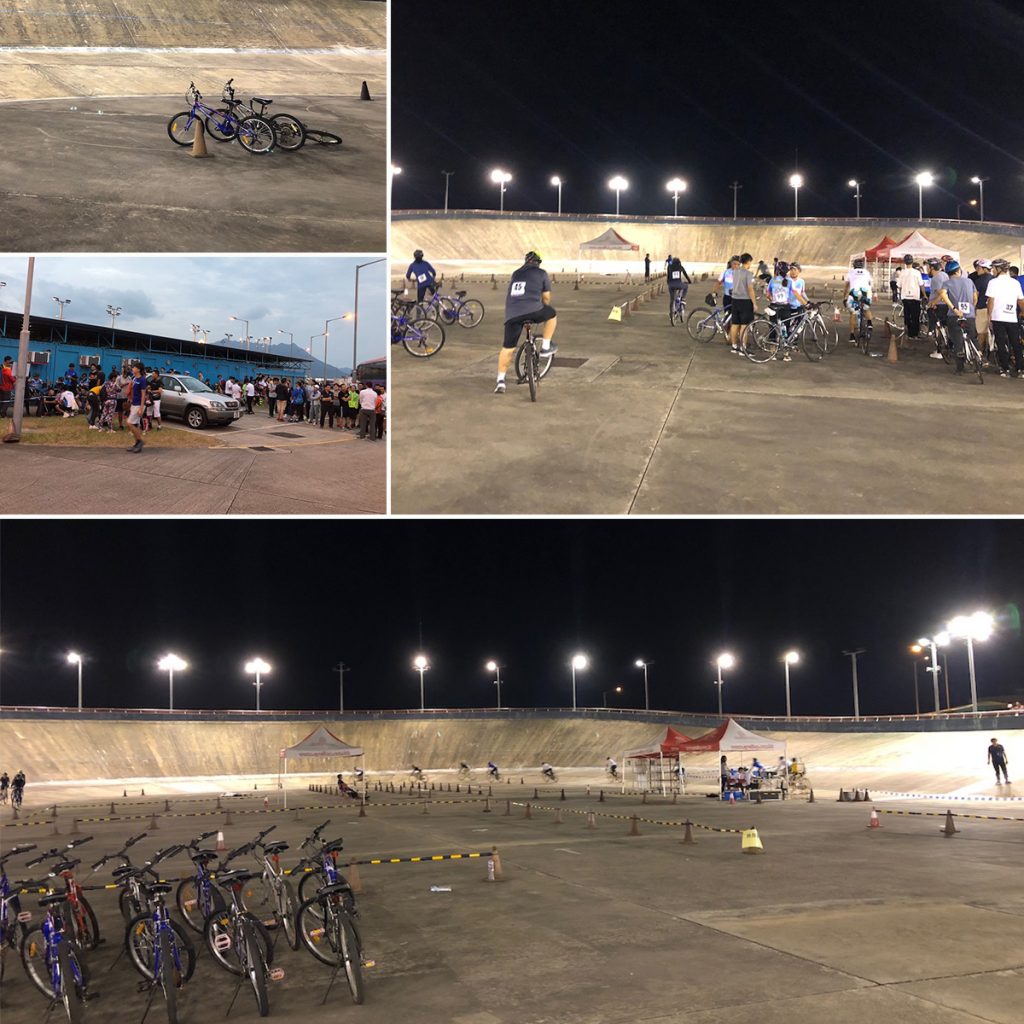 A less-than-an-hour session at the Whitehead Velodrome located at Ma On Shan. The riding assessment was quite basic. The waiting part was the bigger challenge.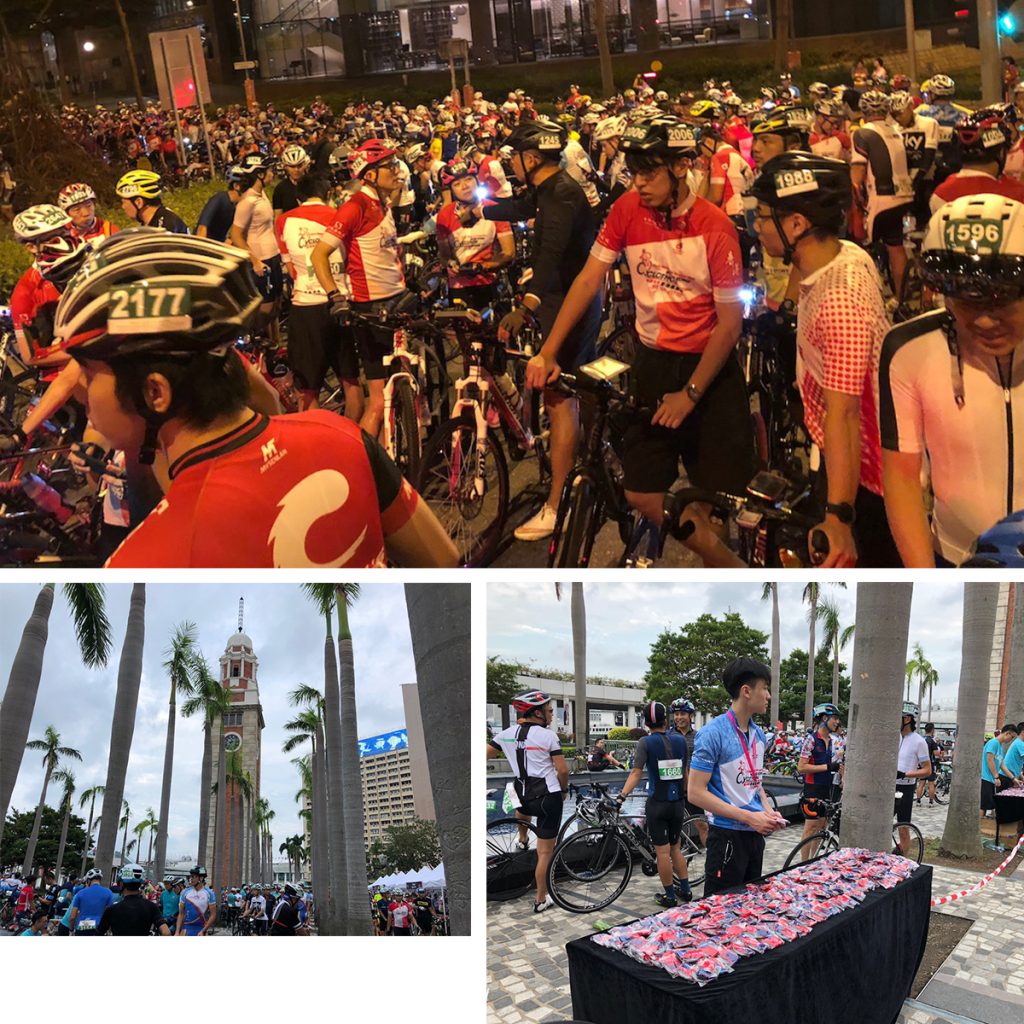 The 50 km ride was a breath-takingly scenic ride of Hong Kong. Cycling alongside thousands of other cyclists was indeed an experience hard to come by. Speed and pace were important to complete each stage of the ride within the designated time. To get the job done easier, a road bike is recommended. But we had as much fun on our mountain bikes too.
We get to ride on roads that were out-of-bound to cyclists, thanks to the road closure to motor traffic during this event. Our ride route: Tsim Sha Tsui – Cheung Tsing Tunnel – Tsing Ma Bridge – Ting Kau Bridge – Nam Wan Tunnel – Stonecutter Bridge – Eagle Nest Tunnel – Tsim Sha Tsui. Really unforgetable!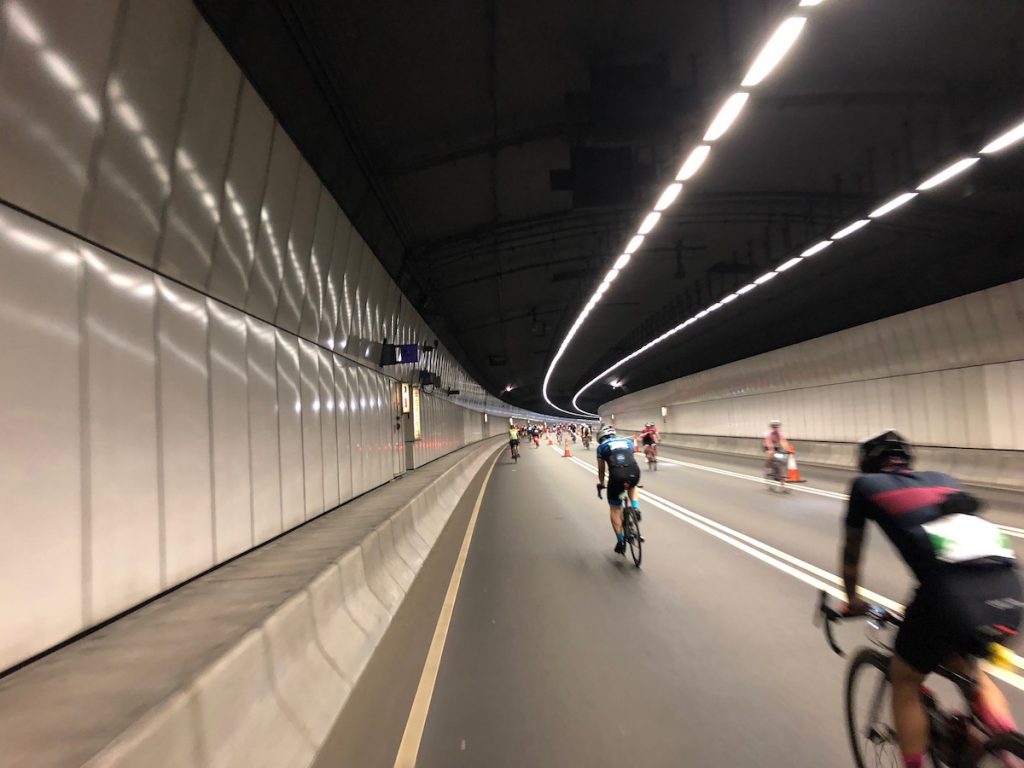 Rare sight! We don't get to ride Singapore's Central Expressway like this …
NAHA OKINAWA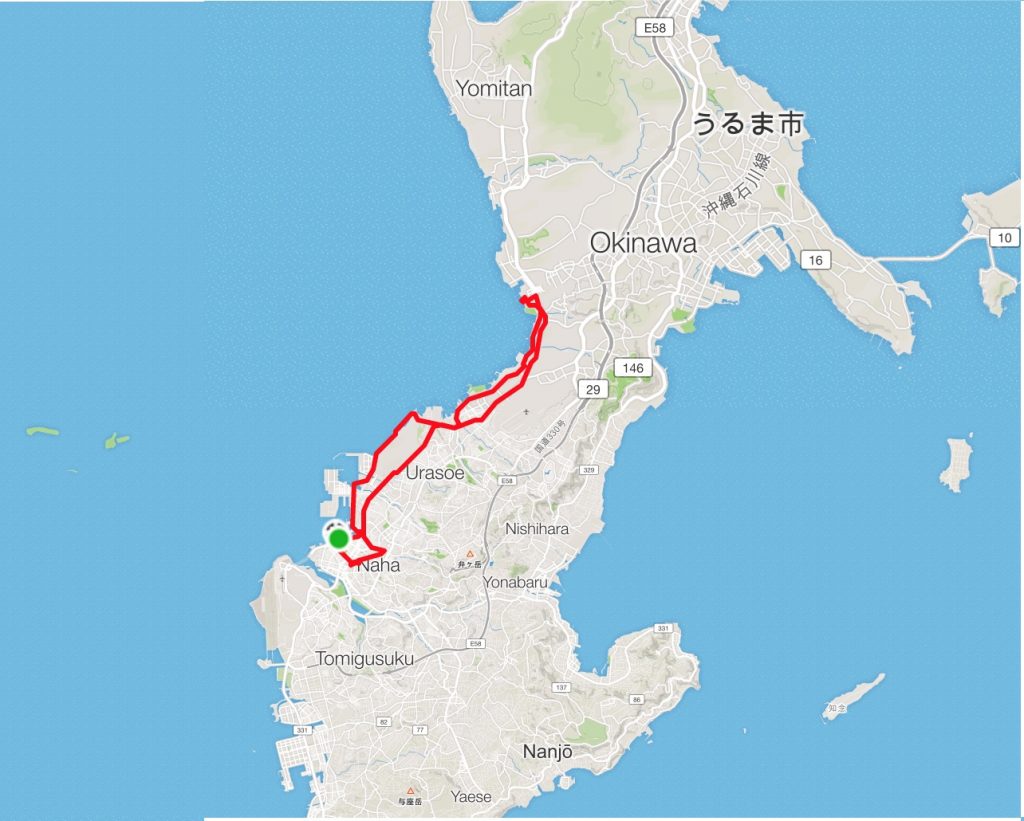 Following the strict-paced Hong Kong ride and nearly 2 days of rest on board World Dream, we are ready for another ride – the more leisurely paced Naha Okinawa ride. This one is definitely not a race. It's all sight-seeing, lots of smiles and the mood of touring is rich amongst the riders.
Our 2 Okinawa rides were guided by Kariyushi Cyclo Tour Team. The trips were meticulously planned with both dry and wet weather itineraries, safety and technical support vehicle, experienced guides. As Okinawa is very cyclist-friendly, cycling tourism is beginning to pick up in popularity. Think cycling plus spa visits or any other augmentation that adds flavor to our sport. And depending on each participating riding group's capabilities, the route can be adjusted.
Our 37.9 km Naha evening ride route: Naha Cruise Terminal – American Village – Naha Kokusai Street – Naha Cruise Terminal.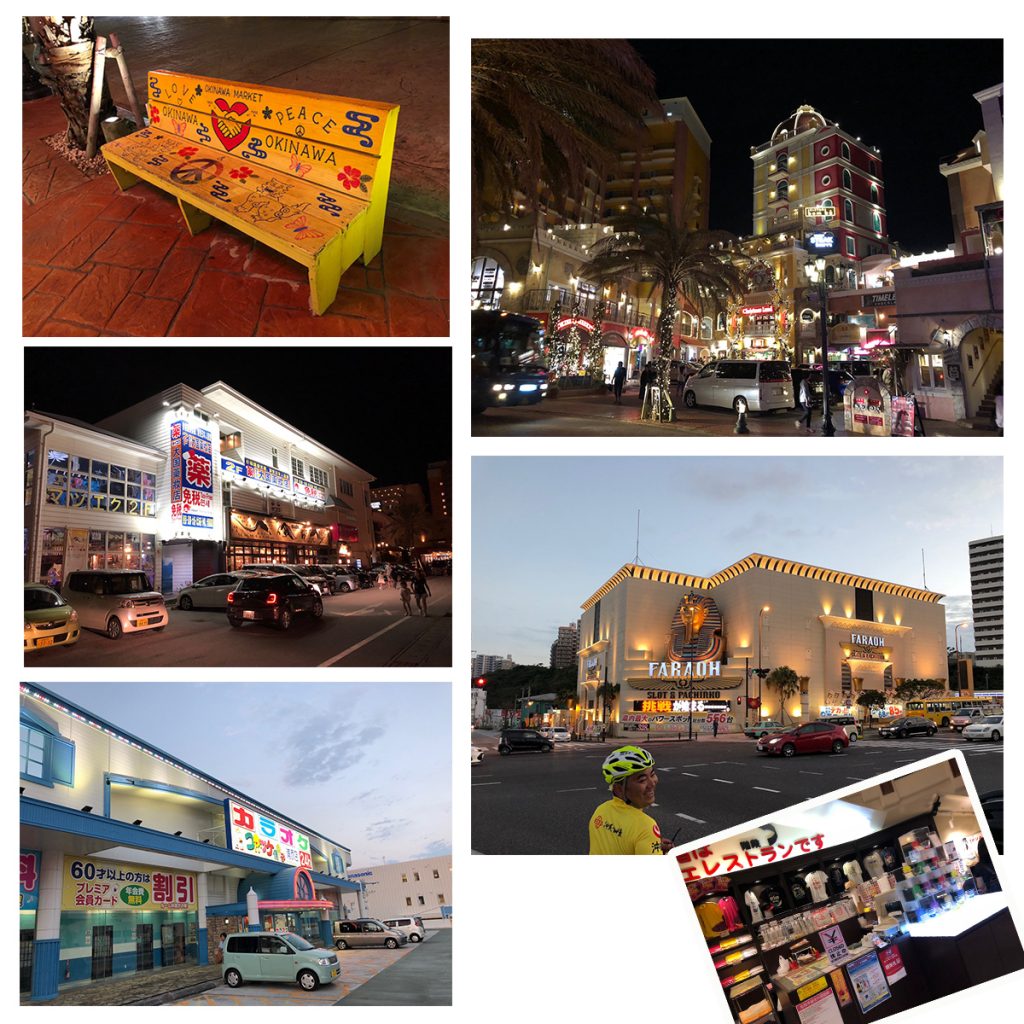 Riding through cyclist-friendly streets and roads. We were smiling throughout the whole ride.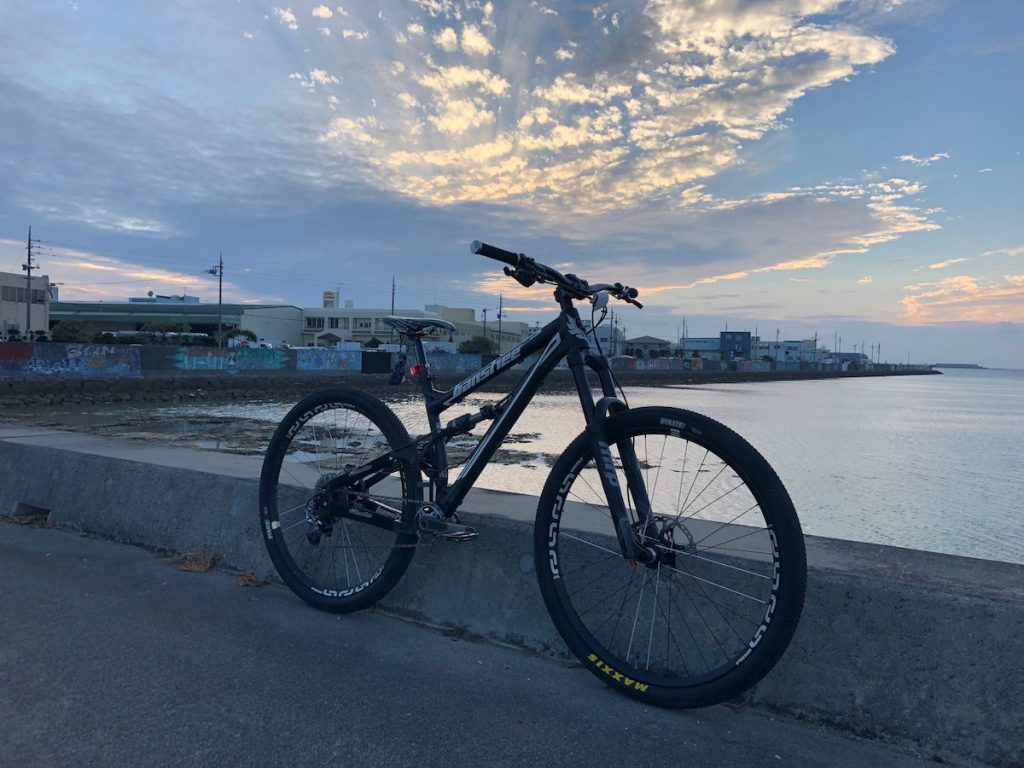 One of Bikezilla's weapon of choice for this trip. At places where the roads were undulating, the rest of the riders looked at us with envy.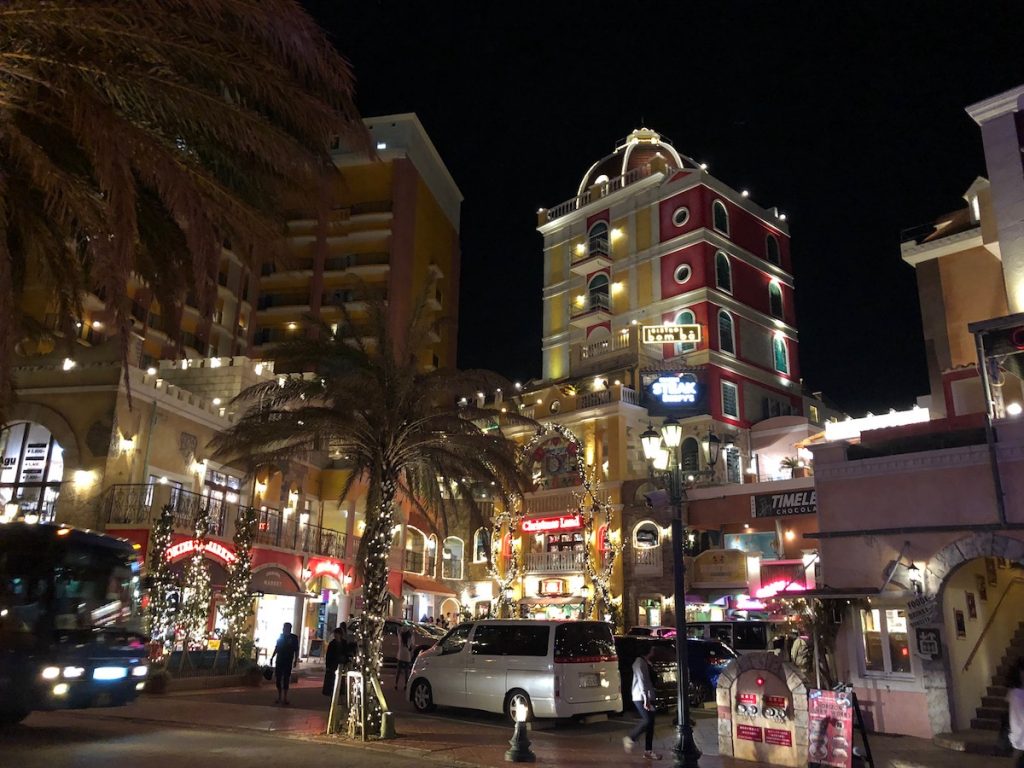 American Village, Naha. No American cars were spotted.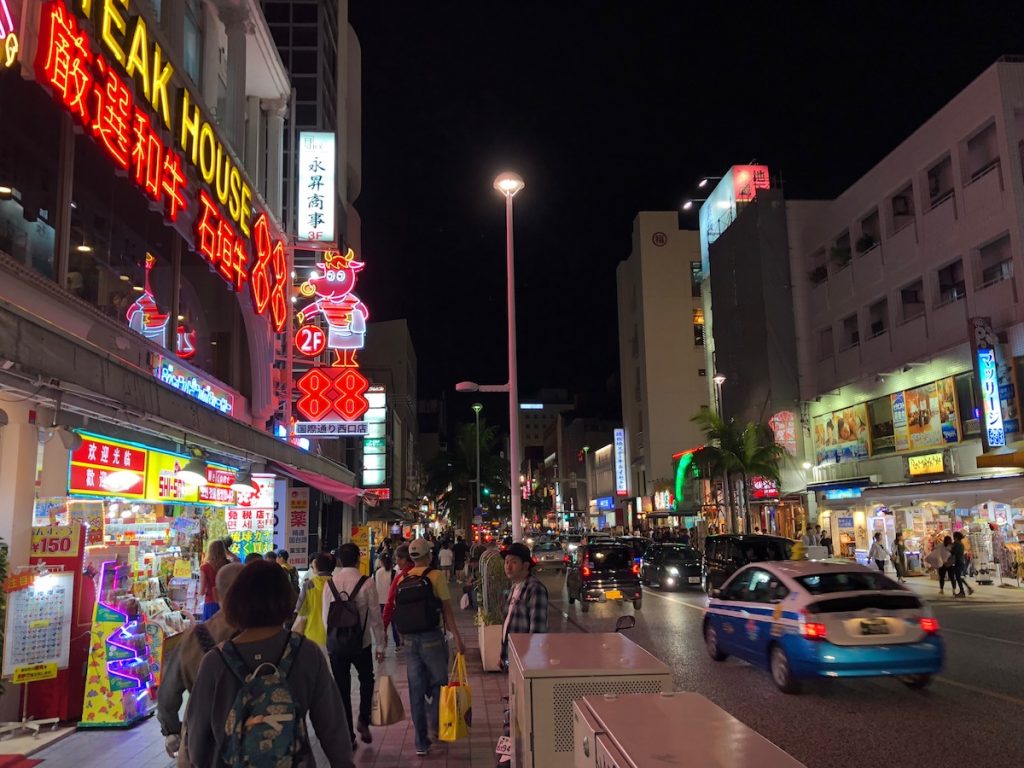 Kokusai Street, Naha. Long shopping street with lots of tourist shops and restaurants. May not be the place to showcase the real Okinawa. Entertaining enough nonetheless.
MIYAKOJIMA OKINAWA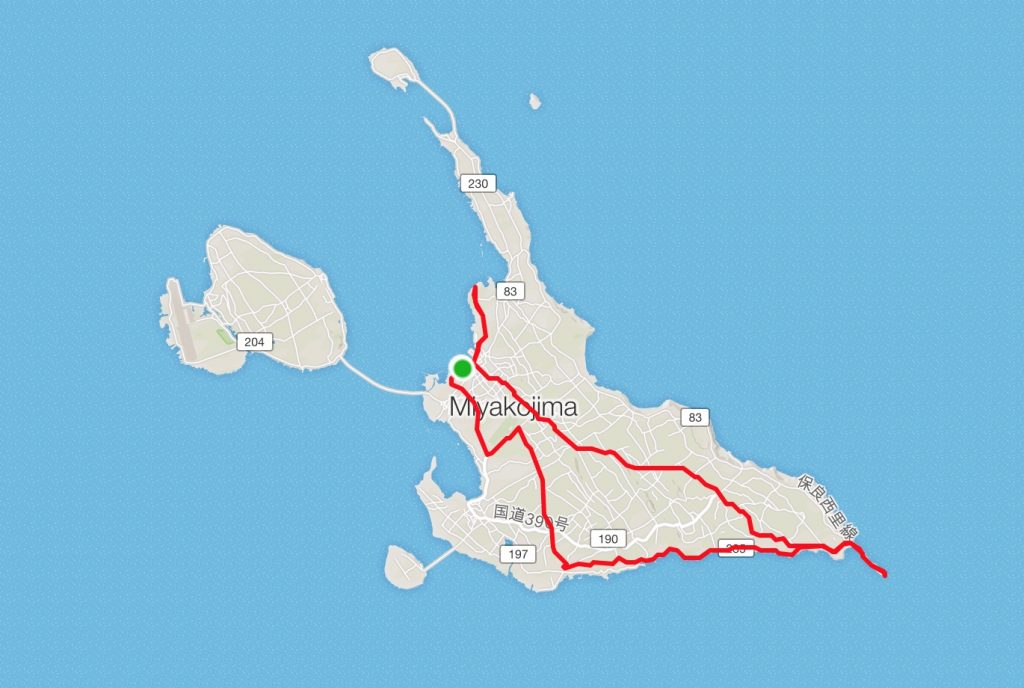 Our final ride for this trip was at Miyakojima. It was the rainy season and we were given a welcome shower during the morning leg of our 65 km ride. The weather turned cool and soothing in the afternoon making the scenic part of the ride even more enjoyable. Cool breeze, decent road traction with occasional light velvety drizzle.
Our 63.4 km ride ride at Miyakojima: Hirara Port – Sunayama Beach – Modern Time – Higashihennazaki – Ingya Marine – Ueno German Culture Village (pass-by only) – Hirara Port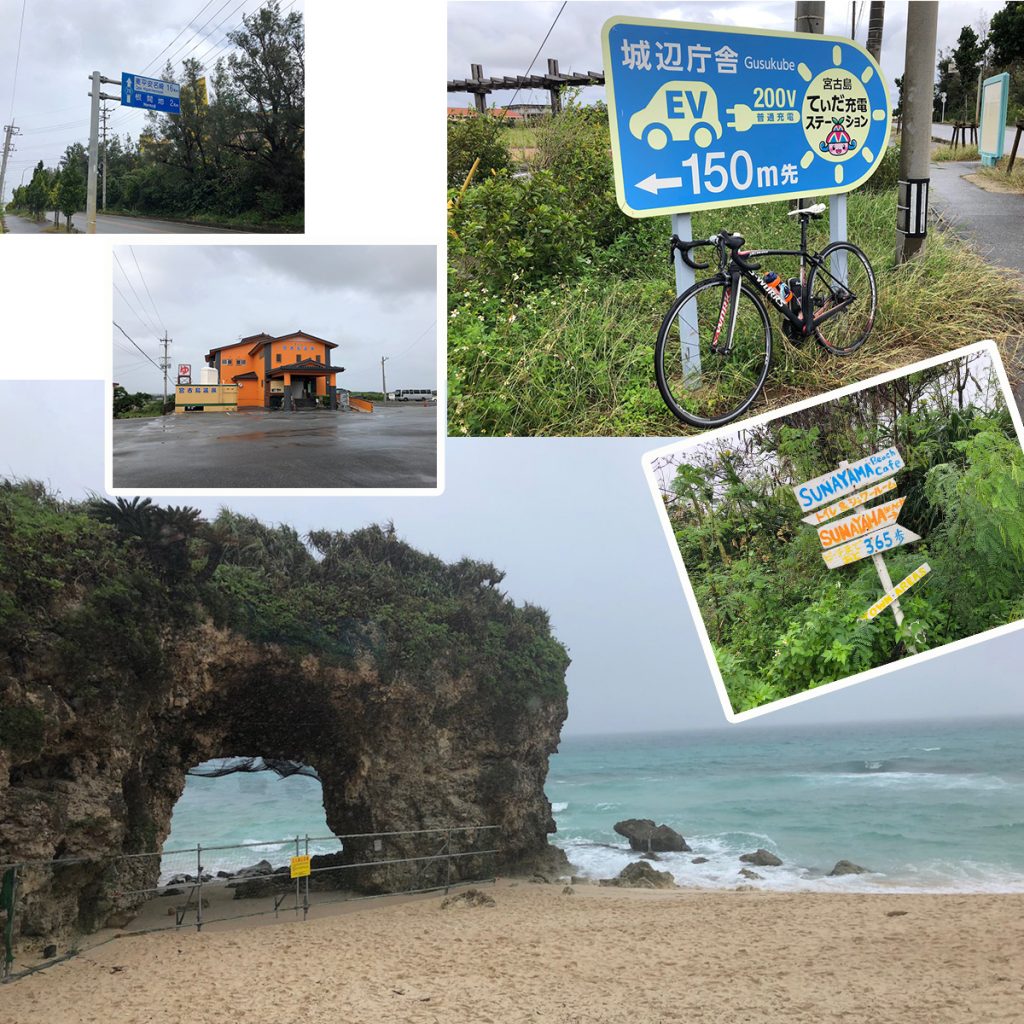 In our opinion, Miyakojima is the most scenic of the 3 rides we had. The feeling is one of peace and tranquility.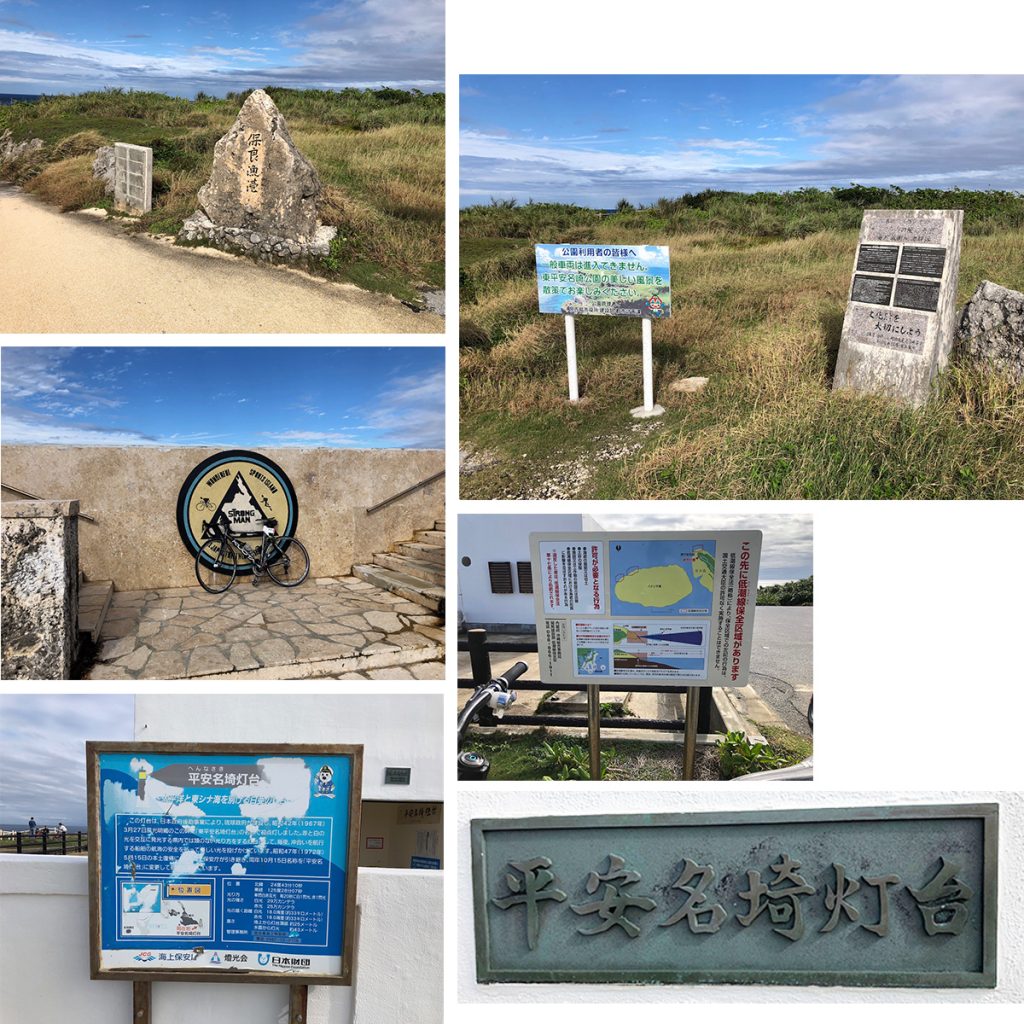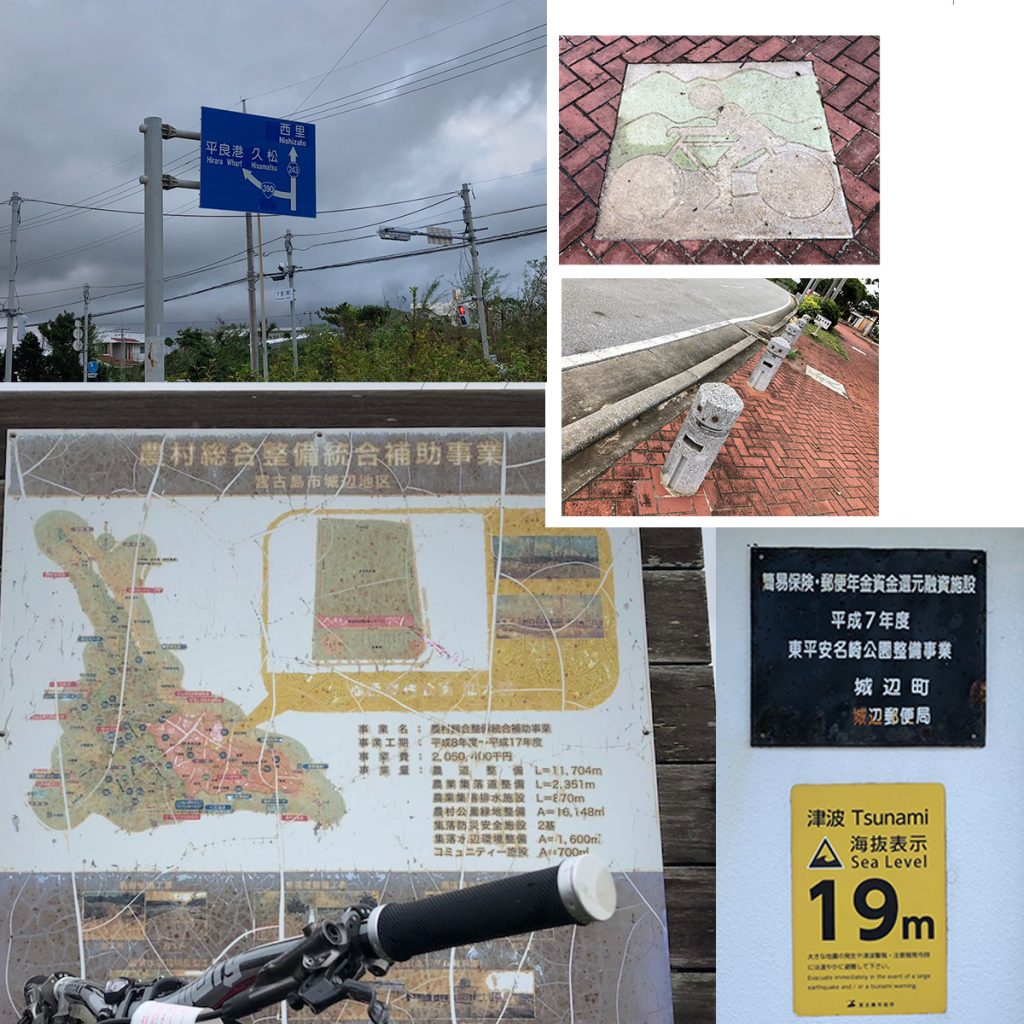 Riding towards the edge of Japan.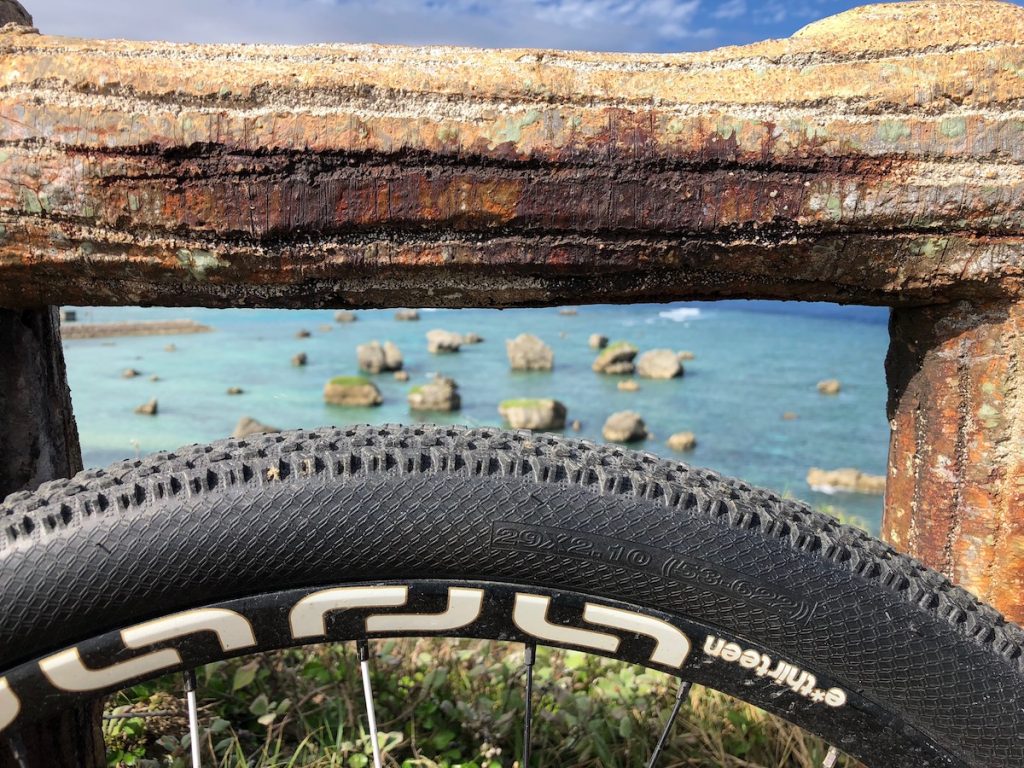 There aren't any gnarly terrain along these rides. 2.1 inch wide rubbers over a 29er rim with high air pressure got us moving (all 65 km of it) and good enough for some kerbside jesting.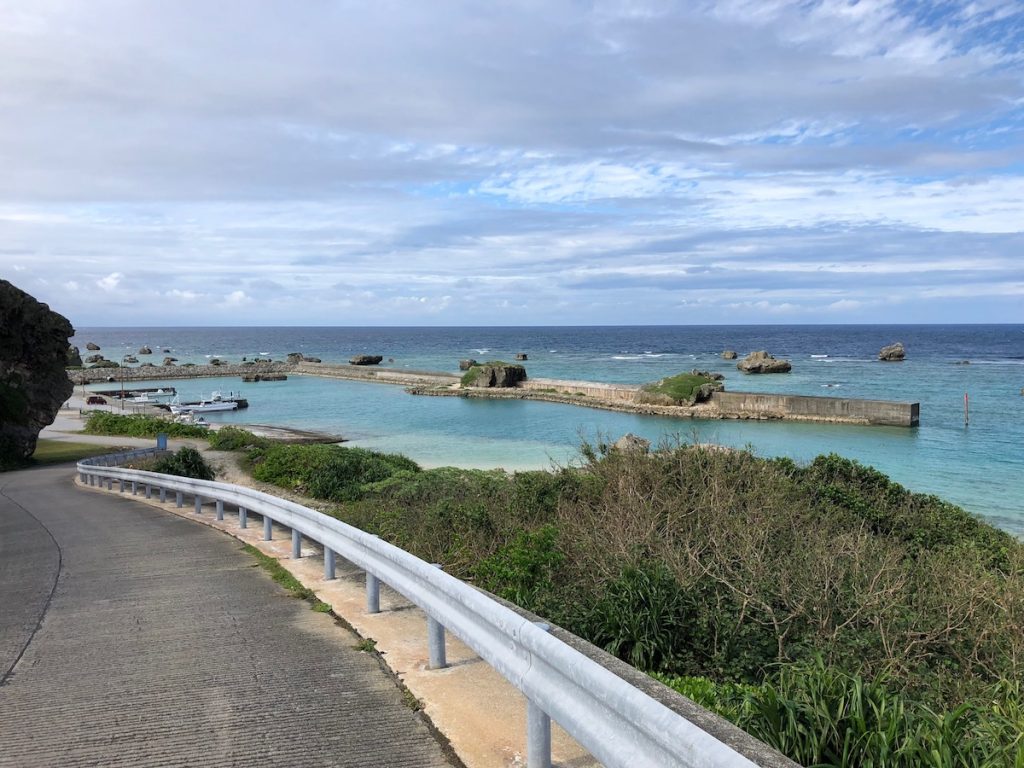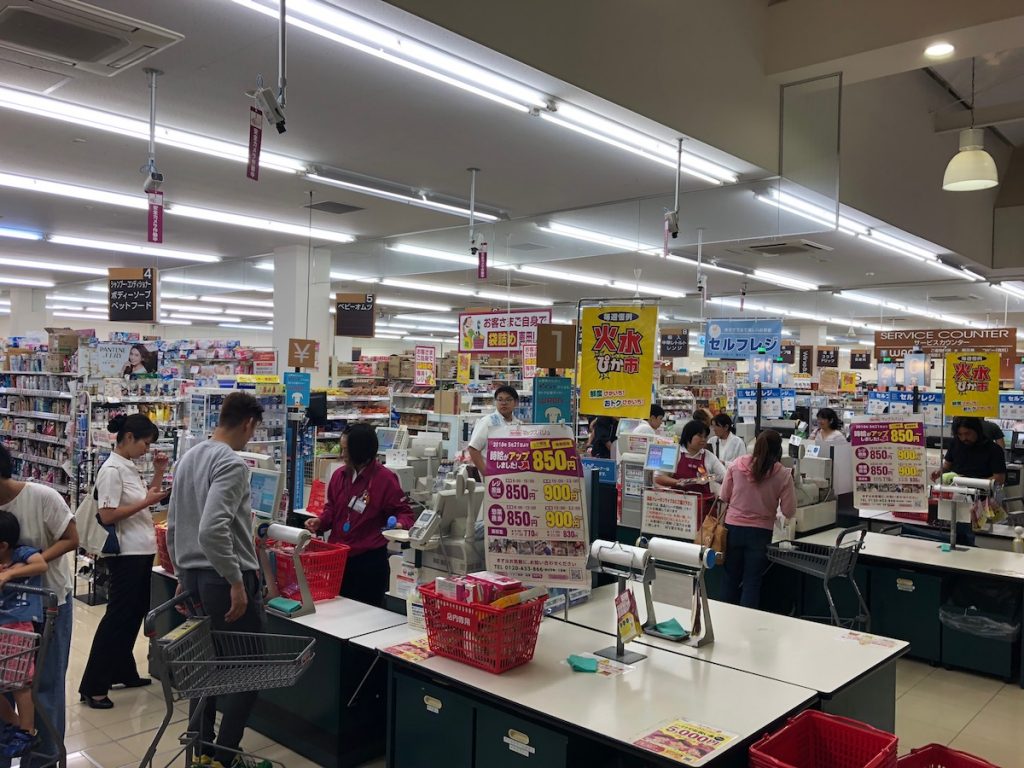 While shopping is not a main priority for cycling trips, we managed to squeeze out some time at every port for some quick souvenir shopping. Good enough for us as we only wanted some simple stuff to remember this trip with.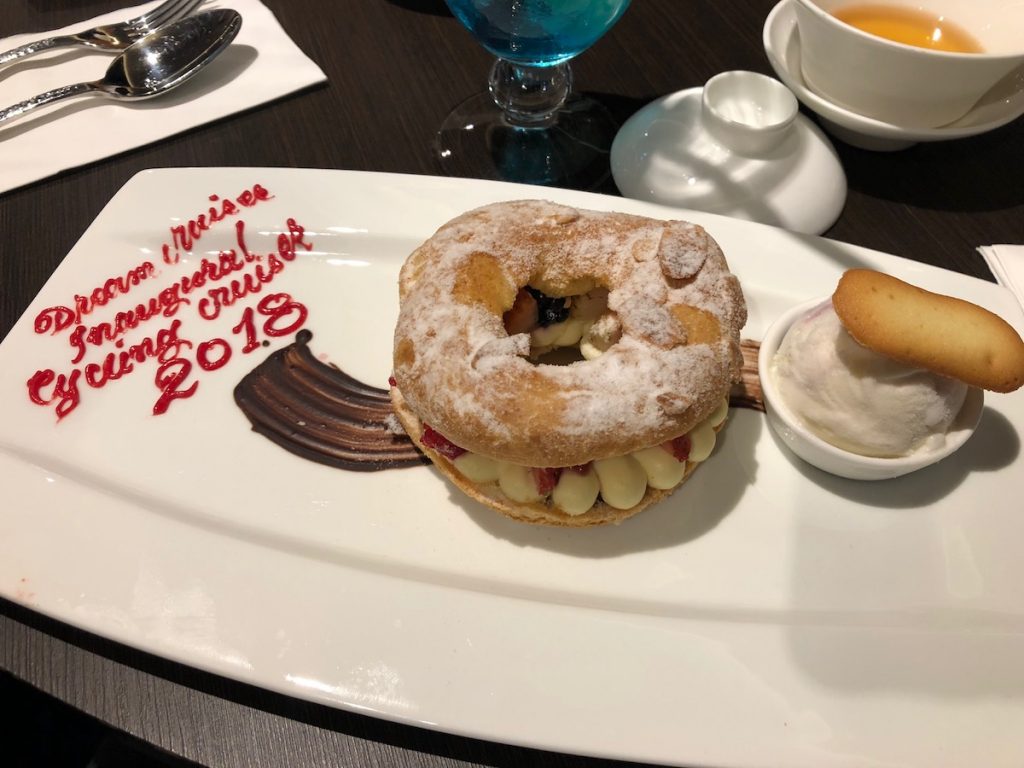 Our Welcome Dessert.
WHO SHOULD GO FOR CYCLECRUISE?
Everyone! No kidding. Whether you are a mountain biker or road racer or anybody in-between this spectrum, there's something for you. We admit that we may not have experienced all the riding & program possibilities of this trip yet, but we see endless possibilities in the way CycleCruises can be customised to your riding group's needs. Pardon us repeating this again; there are 2 types of bike trips – (1) One which you rough it out with the boys and (2) The other you take things a little easier and focus more on chilling out and exploring the destination. CycleCruises usually falls under the latter, unless you get a sizeable group and wish to customise a mountain bikers only CycleCruise. Should you be joining a bigger group, expect a CRUISE that comes with CYCLING rather than a cycle trip that involves a cruise.
All said, we love that this trip gave us trail riders a chance to see more of this beautiful world on 2 Wheels – beyond bike parks and forest terrain, and at pace where we can soak in our surroundings comfortably (as opposed to car rides and walking). Fresh air, scenic rides, awesome after-parties on board a big bad pimped-out cruise liner – The World Dream. Nuff Said.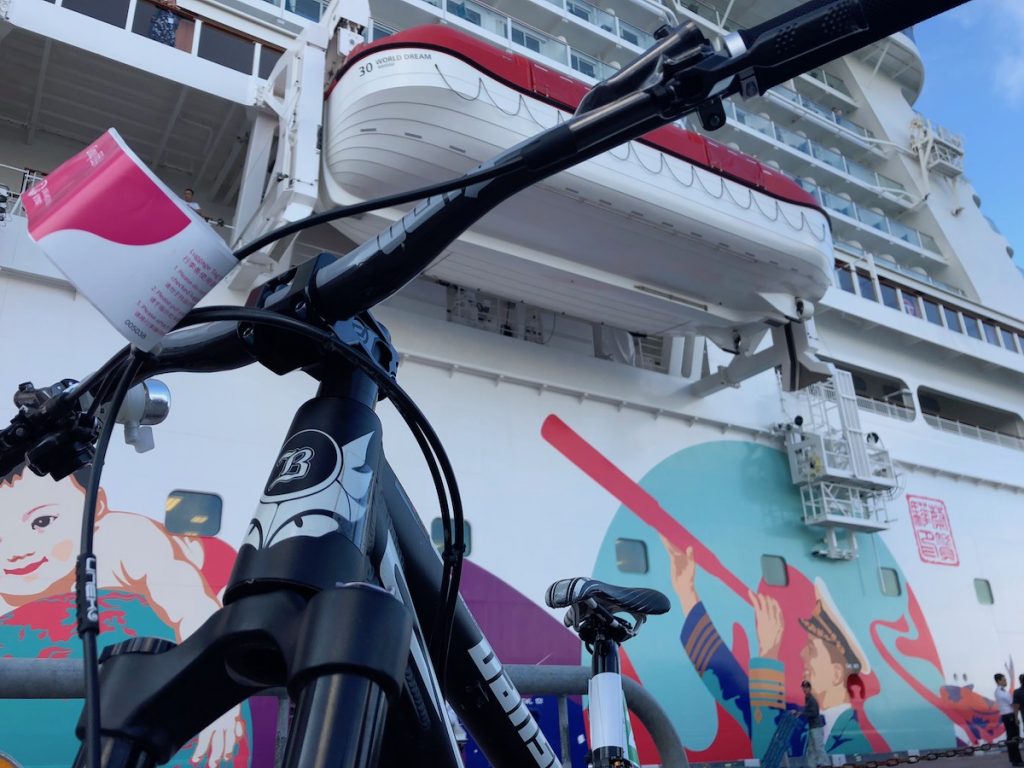 TAKE MY MONEY!
Go for your CycleCruise. Bring your family/girlfriend/boyfriend/buddies. They will love it. It's cycling and a whole lot more. For more information on Dream Cruises CycleCruises, contact Dream Cruises at www.dreamcruiseline.com
Reservation Hotlines
LIKE and FOLLOW us: Bikezilla Facebook Page • Bikezilla Bikers Singapore Group Page • BikezillaSG Instagram • Bikezilla STRAVA
Photos by Bikezilla
Video by Seth Tan for Bikezilla
Maps extracted from Strava
Special thanks to Dream Cruises