YOUNG PRODIGY SAM MARIANO SHOWS US HOW MOUNTAIN BIKERS ROLL IN THE PHILIPPINES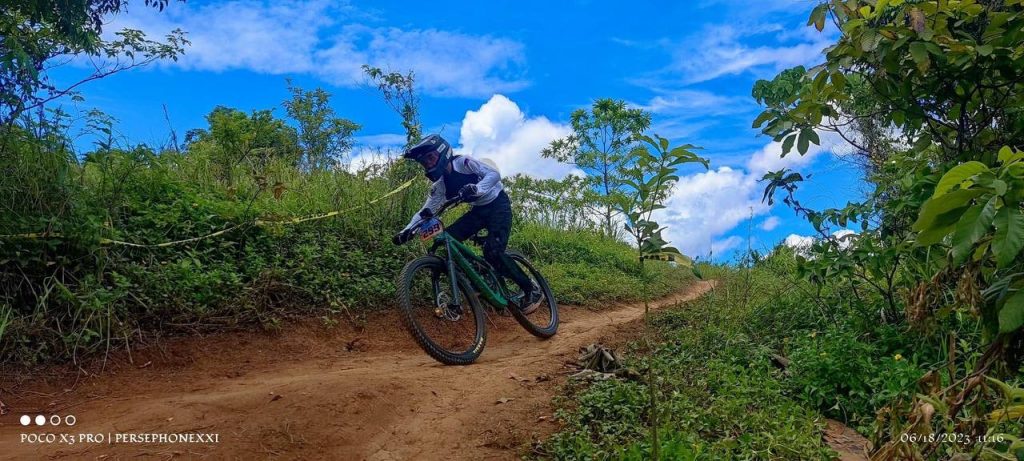 We have heard how hot the Philippines is when it comes to mountain biking (and the cycling sport as a whole). The Pinoy mountain bike community brought their own unique flavour and local culture to the sport, adding more colours to the Asian mountain biking scene. It is from amidst this fun-loving folks that we chanced upon young Sam Mariano who rides out from Caloocan City. Lots of city slickers can claim they are into mountain biking and are totally into the sport. We'll let Sam show us what it means to be "into a sport" – or at least … one way of being totally into the sport.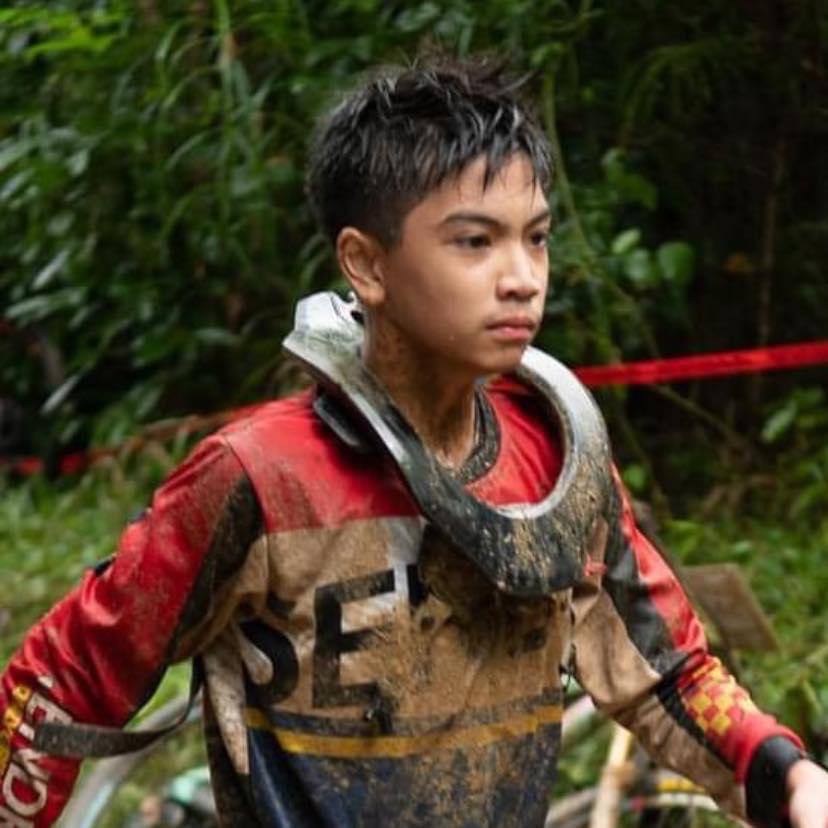 QUICK INTRODUCTION
Name: Sam Andrew B. Mariano
Nickname: Sam
Age: 13
Cycling Disciplines: Downhill and Enduro
Number of Years Riding: 2 years
Sponsors and Ambassadorship: Canfield Bikes, Hayes Brakes, Black OX, PNW Components, Bike Boy PH, Papsy's Bikes and Brews, Slow Moes Culture
How Often do you Ride: Around 2-3 times a week
Current Bike:  Canfield Lithium
Dream Bikes:  I want to try Canfield Jedi and One.2
Riding Dream: I wish I can ride with Mr Lance and Chris Canfield so that I can learn from them
Usual Riding Spots: Teban Trail, Patiis DH tracks, GSC Trail
Countries Ridden so far: The Philippines
Other Sports besides Cycling: Volleyball, Basketball
RACE HISTORY
At only 13 years old, Sam is making full use of his opportunity to ride. Looking at the list of races he had participated, we could say that he had raced more than many riders double or triple his age! And his race results does show that (1) Hard Work – lots of saddle time, (2) Acquired Experience – Getting himself immersed in as many available races as possible and (3) Having a loving family, good friends and supportive sponsors do help one to improve on the sport greatly. (Ed: Sam mentioned that his improved performance was also partly contributed by his new bike.) Here's a quick glance at Sam's race history till date:
1st Mayor Marita Flores Gravity Race, Teban Trail Gravity Bike Race – 17 October 2021, P 27 (19 Below Category)
Teban 2.0 Enduro Race – 20 February 2022, P 2 (12 and Below Category)
1st Mayor Darwin R. Manalansan Floridablanca Enduro Race 2022, Nabuclod Trail – 03 April 2022, P13 (19 Below Category)
7th B.E.E.R. Enduro Attack, Mt. Samat, Pilar, Bataan – 24 April 2022, P 24 (19 and Below Category)
Teban Tr3s Gravity Racing, Sendr Line, Teban Trail  – 18 September 2022, P 15 (19 and Below Category)
The Ultimate Aqua10 Hardline, La Union MTB Downhill Race – 30 October 2022, P 17 (19 and Below Category)
Karhakas Bente Bente Dos Downill Race, 3Skulls, Tagaytay – 20 November 2022, P 6 (19 and Below Category)
PasBu Palpitate Year End Fun Jam, PasBu Playground, Cavite – 30 December 2022, P 2 (15 and Below Category)
Pugad Lawin Air DH, Laur, Nueva Ecija – 26 February 2023, P6 (14 and Below Category)
Cav1te Downhill Alliance Race Festival, 3 Skulls, Batangas – 18 – 19 March 2023, P10 (15 and Below Category)
Teban 4 Enduro Race, Teban Trail, DRT, Bulacan – April 16, 2023, Champion (14 and Below Category)
JalaJala Trail Rides, Summer Fundurog Race – April 30, 2023, P4 (19 and Below Category)
1st Sabah Downhill Race, Sabah, Arayat, Pampanga – May 7, 2023, P2 (15 and Below Category)
San Mateo Patiis Downhill Challenge, Patiis Enduro Hardline, San Mateo, Rizal – June 18, 2023, P2 (19 and Below Category)
LakBike Turismo DF Race Event, DRT Bulacan – July 15, 2023, Finisher (19 and Below Category), P4 for 4 Cross & Youngest Rider Award
Bathala Bike Festival 2023, Bathala Bike Park, Tanay, Rizal – September 30 to October 1, 2023, P5 for Downhill Race (19 Below Category), P4 for Four Cross Race (19 Below Category), P7 for Pump Track Race (Novice Category)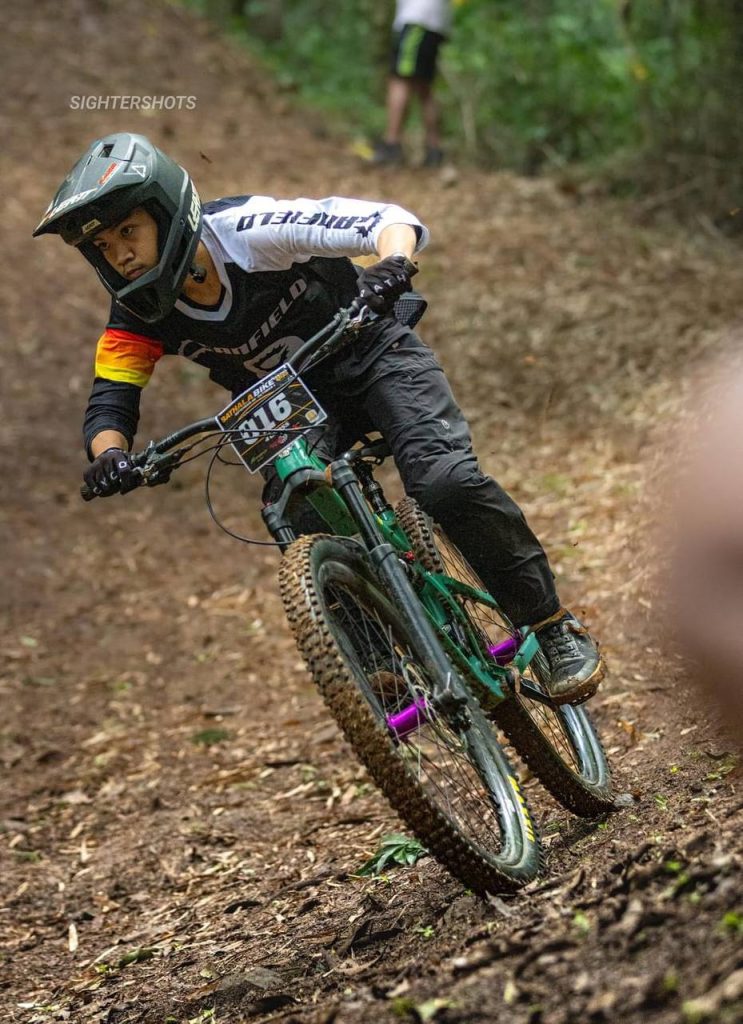 MOUNTAIN BIKING AND SAM
Hi Sam, thanks for spending time with us in this Rider Interview. We noticed that you dedicated much of your social media time to mountain biking. Please tell us what makes this sport so fascinating to you?
The speed, the thrill, and the awesome community make it such a blast. I love the feeling when I conquer a tough trail, it feels insane. It can be dangerous and risky, but that's part of the thrill. It's like a crazy adrenaline rush that also helps me chill out sometimes.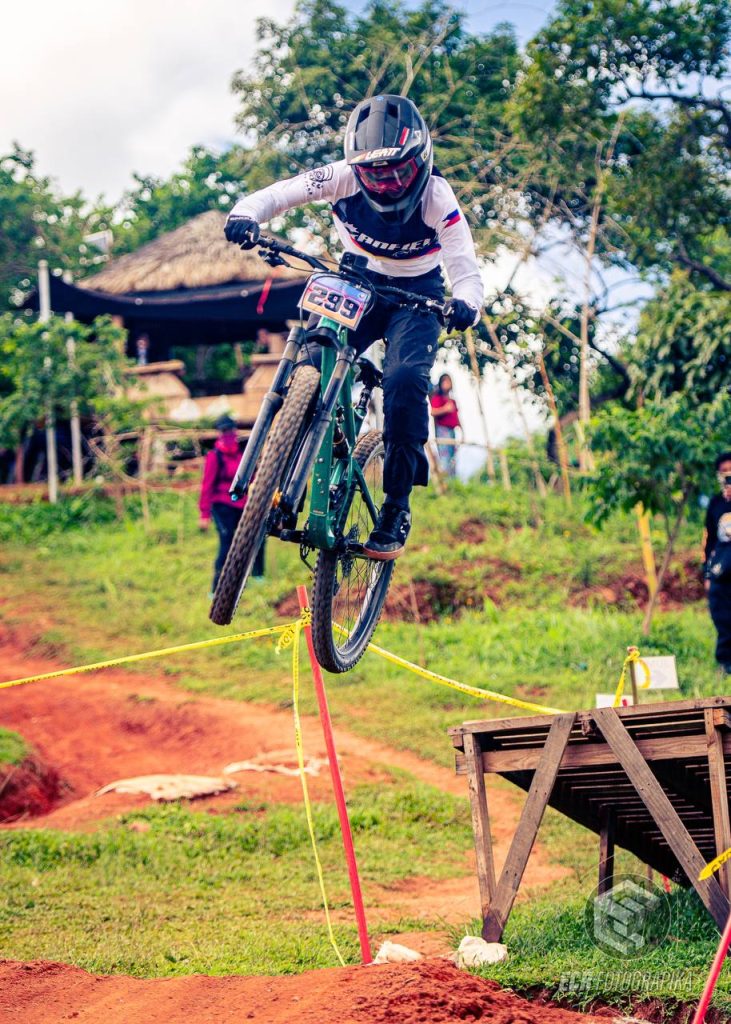 How did you get started with mountain biking?
It all started two years ago on the Komodo Trail in Bulacan. My awesome Kuyas at Komodo taught me how to jump tabletops and gaps, and I picked it up real quick. A few months later, I joined my first race, the Teban race. That's when I fell in love with Enduro and Gravity riding. I've been in a bunch of races since then, and I even joined Ride Farr Academy to learn all the basics like body positioning, cornering, jumping, and braking. It was a game-changer, and I could feel myself becoming a better rider.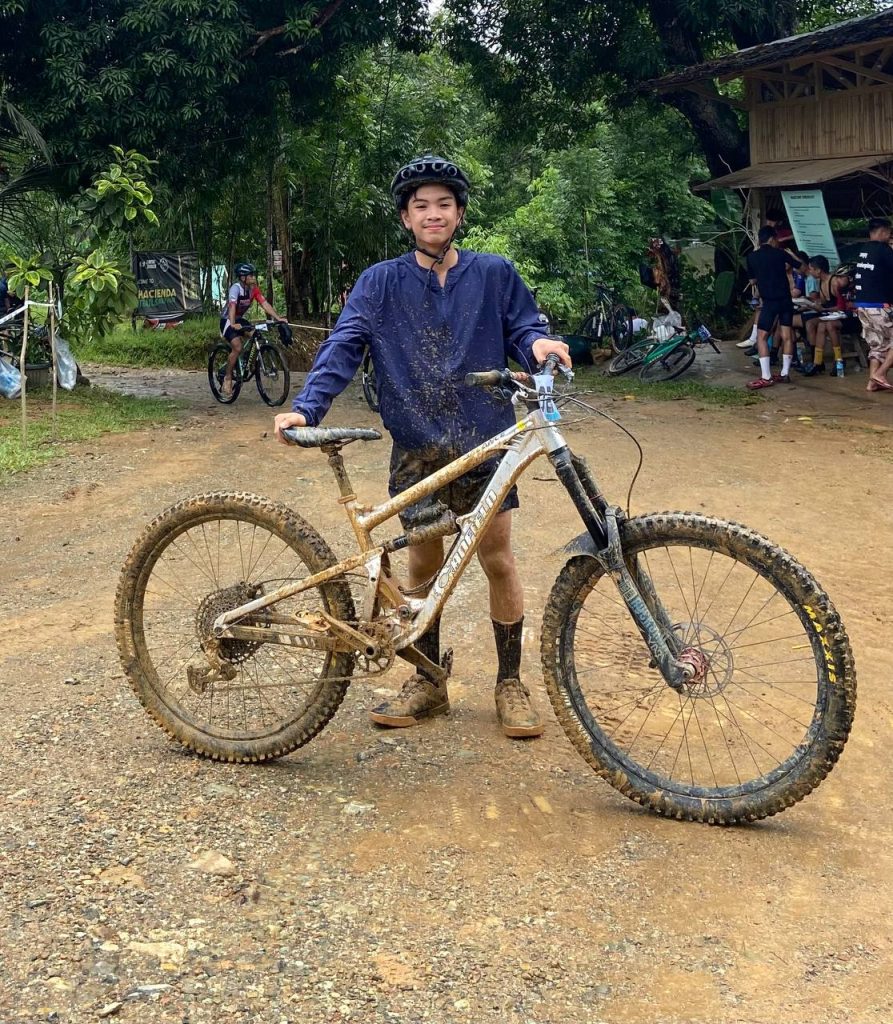 Please tell us more about the bike shops and sponsors that you are working with currently
I've got some awesome sponsors and bike shops supporting me. Bike Boy PH, Papsys Bikes & Brews, and Slow Moes Culture are a few of them. Bike Boy PH paved the way for my Canfield Ambassadorship and hooked me up with some amazing brands like PNW Components and Black Ox sealant. They even helped me with getting a sponsorship with Hayes Brakes! Papsys and Slow Moes take care of all my bike maintenance needs, from tune-ups before and after races to being my pit crew during races. They've also hooked me up with some epic gear, like Derby + Onyx race wheelsets and rad HandUp Glove apparel. These guys aren't just sponsors, they're like family to me.
How do you usually spend a typical week during school period and during vacation period?
During school days I focus on my studies. I work hard to maintain my grades. It is rather hard to be studying in Science High School so I am really trying my best, even if it means some sleepless nights. School runs from 7 am to 3 pm, so whenever I have free time, I hop on my bike. Sundays are dedicated to riding different trails or practicing for upcoming races. It's a great way to take a break from all the pressures of school.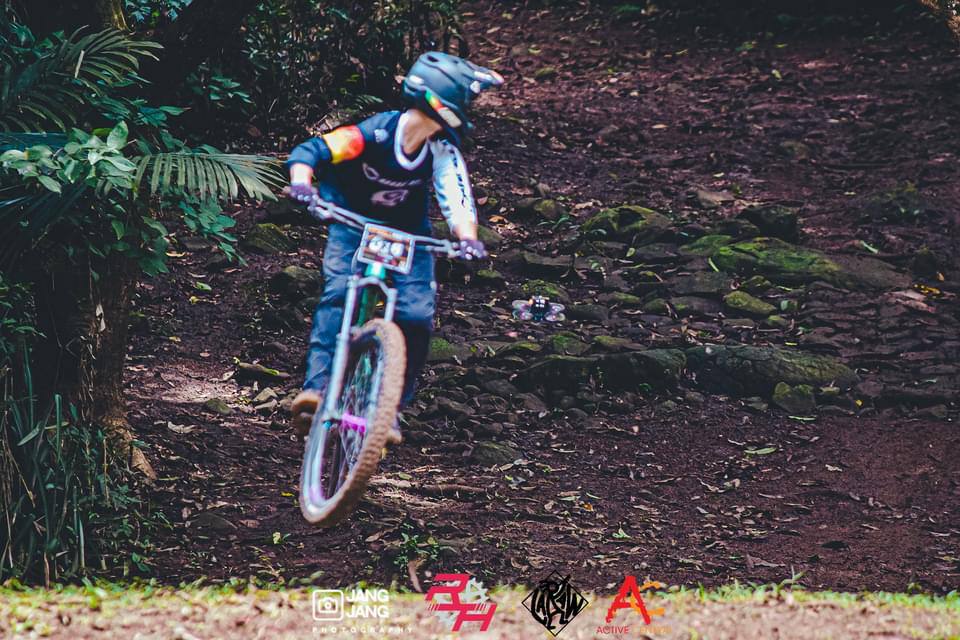 What are the mountain bike skills that you are constantly training on?
Speed is like my constant goal! I'm always trying to beat my own records and push myself to go faster. When I see my riding skills improving with fewer mistakes, it fires me up! I do some gym training too to get my body fit to tackle the gnarliest terrains. I also work on training my mind by studying and reviewing trails, finding ways to ride better and faster.
Many riders train with STRAVA or other activity trackers. Do activity tracker apps and devices work for you?
I think apps like STRAVA are fantastic for motivating riders to train and ride faster. Personally, I use a GoPro to review my runs and lines. It's great because I can watch my rides anytime, anywhere, and see how I'm doing at the trails. It's a helpful tool for analyzing my performance and identifying areas where I can improve.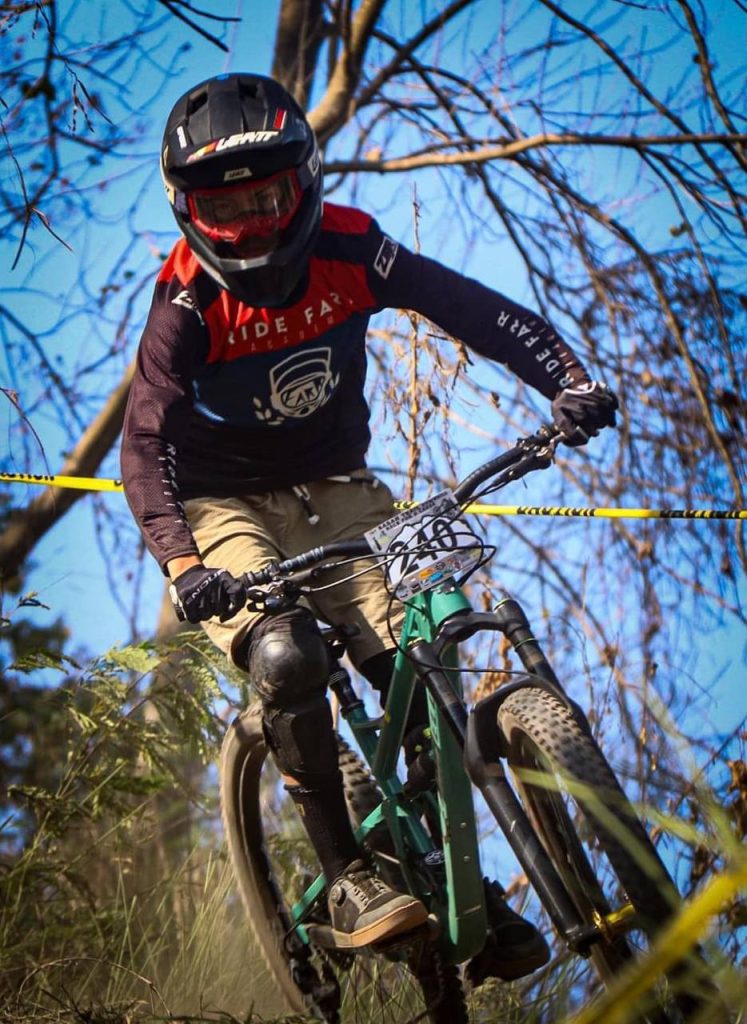 Please tell us about your current "Weapon of Choice" – your bike.
During the Teban 4 Enduro race, I wasn't satisfied with my performance on my old bike. I felt like I could do better, so I asked for a new bike. Two days before the race, I got my hands on the Canfield Balance demo bike, which was the perfect size for me. I rode it without any adjustments and felt an instant connection. It felt like I was one with the bike—so stable at high speeds. It was my fastest run ever, and it felt incredible. That boosted my confidence, and I ended up becoming the champion in the 14 Below category.
Following this great experience with the Canfield Balance, I wanted to try a 29er for its reputed speed. I went on to try out the Canfield Lithium. It was a medium frame, which was a bit big for me, but I made it work. The bike felt great! It is fast and felt like it is asking more from me. Chunky and edgy rockies were a breeze and I can speed up corners like a 27.5er, snaking through tight sections. Both the Balance and the Lithium made me feel planted and secure, allowing me to ride faster. I opted for the Lithium as I was in a growing stage and it has proven to be the right choice.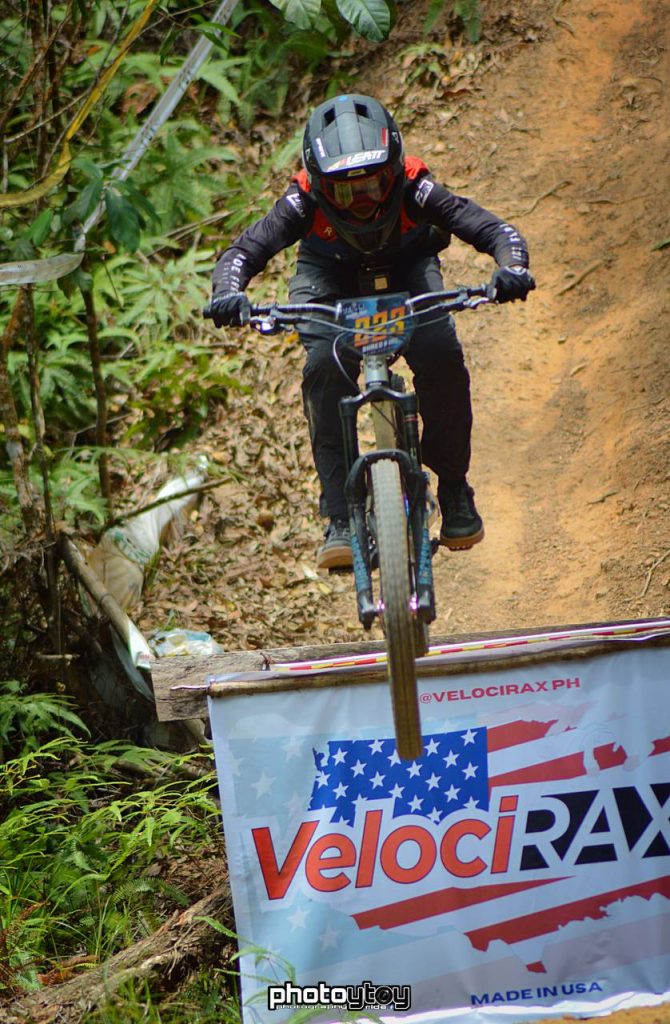 If you are to advise a new comer on how to choose a mountain bike, what would you tell him/her? And what about for someone who is already intermediate and wish to upgrade to a better bike?
Choosing a bike or upgrading is like a major decision. Don't rush it. First, get familiar with your riding style and what you want from a bike. Do some research and read reviews to narrow down your options. Most importantly, take the bikes you're interested in for a test ride. Feel how they handle and whether you have that connection with the bike. When it feels good and you feel at one with it, then you'll know it's the right choice for you. If it feels right, you'll know it. It's all about that connection with the bike. Choosing the right mountain bike or upgrading shouldn't be rushed. Enjoy and ride safe!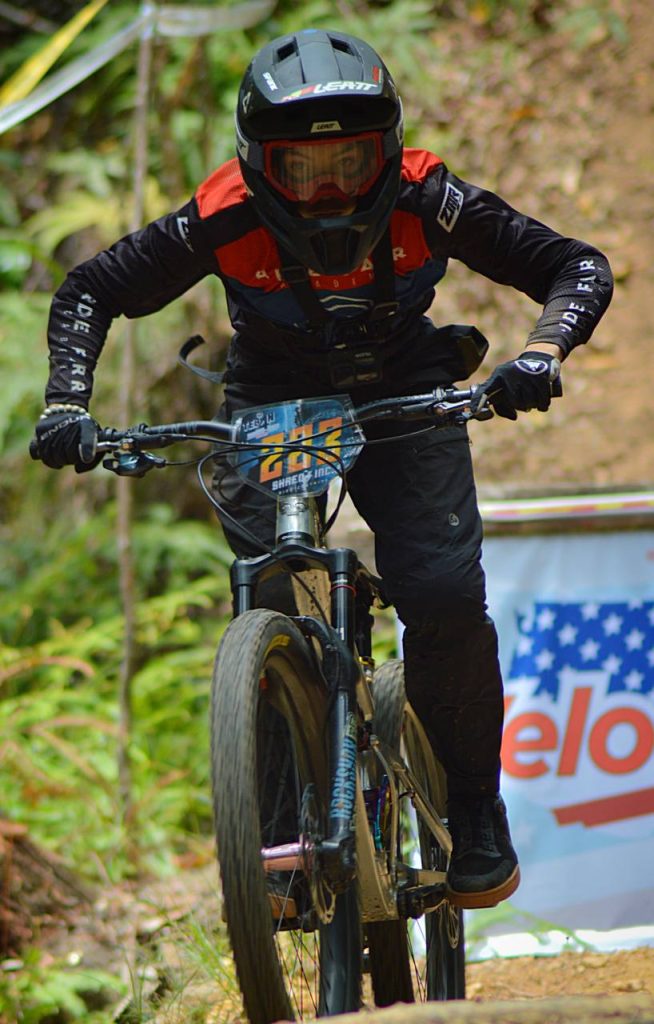 What do you think is the best way for a new rider to start getting into mountain biking?
My advice to newcomers is to start with the basics and be patient with your progression. Ride within your limits and don't be too aggressive. It takes time and discipline, but you'll get there!
ED'S PARTING SHOT
There you have it. Sam has big passion for this sport! His insight into the sport, the bikes and the skills required has to come from time spent with hanging out with the "right folks". We understand that not everyone could be as lucky as Sam who's got the sweet opportunity to get into the sport early in life, immerse himself with all the activities, events and races of his chosen passion. But besides given the opportunity, we also see the talent and the proactiveness of Sam leading to him excelling in this sport as he grows. He may be young (13 years old), but he definitely has got what it takes to be a prominent rider in this sport. We wish Sam all the best and hope he smashes his own boundaries ever so often.
Here's hoping to see a steady spawn of young prodigy riders in our communities all the time! Ride.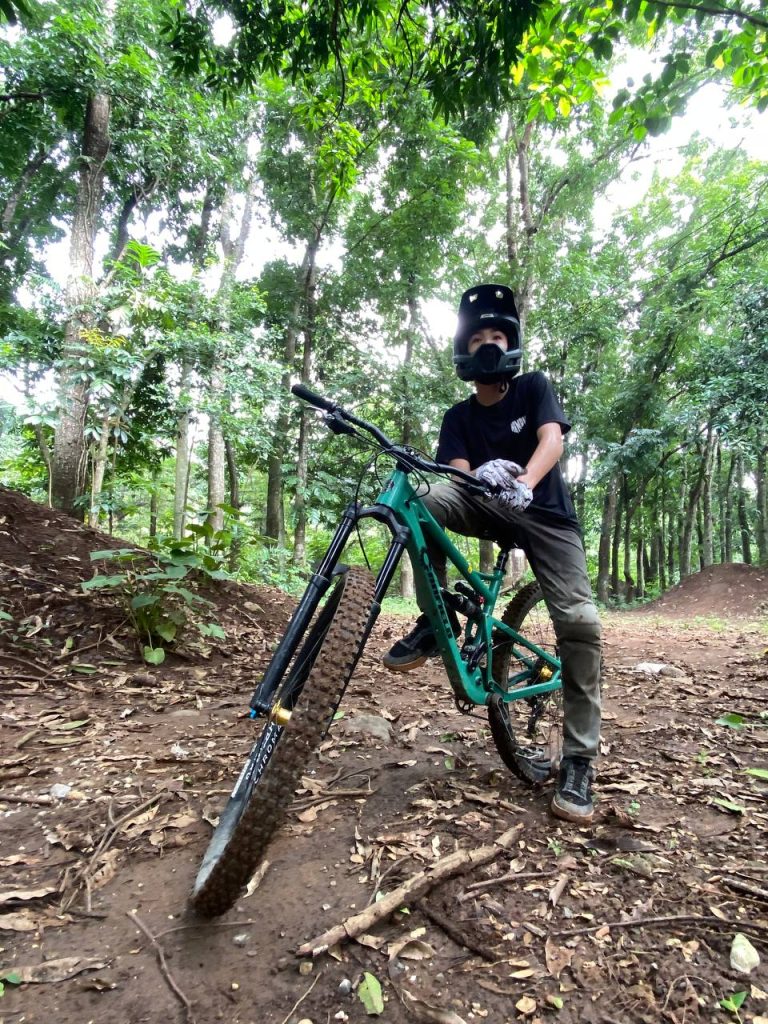 LIKE and FOLLOW us: Bikezilla Facebook Page • Bikezilla Bikers Singapore Group Page • BikezillaSG Instagram • Bikezilla STRAVA
Interview by Bikezilla
Photo Credits: ECR Photograpika, Marlon Rides, Photoytoy, Sightershots, Jangjang Photography, Moto Edge, SnapShot by Ann