CANADIAN BECOMES YOUNGEST-EVER WINNER OF WORLD'S TOUGHEST DOWNHILL RACE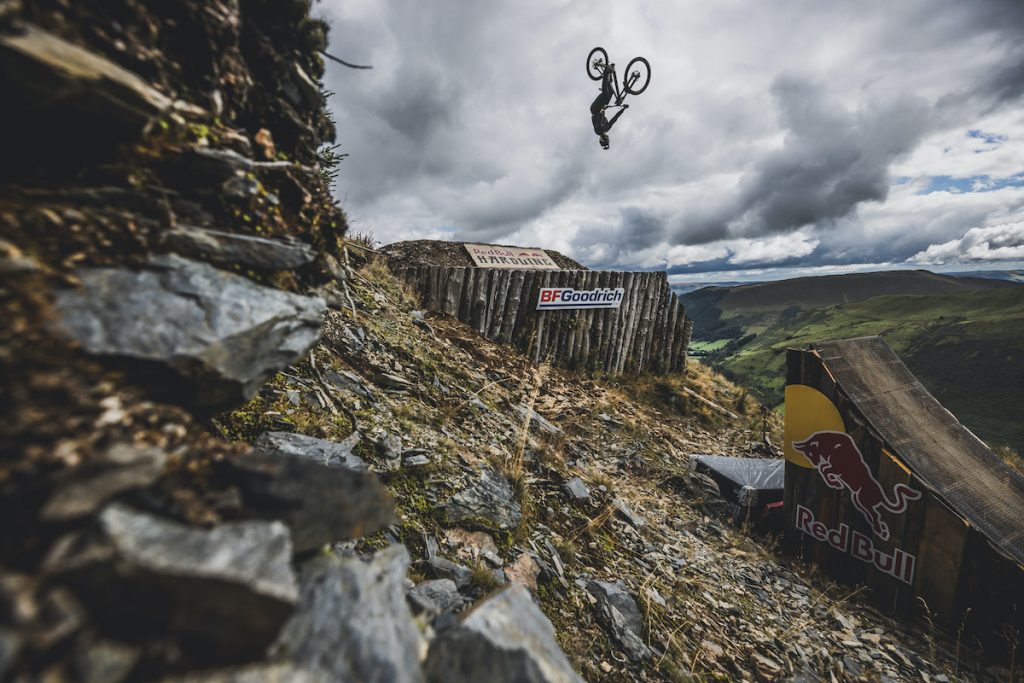 Rising Canadian downhill star Jackson Goldstone became the youngest-ever winner of Red Bull Hardline as the 18-year-old dominated the world's toughest downhill course to win the race in Wales by more than six seconds over local riders Joe Smith and Taylor Vernon.
YOUNG AND DANGEROUS
Goldstone might only be 18, but the teenager already has an impressive haul of accolades. The 2021 Junior World Champion and 2022 Junior World Cup overall winner also showed he's already more than a match for the the world's most demanding downhill course during a brilliant finals run.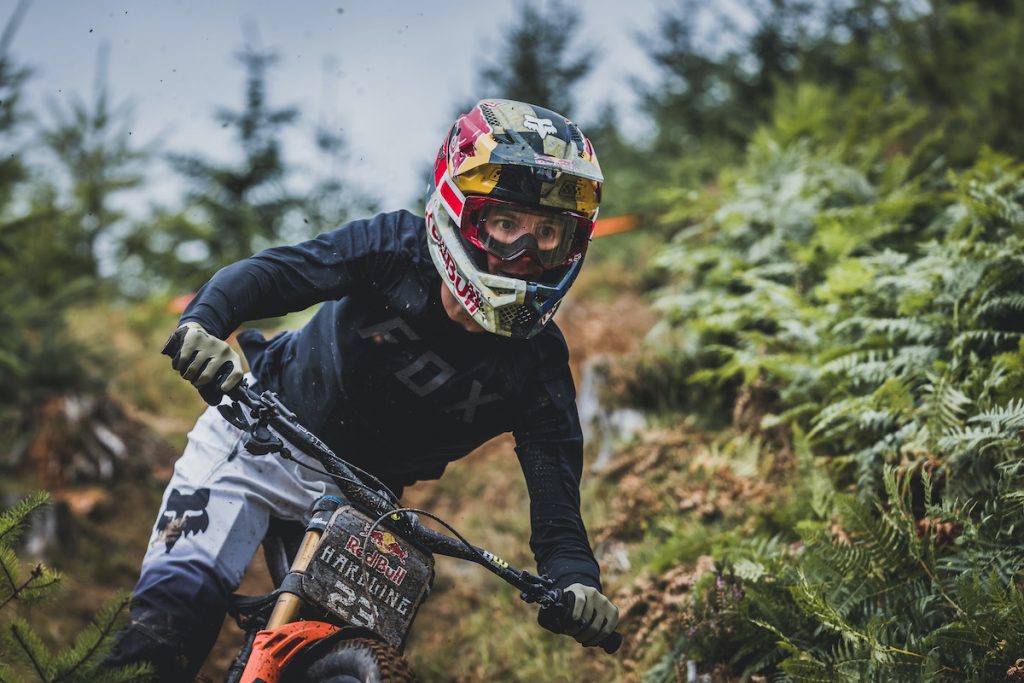 After qualifying in third place behind three-time event winner Bernard Kerr and Adam Brayton, he left the start hut with only those two riders left to go.
Ahead on the timing from the first split, his lead simply grew as he flew down the track. A slight dab in the technical section at the mid-way point was the only fault of note in an amazing run and he was completely unfazed by any of the course's monster features.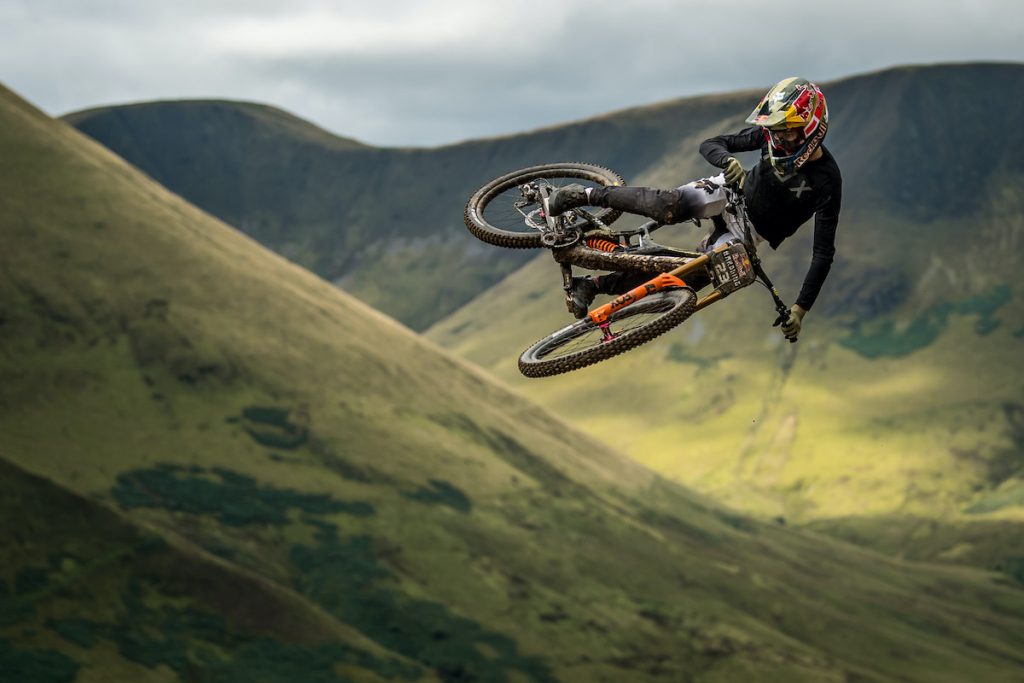 Crossing the line with a margin of more than six seconds over Joe Smith's previously best time, it would take something special to beat Goldstone's time of 2m 20.525s.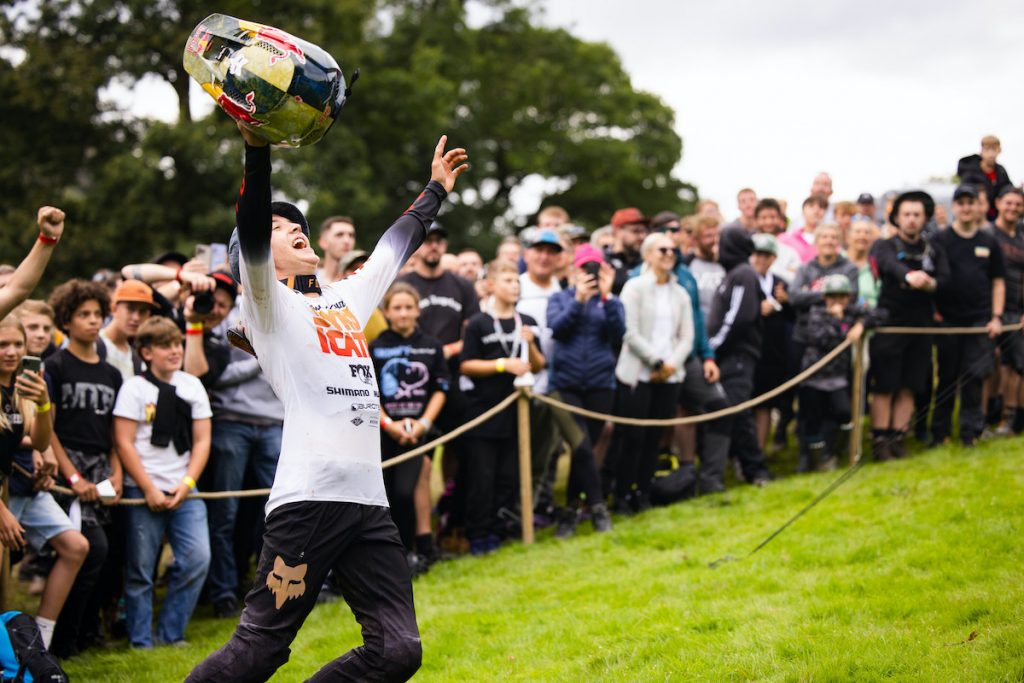 Slips from both Brayton and Kerr left Goldstone head and shoulders above the rest and he became the youngest-ever winner in the process of claiming his first win in the event.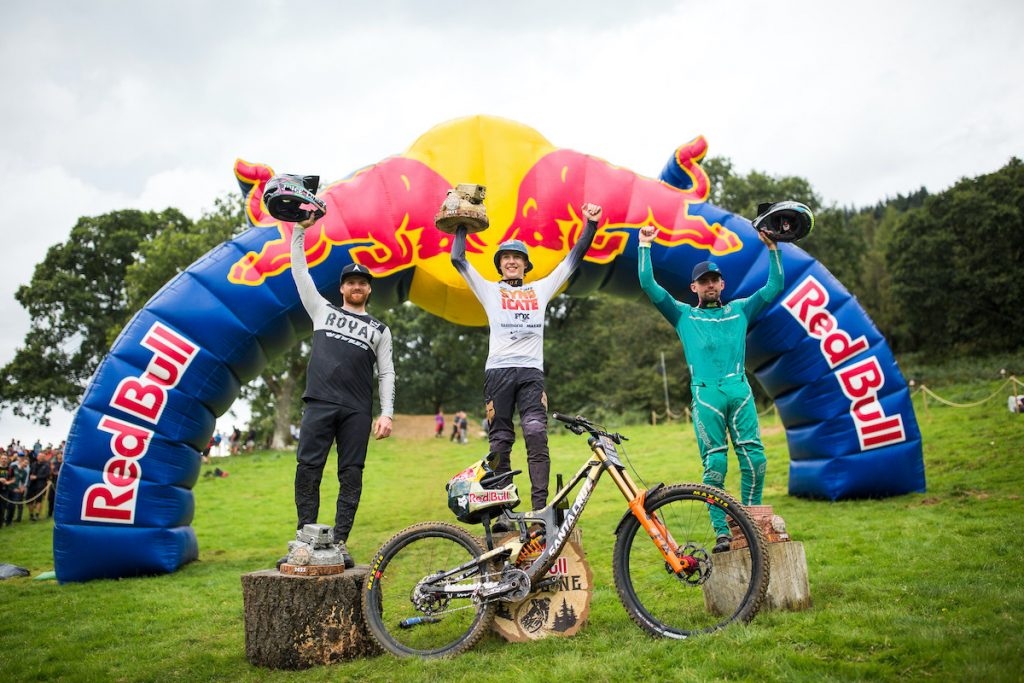 "I had a really good run and I linked everything I wanted to, with just one tiny mistake," said Goldstone. "I'm so stoked, but it's not the way I wanted to win. I'm really gutted for all the boys who went down."
Both Smith and Taylor Vernon put in solid, fault-free runs to secure second and third places respectively.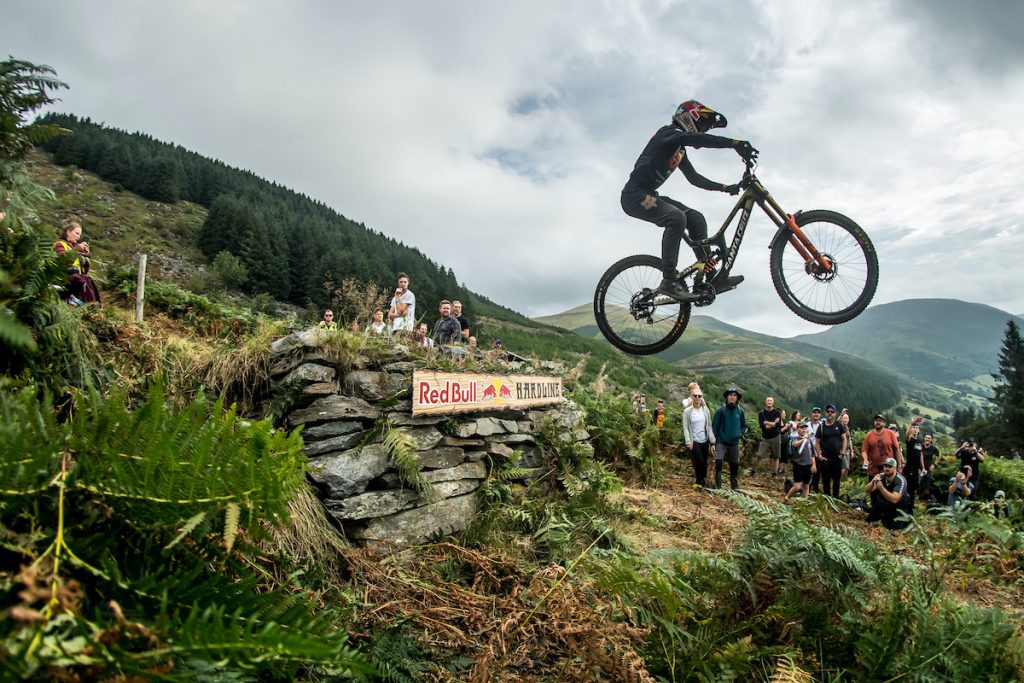 Vernon qualified 13th but held on to the hot seat until the final six riders and the Welsh rider held on for third, recording his best performance at Red Bull Hardline.
Smith meanwhile is another rider with history at Hardline. He'd already podiumed twice at the race and held it all together on race day to secure his hat-trick of podiums, pipping his countryman to second place by just four hundredths of a second.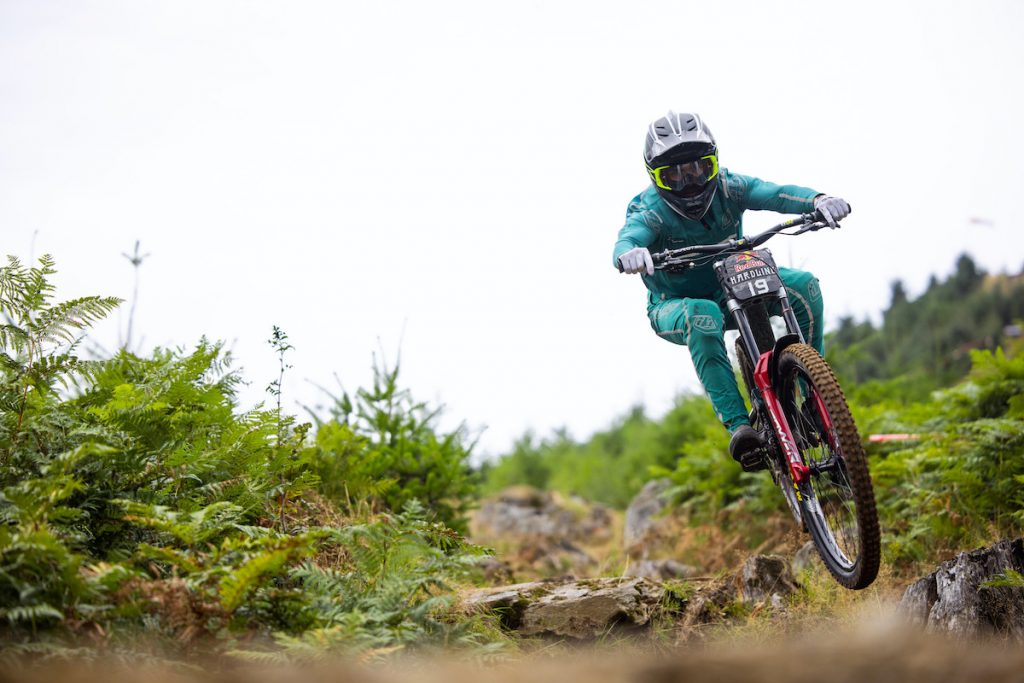 GAPS AND JUMPS
Red Bull Hardline is renowned for being the hardest course on the planet. It pits riders against gaps and jumps that are more suited to motocross and the mountain is littered with gut-wrenching features from top to bottom.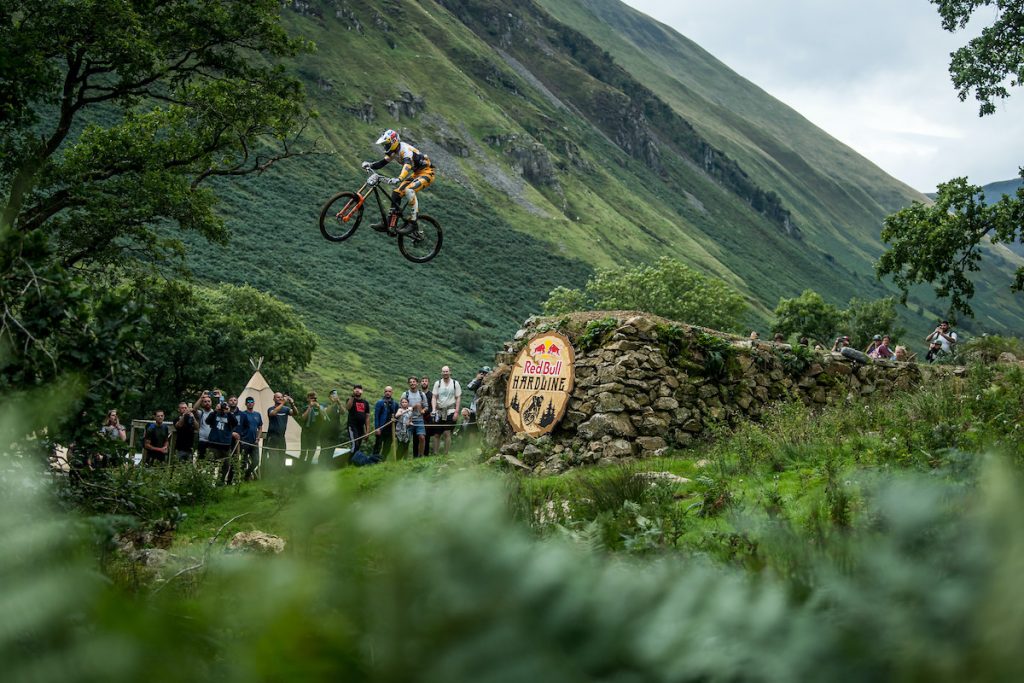 The 2022 course had some minor tweaks to previous editions. The long-standing Dirty Ferns jump section had gone through a makeover with the hip jump through the trees replaced a huge on-off and the two biggest gap jumps on the entire course. Both measured roughly 27m (90ft).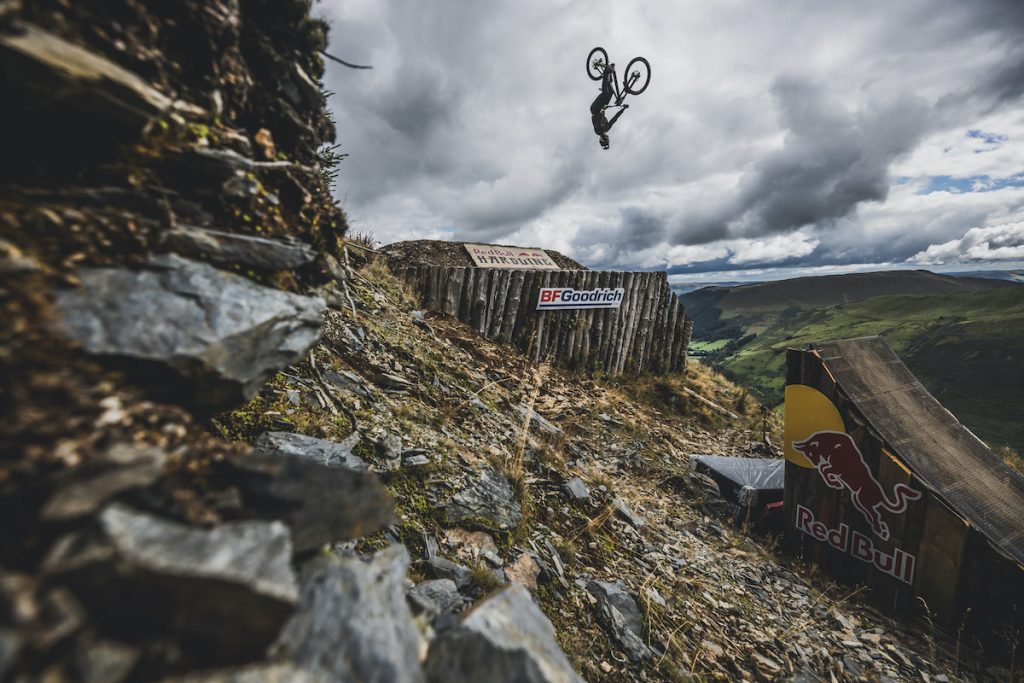 Hardline's most successful competitor Bernard Kerr was the first rider to attempt the new doubles in practice, but crashed spectacularly on landing. Thankfully he was able to continue and his feedback saw the take-off's angle changed slightly, ensuring riders could tackle the new features safely on race day.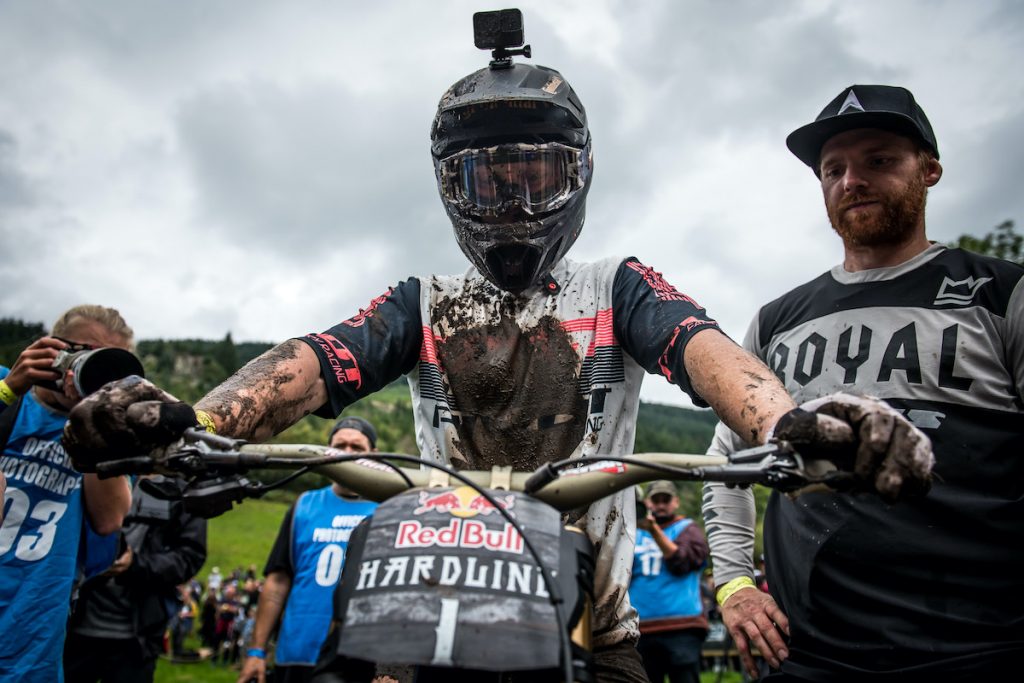 In this year's edition however it wasn't the 30m gaps or 70kph speed tucks that were causing the riders issues during their race runs, but rather some stereotypically damp Welsh woodland at the top of the course.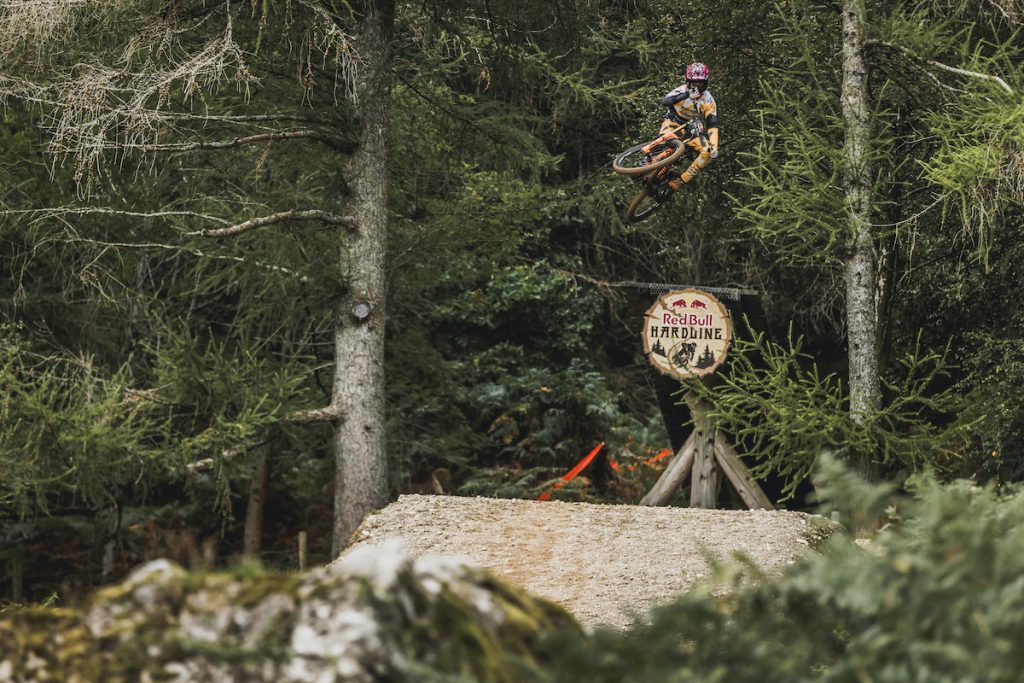 Second rider on course David McMillan set the scene with a slip entering the wooded section, and it would become a reoccurring theme as the race progressed. The highest profile casualty was pre-race favourite Kerr, whose quest for a fourth Red Bull Hardline win was over before he'd had a chance to show what he can do on the bigger feature, while the likes of Brayton, Craig Evans and Charlie Hatton also fell within the first 30 seconds.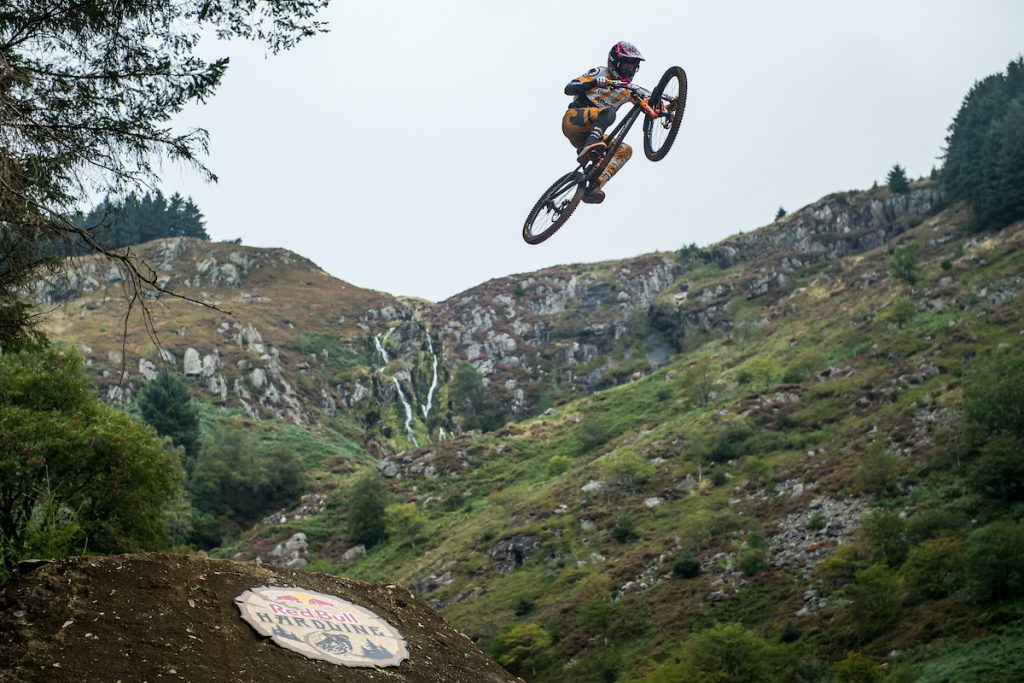 Making a surprise return to racing at Red Bull Hardline was 2018 winner Gee Atherton, just one year after suffering life-threatening injuries in a catastrophic crash whilst filming nearby.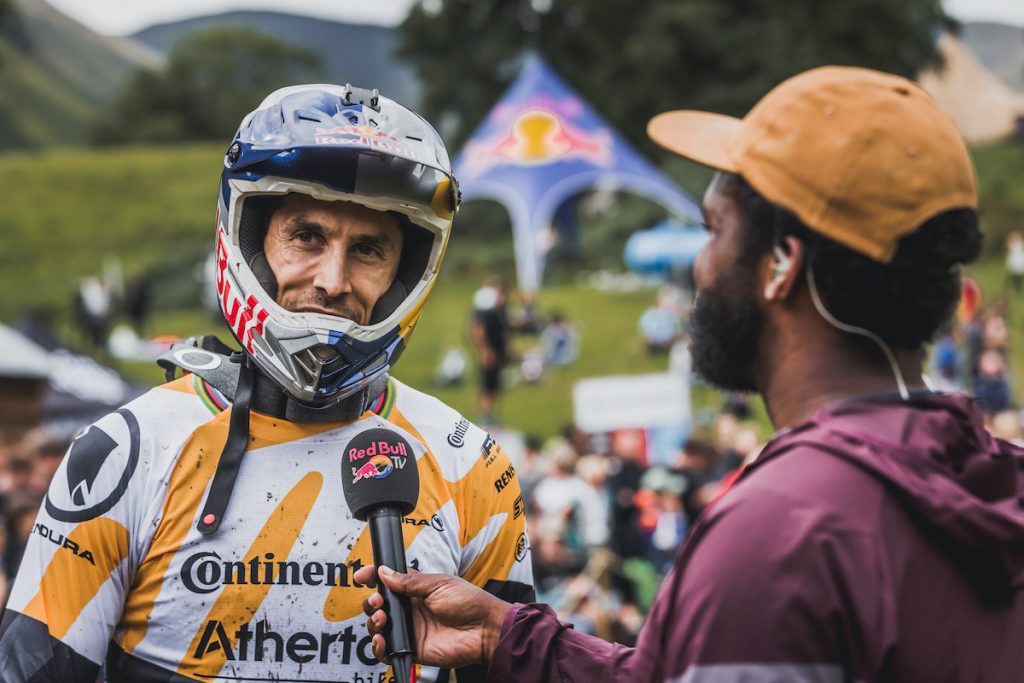 The two-time World Champion and 2018 Hardline winner announced his intention to compete less than two weeks before finals day and the veteran was impressive from the off, using his his signature riding style as he threaded his way through the course's technical features.
Adding another win to his 2018 title was always going to be a hard ask, but crossing the line was impressive enough for a 37-year-old still recovering from his myriad injuries and a fifth place finish showed that he's still a force to be reckoned with.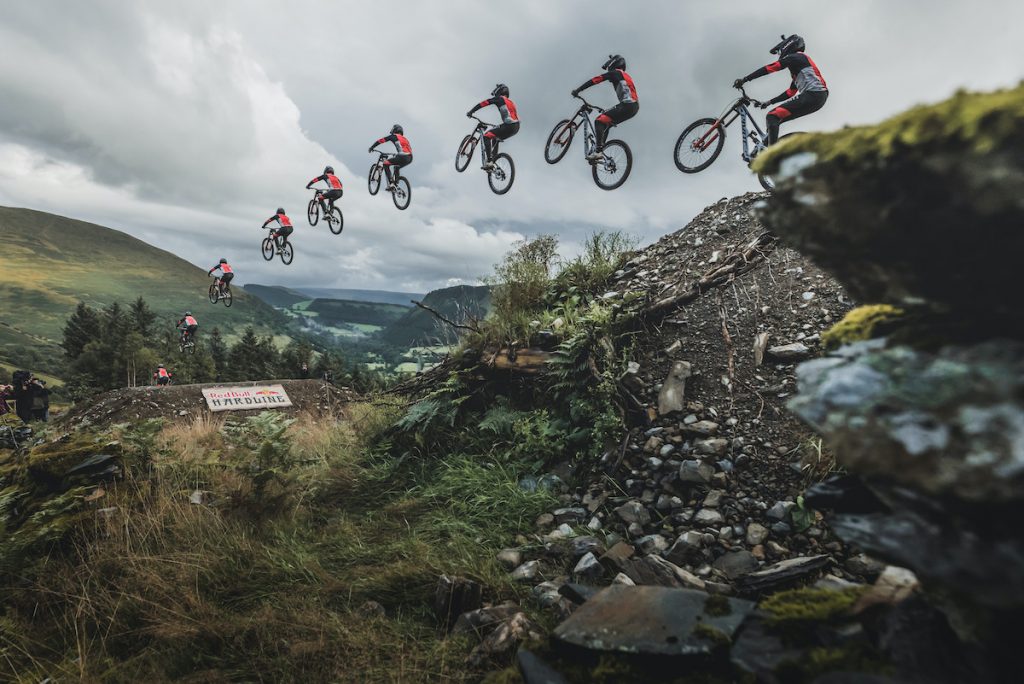 Also turning heads on the course was New Zealand-based rider Jess Blewitt, who made Red Bull Hardline history by becoming the first-ever female athlete to take on the iconic course.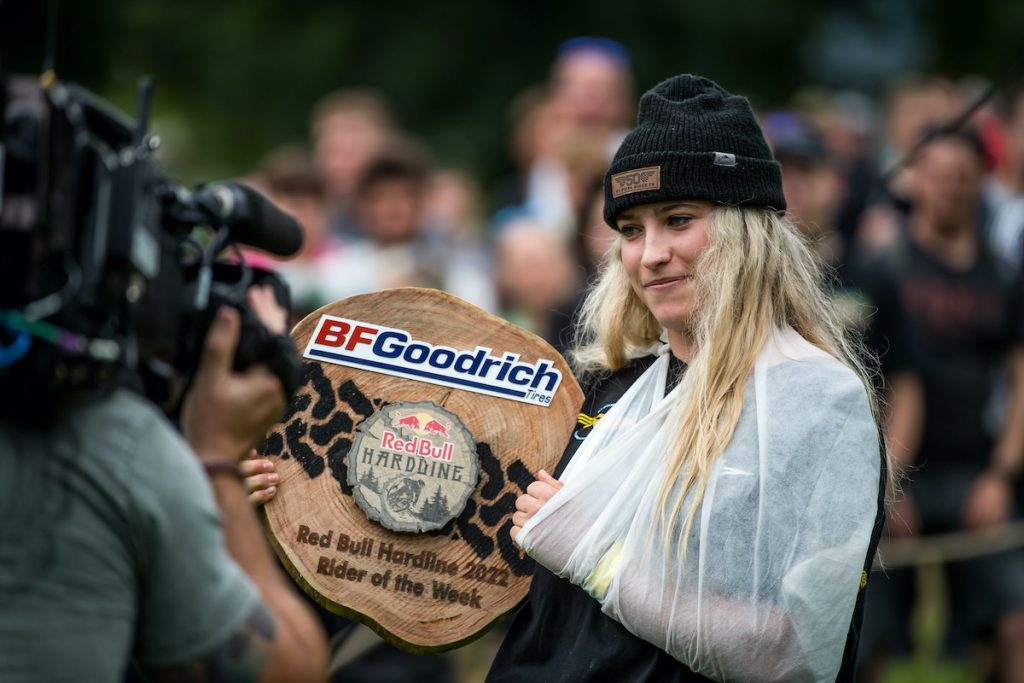 An attendee of the all-female Red Bull Formation freeride event in 2021 and a current top-10 World Cup racer, Blewitt isn't adverse to riding some of the hardest terrain around and proved she was more than up to the task on the Dan Atherton-designed course.
Blewitt won the BF Goodrich Rider of the Week award for her riding during the event and although she didn't make race day after breaking her collarbone in practice, she's shown the way for other female riders.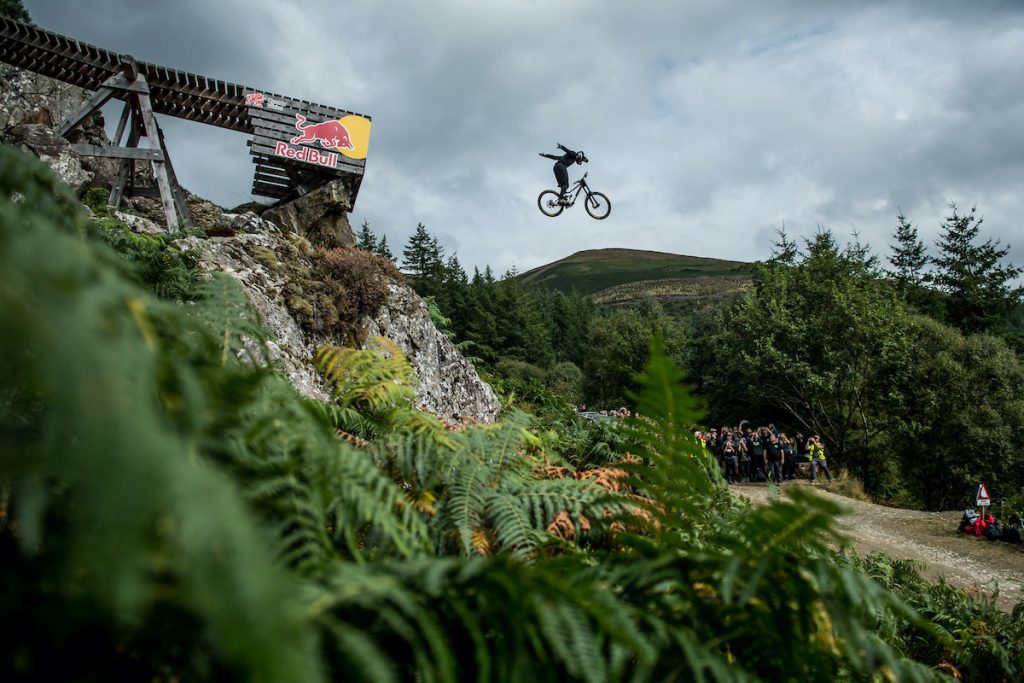 RED BULL HARDLINE 2022 RESULTS
Jackson Goldstone (CAN) 2m 20.525s
Joe Smith (GBR) 2m 27.043s
Taylor Vernon (GBR) 2m 27.084s
Ronan Dunne (IRL) 2m 27.273s
Gee Atherton (GBR) 2m 28.356s
Sam Gale (GBR) 2m 28.902s
Jim Monro (GBR) 2m 28.930s
Harry Molloy (GBR) 2m 31.714s
Thibault Laly (FRA) 2m 31.767s
Florent Payet (FRA) 2m 37.436s
LIKE and FOLLOW us: Bikezilla Facebook Page • Bikezilla Bikers Singapore Group Page • BikezillaSG Instagram • Bikezilla STRAVA
Photos, video and story by Red Bull