FIRST IMPRESSION ON THE CUSTOM-BUILT BERM CYCLE RIOT TITANIUM BMX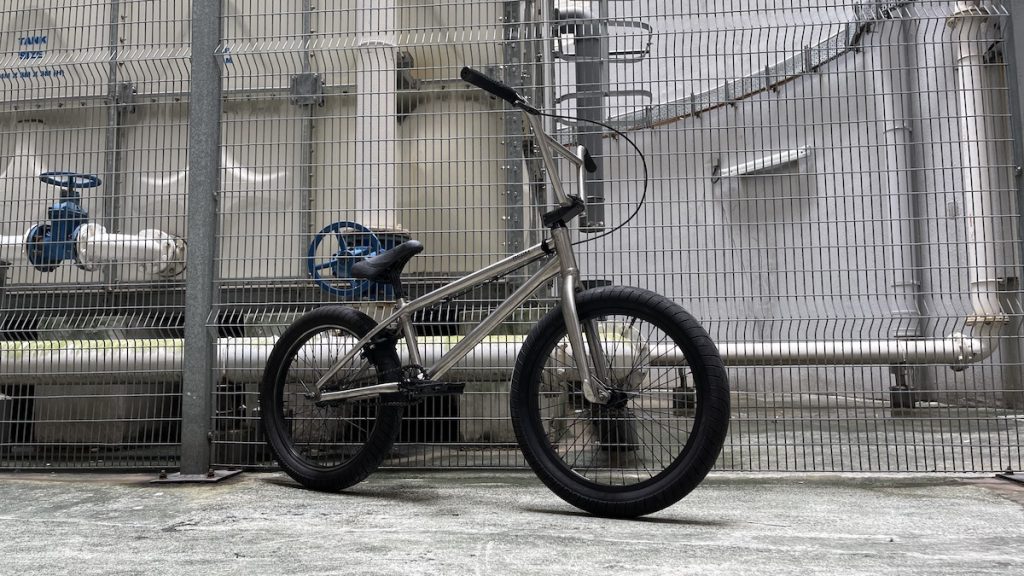 Berm Cycle comes across to us as a young innovative company with a strong passion for high quality bicycle products that skewed on the side of high octane sub-disciplines. So far, we counted: aggressive mountain biking, bicycle touring and gravel biking. And this list is expected to grow in the near future. It is no surprise that their brand culture spectrum would also include Street BMX. Enter the Berm Riot Titanium BMX frame and fork set, along with a matching 4-Piece handlebar. Bikezilla took hold of the custom Riot and spent some time with it.
RIOT BMX TITANIUM FRAME AND FORK SET
What we are looking at is a nutshell:
• Frame / Fork made in Titanium Ti3Al2.5V
• Max tire clearance 2.4″
• Polished finishing
• Head tube with gyro tabs
• Bottom bracket – Mid 19 mm
• Frame weight : 1.8 kg
• Fork weight : 0.72 kg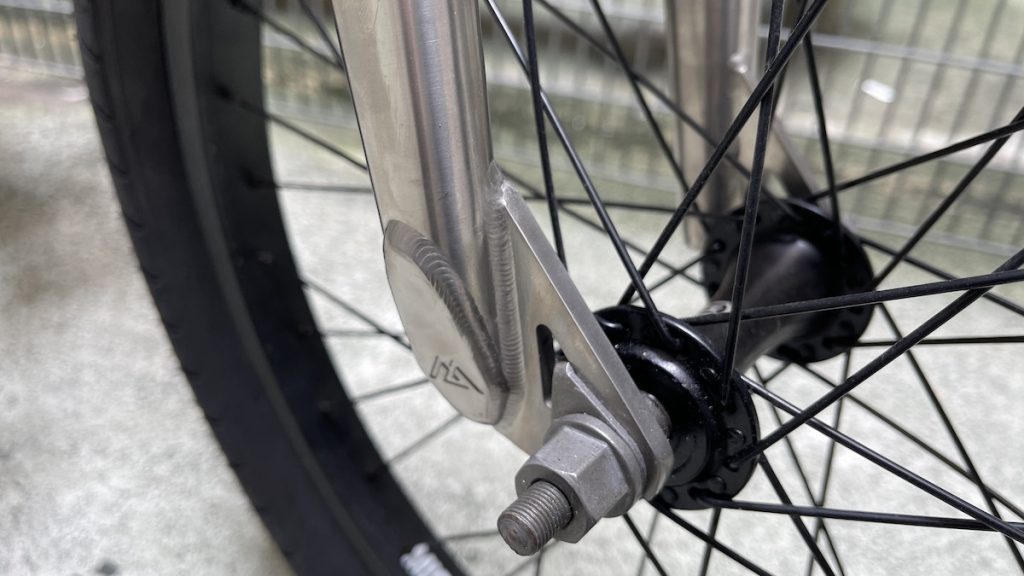 First off, as everyone would expect, this frame and fork set looks really good! And they are light. Weighing in at a total of 2.52 kg for the frame and fork set, they are the base platform for what would be a light and tough street/park custom BMX. For comparison, a typical chromoly frame would easily hit 2.1 – 2.3 kg (without the fork).
The finishing and welds for the frame and fork are of superb craftsmanship.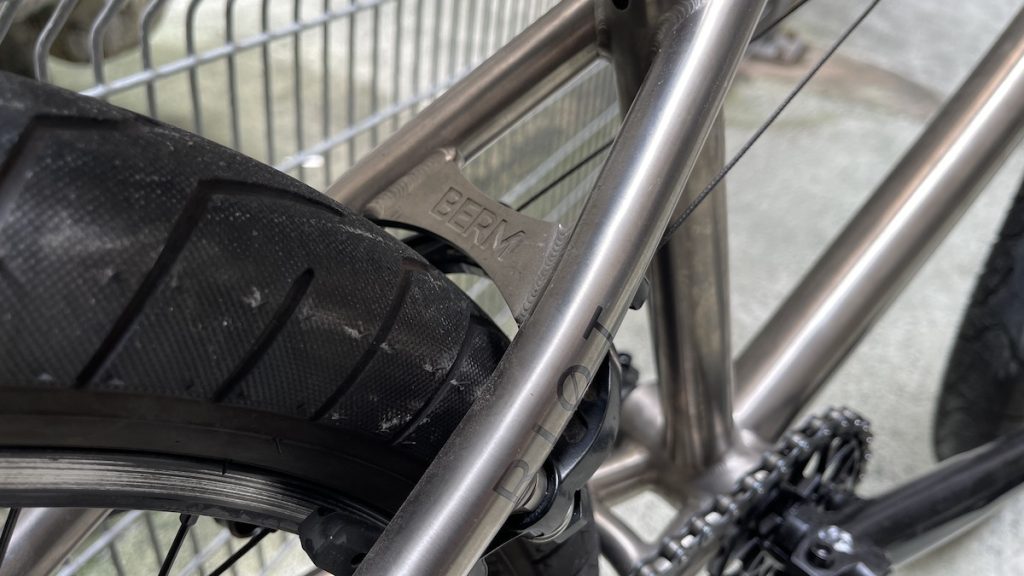 In terms of workmanship, all the welding joints are finished beautifully and immediately place this particular Berm Cycle's frame and fork set up there with brands that have been around for much longer.
Both the frame and fork dropouts are made thick and strong. That would translate to a stiff and sturdy build, but those few millimeters of thicker dropouts would mean a couple millimeters of contact point less for pegs. We see this as a minor tradeoff.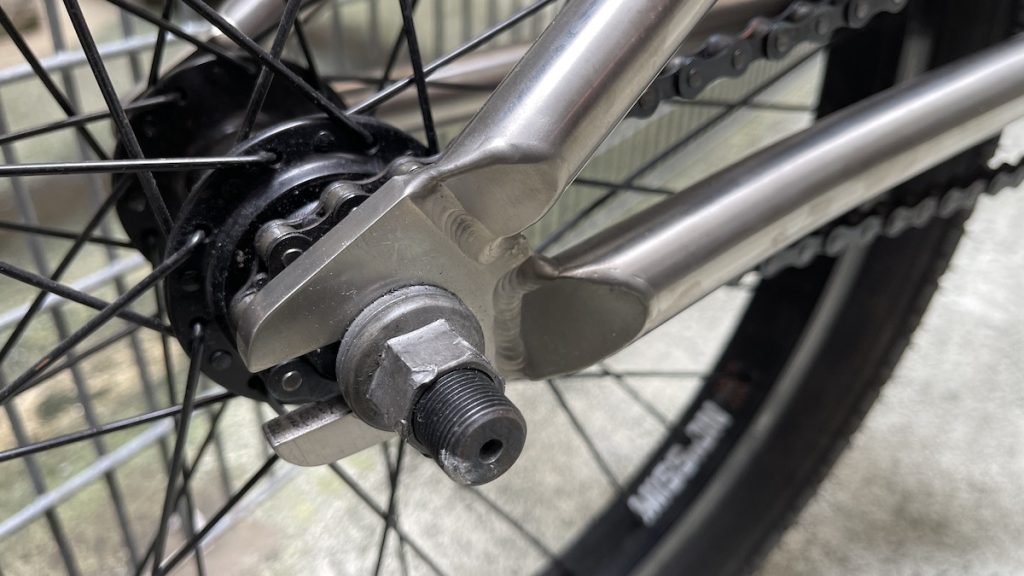 The fork crown base is nicely shaped and further reflects the high level of design and craftsmanship.
On the other hand, we are a little skeptical about the thinner than usual fork legs. For a fork designed for Street BMX, which would be constantly bombarded with high burst of impacts, we are not sure how much stress can these lower sections of the fork withstand. That said, titanium has the property to hold its shape very well. As such, we will keep this opinion in view and let the riding do the feedback.
Ed: We could go on into a whole new article discussing the material science between titanium versus steel but let's summarize a few key points. Titanium's elastic modulus (also known as Young's Modulus) is quite low, which suggests it flexes and deforms easily. This is one of the main reasons why titanium is difficult to machine, as it gums up mills and have the tendency to return to its original shape. Steel, on the other hand, has a much higher elastic modulus, which allows it to be readily machined and lends it to be used in applications such as knife edges. In terms of tensile yield strengths, steel is still the stronger. (The yield point is the maximum stress a material can endure beyond which it begins to permanently deform and is unable to return to its original dimensions. Whereas, tensile strength is the maximum stress on a material before it fails and, literally, breaks.) While titanium is only on par with steel in terms of strength, it does so at half the weight, which makes it one of the strongest metals per unit mass. However, steel is the go-to material when overall strength is the concern, as some of its alloys surpass all other metals in terms of yield strengths. Designers looking solely for strength would choose steel, and designers concerned with strength per unit mass would choose titanium. A few more things to note about titanium is that they are resistant to corrosion, cavitation and erosion. Ok, that's enough material science lesson for a casual read. Let's get back to checking out the bike.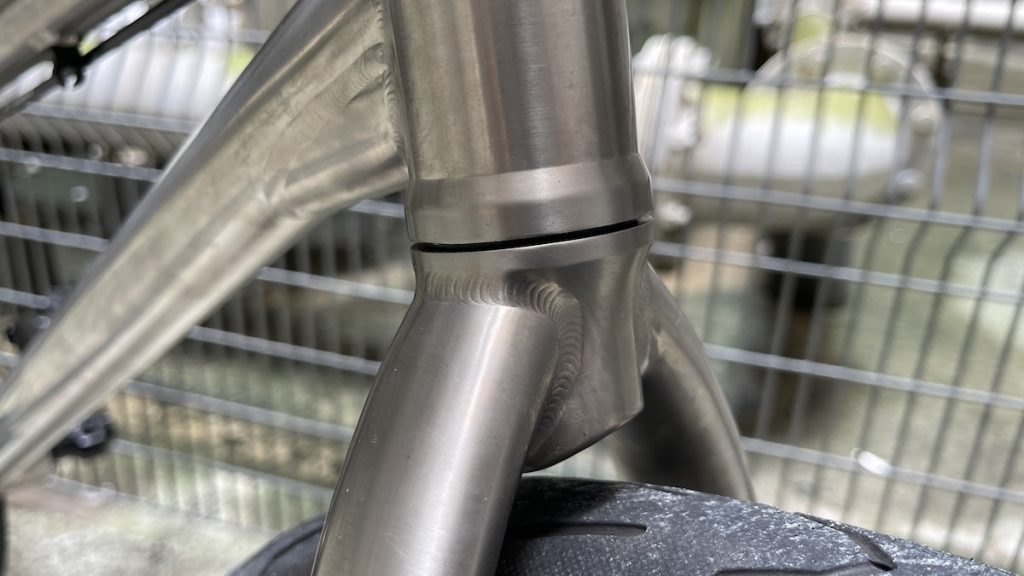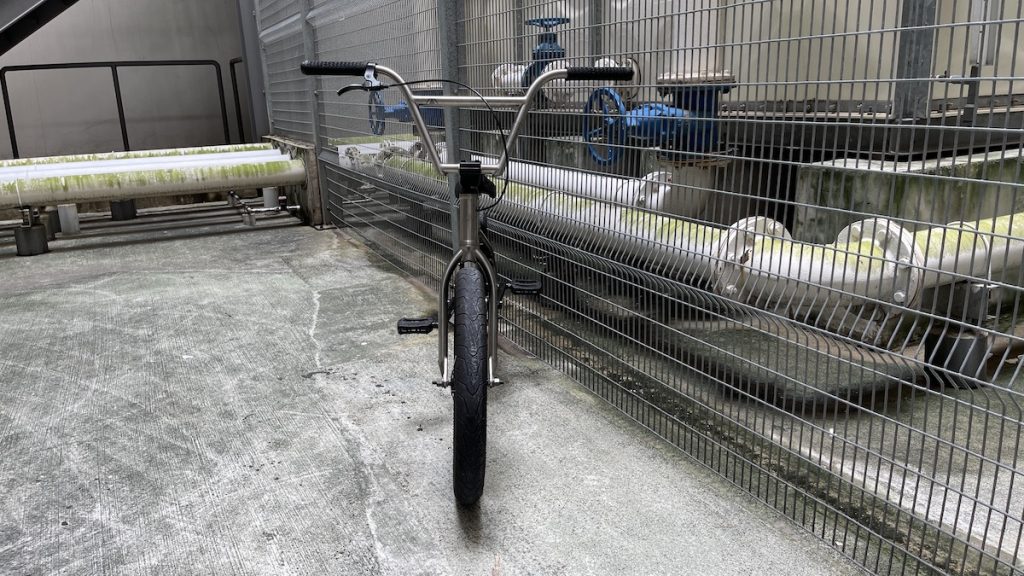 FRAME GEOMETRY
Designed with street and park riding in mind, the Riot BMX Titanium frame and fork set was built with a set of well-balanced geometry that would suit most riders. These are the numbers:
• Top Tube Length: 20.5″
• Chain Stay: 13.25″
• Head Tube: 75 °
• Seat tube angle: 71 °
• Seat Tube Standover: 8.5″
• Bottom Bracket Height: 11.69″
• Fork Offset: 28 mm
While the geometry could come across as "general" to some riders, others might find the geometry a little on the "conservative" side. All said, this is a set of comfortable geometry with reasonable quickness and good cruising comfort for most riders. The use of titanium aircraft grade material also makes the Riot frameset light and responsive. This is a big advantage over typical steel bikes for both new and experienced riders. For new riders, this would mean an easier progression up the learning curve (Ed: lighter bike – easier to pop). For experienced riders, the lighter and more compliant frame means longer riding time, push for better performances and more confidence with their very own custom-built BMX (Ed: a lighter and compliant bike equates to reduced fatigue, less harshness and parts has better tendency to stay in shape even with heavy ridings.)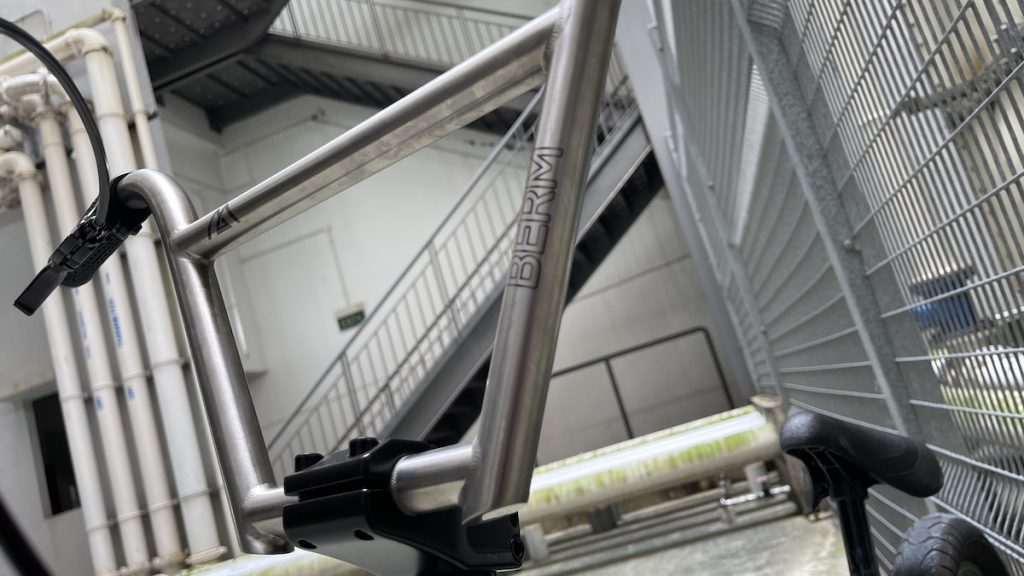 RIOT 4-PIECE BAR
In addition to the frame and fork set, Berm cycle also offers the Riot 4-Piece Handlebar to complete the titanium treatment for a great custom build.
The Riot BMX 4-Piece handlebar is made with aircraft grade titanium, similar to that of the frame and fork set. As such, we can be assured of its strength and compliance. The bar weighs in at only 540 grams!
Besides looking really good, 4-piece handlebars also offer better knee clearance and more rigidity than 2-Piece bars. The Riot 4-Piece bar is built with a 9″ rise and a comfortable 3 ° upsweep and 11.5 ° backsweep – that's in line with the design objective as the frame and fork set. In short, this handlebar geometry is comfortable and suitable for riders of all experience levels. For more experienced riders who had developed their own unique styles and prefered trick list over time, they might prefer to go for taller bars, but generally, 9″ tall bars are popular amongst the riders currently.
The Riot 4-Piece Handlebar could be summarized as follows:
• Titanium aircraft grade material
• 22.2mm diameter stem clamp
• Polished finishing
• 29.0″ wide
• 9″ rise
• Up Sweep 3 °
• Back Sweep 11.5 °
• Weight 540g
RIDING THE CUSTOM BUILT RIOT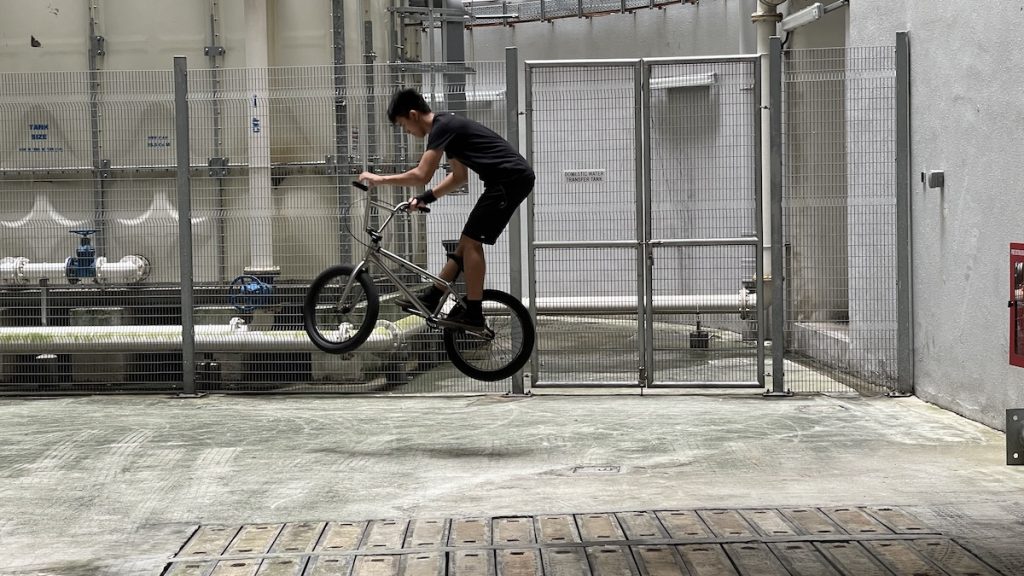 Our custom built Riot is not exactly a "dream bike" build yet. While the frame, fork and handlebar are the subjects of this First Ride Review, the rest of the parts are picked from what we would consider as "crash test equipment bin". As such, this build is not the lightest build nor the highest performing build that a Berm Cycle Riot BMX could be. In fact, we would say that a frame and fork set of Riot's standard deserves top end components to complete its build. (Ed: the Riot frame and fork set is not exactly cheap) But putting together this build gave us a good insight into the properties of the parts we wished to try out. And this article focuses on these Riot components.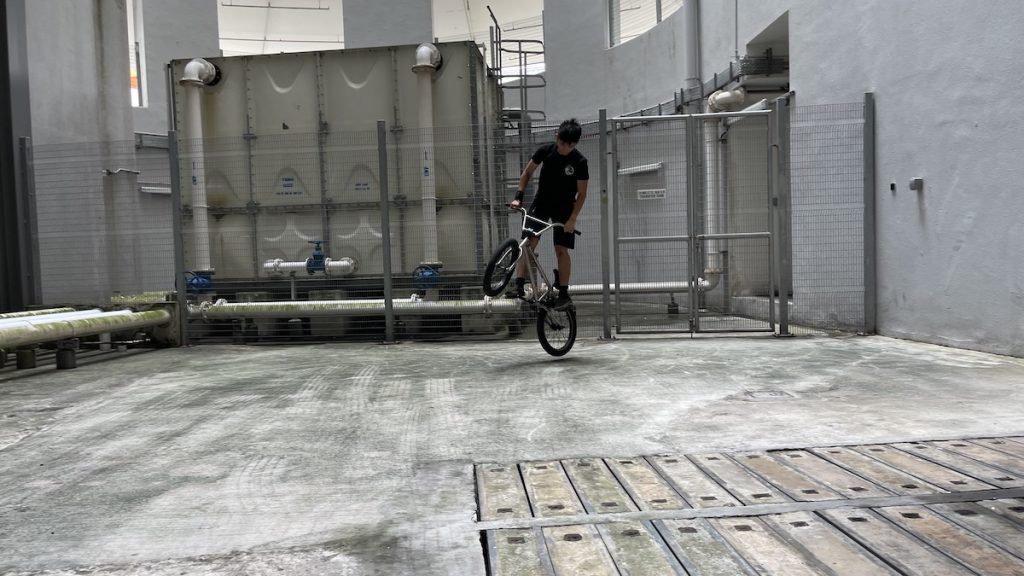 Riding a titanium BMX did indeed felt different from the usual full chromoly setup. We won't rate this feeling as "stiffer" or "softer" since; even comparing different chromoly BMXes could invoke different feels. We would just say that the titanium frame and fork have a feeling of lightness and comfort, for lack of a better word, we would describe it as "compliant" feel.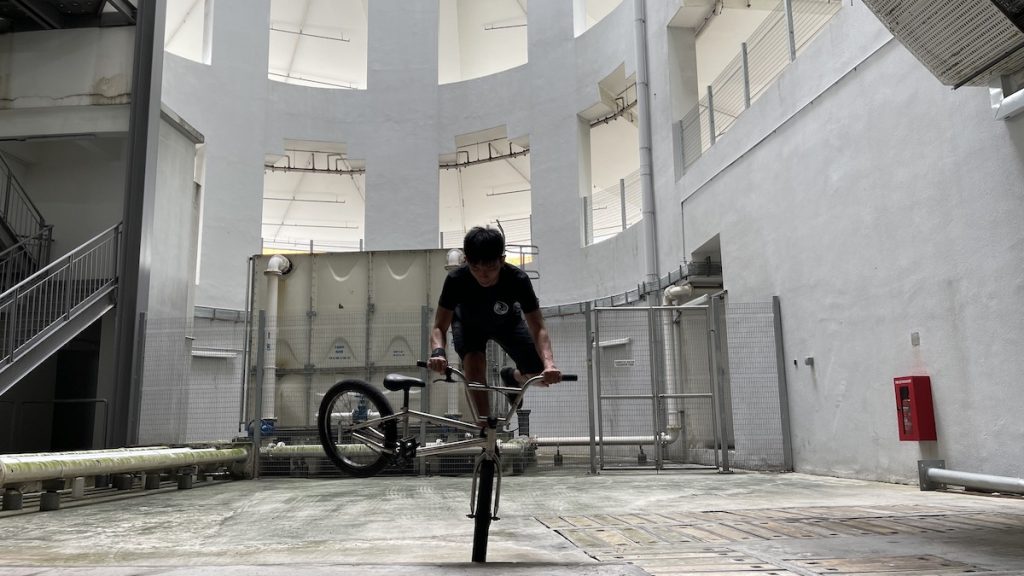 As mentioned earlier, the geometry of this frame is good for a wide array of street and park tricks.
The 75° head angle is great for popping off with low tendency to overshoot or "rocket" off. Even for picky riders, the 75° head angle on a frame would come across as just needing a little bit more conscious effort to pop off. Not too quick and not too sluggish. We would think this head angle works for the majority of riders.
The 11.69″ Bottom Bracket Height helps in making it easy for the bike to lift off the ground.
The low Seat Tube Standover Height of 8.5″ is a great bonus for over-the-frame tricks like tailwhips. The slight downside to extremely low standover would be a need for more effort to stabilise the bike in mid air for tricks like barspins.
The 13.25″ Chainstay Length is somewhat considered the "comfort zone" for current BMX trend. It is not too hard to pull off a manual with this chainstay length and yet provides good control during execution.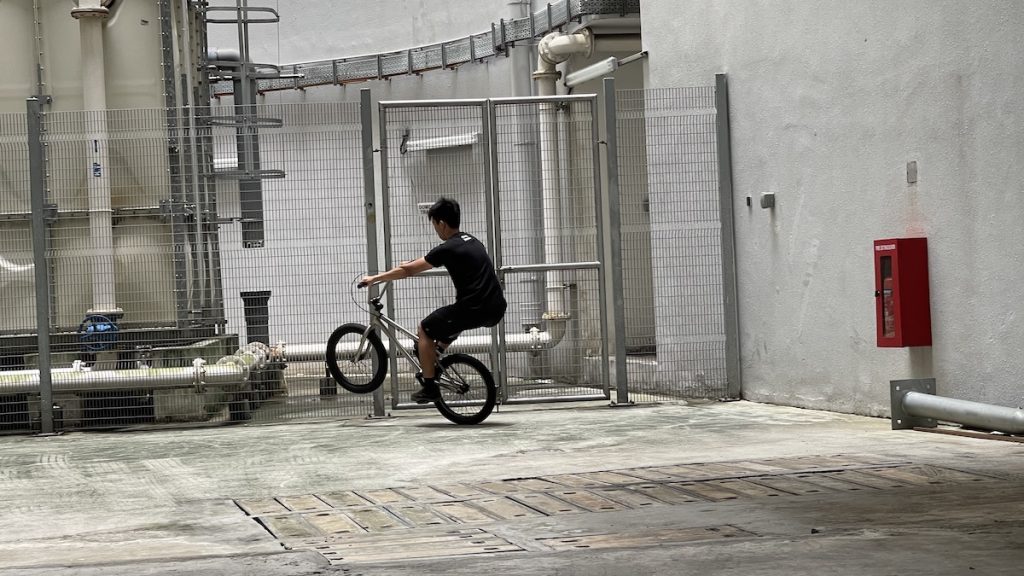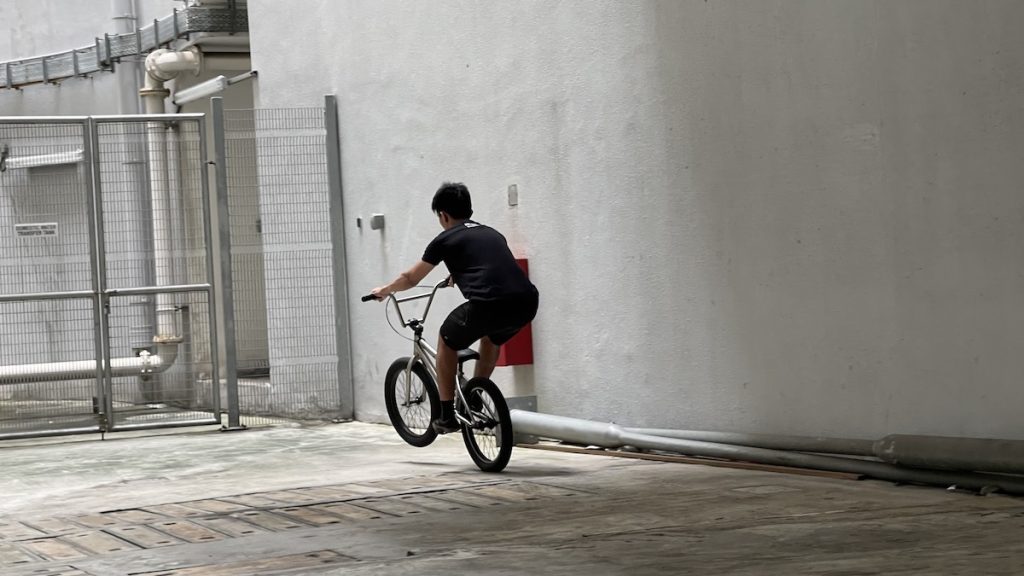 WHO SHOULD OWN THE RIOT?
What are the attributes of the Berm Cycle Riot BMX frame and fork set? It's a premium frame set with a premium price tag. It has geometry that would suit a wide group of riders. With the right matching components, this frame and fork set could be the backbone to a dream bike build. It could be build into a very light bike that will maintain its clean looks for a long time.
With these attributes, we would recommend this frame and fork set to any rider who:
(1) Is planning to build a premium dream bike
(2) Wants a bike that could last almost "forever"
(3) Wants a light bicycle
(4) Looking for a more forgiving or compliant alternative to chromoly or hi-ten steel frames
(5) Loves raw finishes on bikes less the rust
If the run-of-the-mill BMX Street products are what's holding you back from picking up the sport or upgrading your BMX, you now have another great option!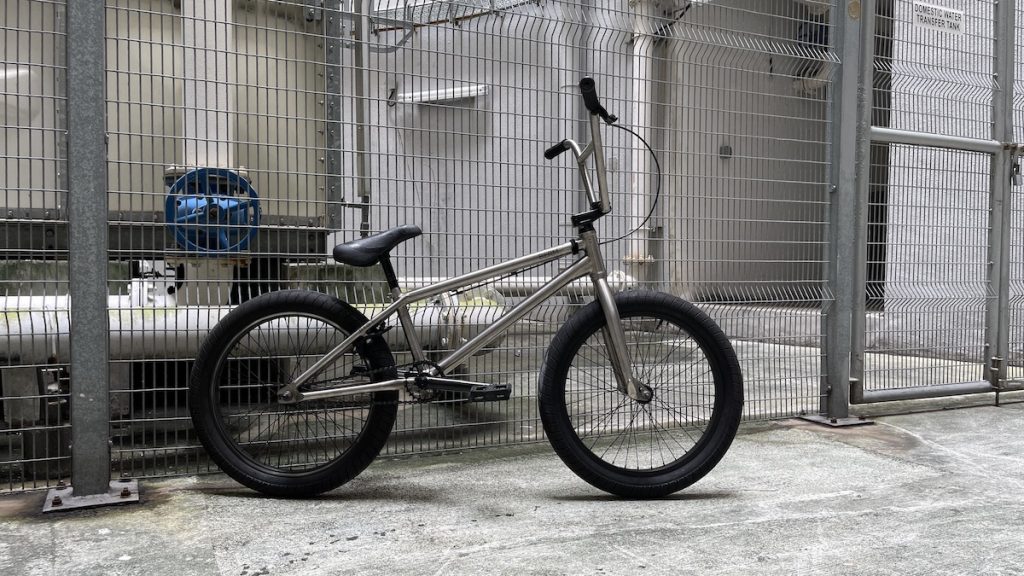 LIKE and FOLLOW us: Bikezilla Facebook Page • Bikezilla Bikers Singapore Group Page • BikezillaSG Instagram • Bikezilla STRAVA
Ed: BMX Street riding is one the best way to hone up one's foundation skills for cycling. With the myriad choices of products and infrastructures available currently, there's never a better time to start this sport. Ride!
For more information on Berm Cycle and Riot BMX, please contact them here.
Photos and review by Bikezilla
Rider: Kelvin Wong (IG: www.instagram.com/k3lvin197)
Additional reference on titanium vs steel taken from www.thomasnet.com