DESTINATION: SNOWY MOUNTAIN NEW SOUTH WALES
A PLACE WHERE THE WHOLE FAMILY CAN ENJOY THE GREAT OUTDOORS – BEYOND CYCLING THE SIMPLE TRAILS
(Alright … we couldn't help it, we added a list of Oz Bike Parks just in case you wanna squeeze in some serious riding!)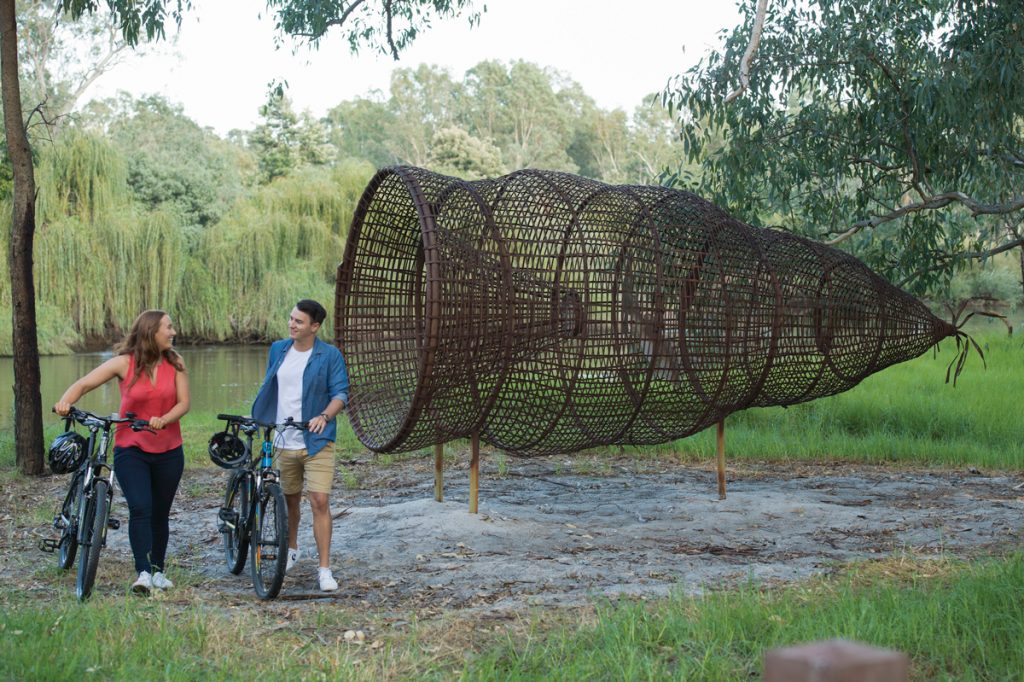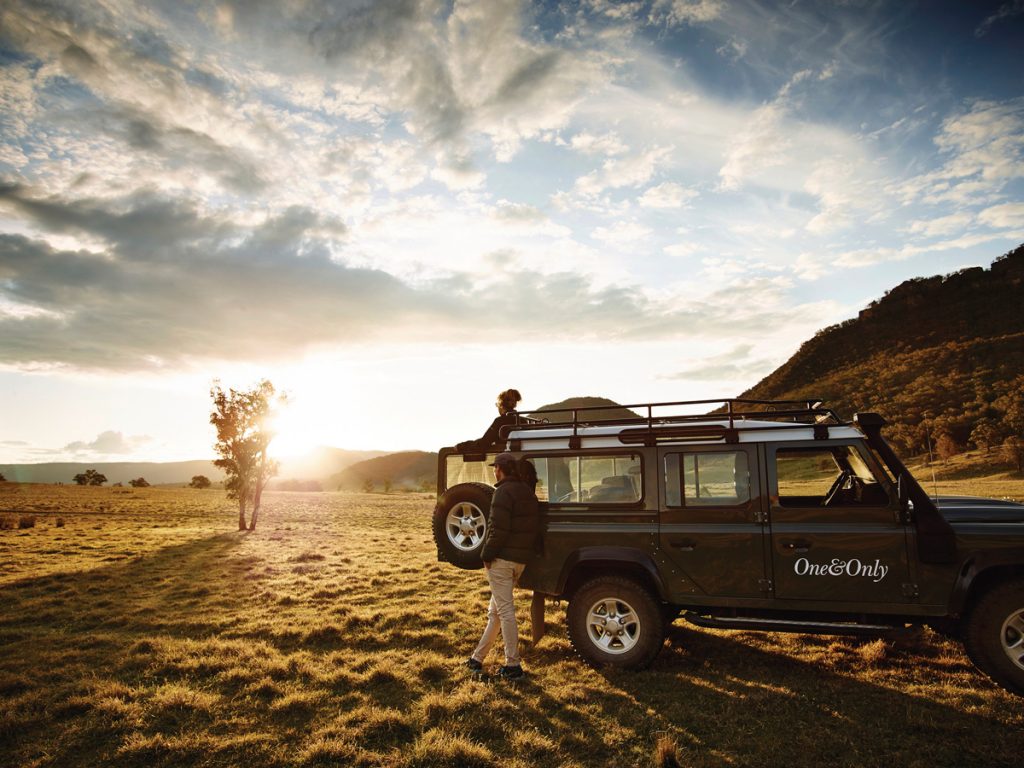 (Watching the sun set on a Wildlife and Sundowners Tour with Emirates One&Only Wolgan Valley. Photo by Emirates One&Only Wolgan Valley )
It's the end of the ski season, but the fun doesn't stop with the NSW Snowy Mountains becoming a haven for springtime adventures. From hiking and riding to wining and dining, this region has something for explorers of all ages.
SPRING DOWN UNDER
Deputy Premier and Member for Monaro John Barilaro said the Snowy Mountains is home to Australia's five highest peaks including Mt Kosciuszko making it the perfect mountain location for a spring break with family and friends.
"During the warmer months, Thredbo's signature ski runs transform into a downhill mountain biking heaven. With a broad range of accommodation for a variety of budgets, the region is the ultimate adventure getaway during spring," Mr Barilaro said.
To plan an action-packed weekend in the Snowy Mountains here are a few tips to help you hike, ride and dine your way around this picturesque alpine wonderland.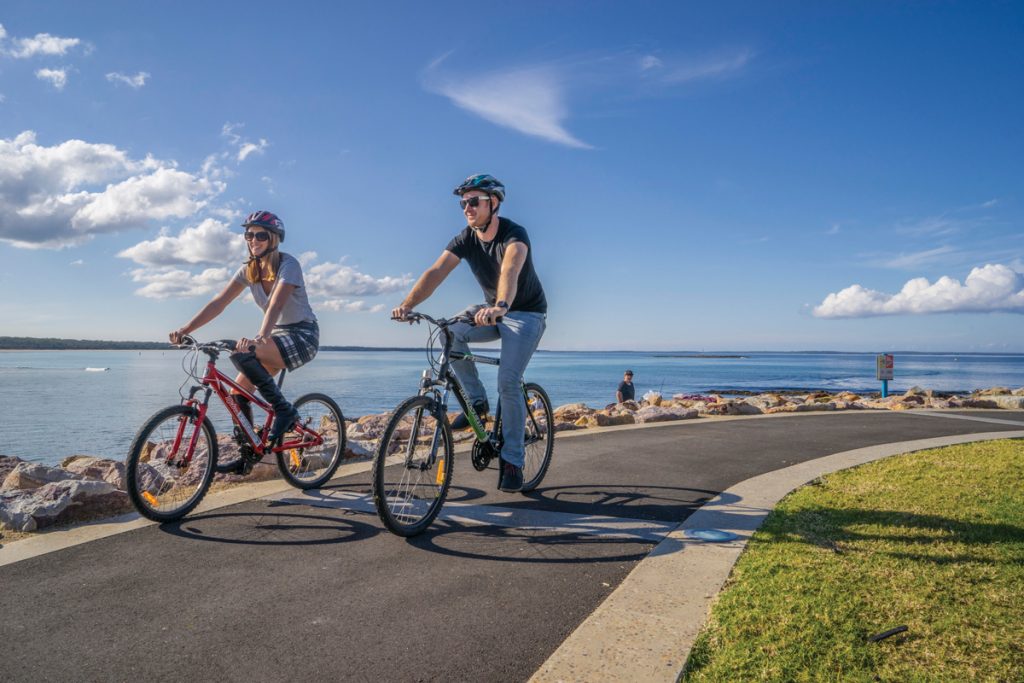 (Cycling and enjoying the scenic coastal views along Jervis Bay. Photo by Dee Kramer)
WANT SUMMIT TO TALK ABOUT? GO PEAK ADVENTURE AT MOUNT KOSCIUSZKO
A great way to experience the spectacular scenery of the Snowy Mountains is on foot. There are many wonderful walking tracks, from heritage and waterfall trails to challenging hikes in Kosciuszko National Park. If you're visiting Kosciuszko National Park after the snow has melted, a walk to the summit of Mount Kosciuszko is a must-do. Starting at the top of the Kosciuszko Express chairlift at Thredbo, this popular day walk takes you to the rooftop of Australia. After the scenic chairlift ride, you'll walk past the rocky granite outcrops of Ramshead Range, and alpine wildflowers.
For the less adventurous, try the Bullocks Walking Track, also in Kosciuszko National Park. Starting from Thredbo Diggings campground or Bullocks Flat SkiTube carpark, this short track meanders alongside the Thredbo River and takes around an hour each way. Along the way hikers will be treated to views of rocky mountain ranges that are often capped in snow. The glassy waters of the river are so clear you can spot fish swimming their way upstream. Wallabies and kangaroos are also a common sight along the track and, during spring, wildflowers such as the yellow bossia and purple hovea are in bloom. Around dawn and dusk, be sure to keep a look out for platypuses along the river's edge and pools.
(Enjoying the ropes course at Trees Adventure in Nowra Park, North Nowra. Photo by Dee Kramer)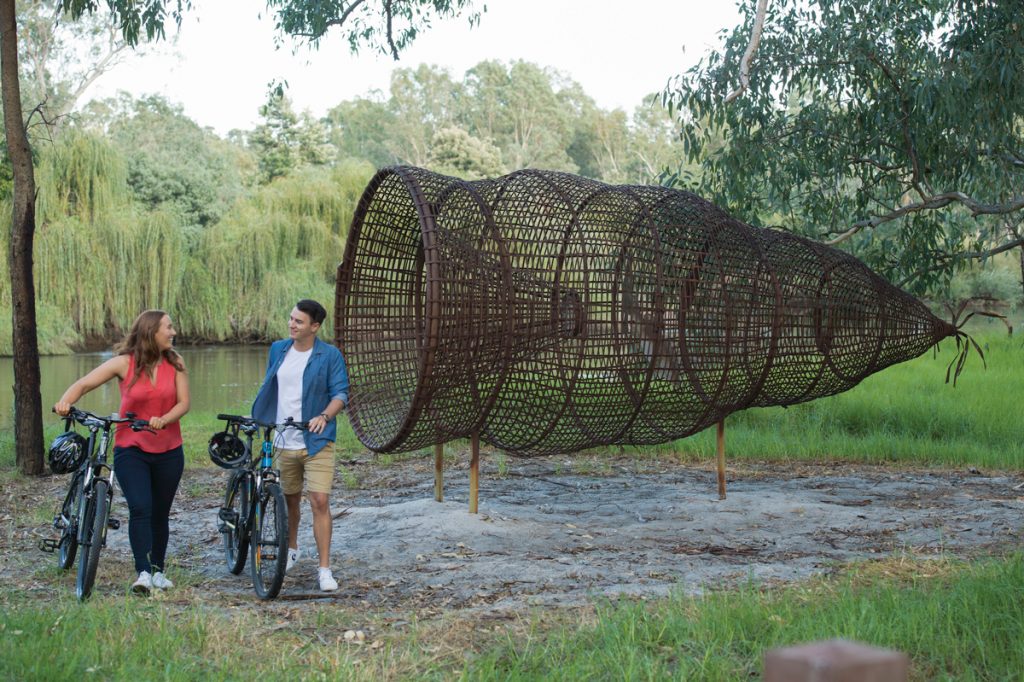 (Exploring the Yindyamurra Sculpture Walk, West Albury via the Wagirra Trail on bicycles. Photo by Destination NSW)    
SHIFT YOUR WEEKEND UP A GEAR WITH A WILD RIDE IN THE SNOWIES
From mountain biking to road cycling, spring is a perfect time to discover the NSW Snowy Mountains on two wheels. After the snow melts, a network of dirt tracks and sealed roads, ideal for biking, are revealed.
The Cascade Hut Trail is an idyllic track in whatever the season. The remote path twists through snowgum woodland and the untouched beauty of Pilot Wilderness Area. This versatile trail, which is part of the Australian Alps walking track, is great for beginners and experts alike. From Dead Horse Gap to Cascades Hut, it's a 10 kilometre ride one-way, or 20 kilometre return trip.
Bikes can be hired in several towns, including Cooma, Jindabyne and Thredbo, as well as at Lake Crackenback Resort. Purchase a day pass to access the resort's 25 kilometres of mountain bike tracks and the 'pump and flow' track designed by mountain bike world champion Caroline Buchanan.
The roads in the Snowy Mountains are home to the annual L'Étape Australia by le Tour de France, a unique road cycle event that this year will feature the reigning Tour de France champion, Chris Froome, riding alongside amateur cyclists on 2 December.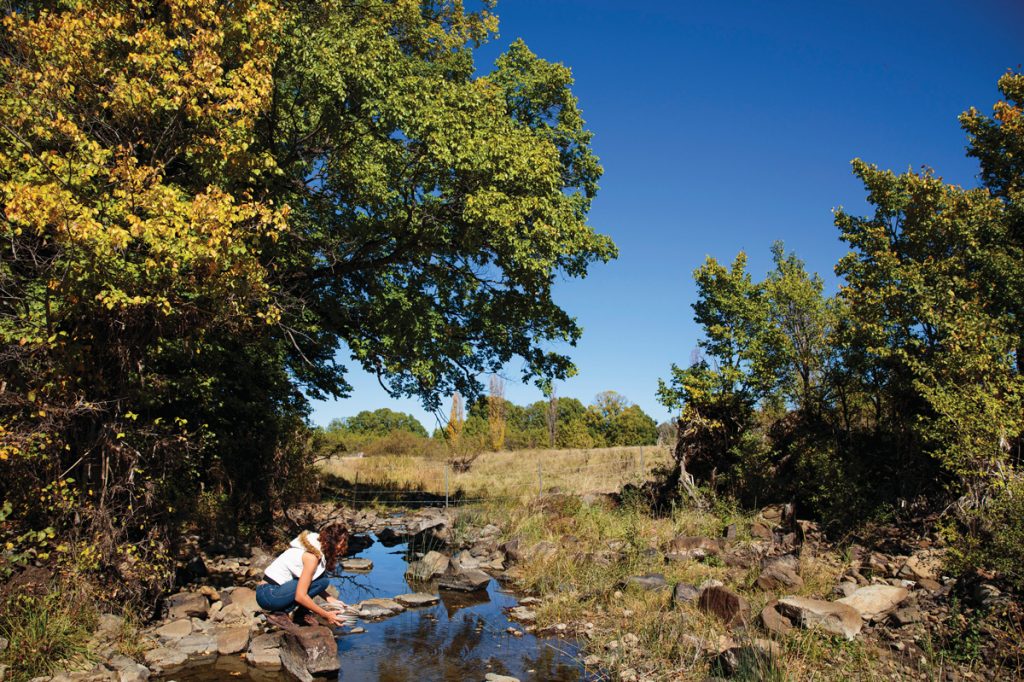 (Fossicks for gemstones in Reddestone Creek, Glen Innes. Photo by Destination NSW)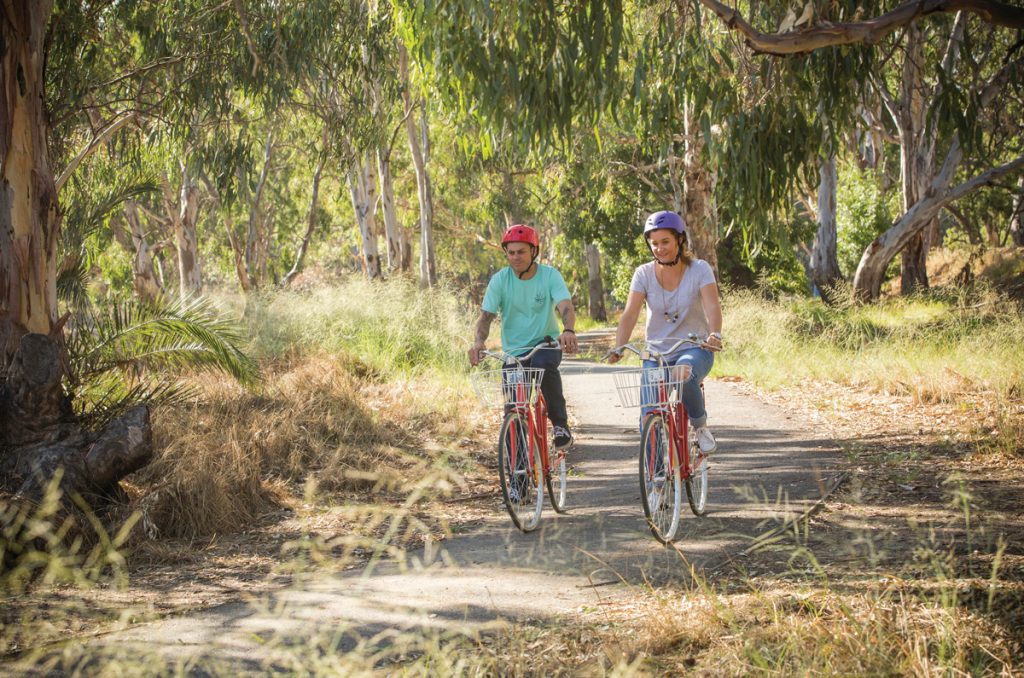 (Enjoy a bike ride alongside the Edward River, Deniliquin in the state's Riverina Murray region.Photo by Destination NSW)    
HORSING AROUND
Prefer to ride a horse, the Snowy Mountains are famous for spectacular scenery and amazing horsemanship
Immortalised in Banjo Patterson's 1890 poem The Man From Snowy River, the magnificent Snowy Mountains offer horseriding tours for all experience levels.
Yarramba Horse Riding, near Cooma, specialises in guided trail rides for beginners and experienced riders, offering a memorable adventure.
More adventures are available around Jindabyne, where Australia's highest peaks and beautiful Lake Jindabyne provide a majestic backdrop. Snowy Wilderness offers horseriding in a sanctuary for wild brumby horses. Snowy River Horseback Adventure will take you on brumby trails and through snow gums. Thredbo Valley Horse Riding in Crackenback, near Jindabyne, offers a range of trail rides in wilderness areas, including alpine streams, steep forested ridges and pretty meadows. There are special rides for kids and non-riders on easy trails. Pony rides are available for young children too.
All horseback tours are led by experienced local guides. You can even bring your own horse and take advantage of the stables across the region.    
WINE AND DINE
Taste the delicious produce and sip locally made ciders, schnapps and beer
The NSW Snowy Mountains offers many mouth-watering food and wine experiences. Discover the elegant cool-climate wines of the high country. The majority of grapes grown are pinot noir and chardonnay varietals, and the region's winemakers are known for creating award-winning sparkling wines. Several winery cellar doors are open for wine tasting, including Courabyra Wines, Tumbarumba Wines and Snowy Vineyard.
Stop for schnapps at the Wildbrumby Distillery & Cafe in the picturesque Thredbo Valley. Wildbrumby produces pure Australian schnapps from locally sourced fruit. The 20 acre property features a cellar door. fully licensed cafe and working raspberry farm.
For a cold craft beer, Jindabyne Brewing offers brews with a view over Lake Jindabyne. The brewery and cellar door features six craft beer on tap include a red ale, pilsner and viessbier.
Batlow is south of Tumut and is home to one of Australia's iconic 'big things' – the Big Apple. The area is famous for its apples which are also used in the locally produced Batlow Premium Apple Cider. The region celebrates its renowned harvest at the Batlow Apple Blossom Festival in October.
For a truly unique food experience, the ecotourism-accredited Eucumbene Trout Farm, half an hour from Jindabyne and Cooma, offers a fishing adventure where you cook your catch.
AUSTRALIAN BIKE PARKS
We simply can't leave an article talking about outdoors without giving you more information about riding. So here are the bike parks tyou may want to spemd some time in when you are inm Australia.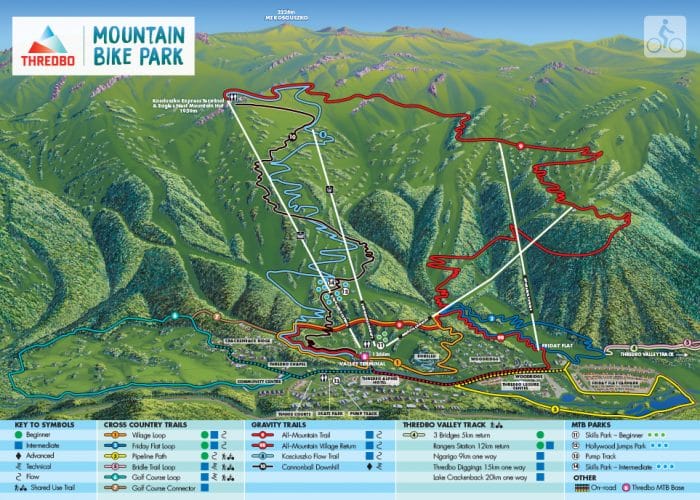 Thredbo – Thredbo is located roughly 6 hours drive from either Sydney or Melbourne and 2.5 hours drive from Canberra, which can be conveniently accessed by car, bus or plane. It is located within the Kosciuszko National Park in the NSW Snowy Mountains and is open 365 days a year.
Contact: www.thredbo.com.au
Bike Buller – You can get to Mt Buller via VLine Coach, drive or fly. The biike park is 1.5 hours from the Hume Highway at Benalla. Driving times from capital cities are: Melbourne: 3 hours, Canberra: 6 hours, Sydney: 9 hours and Adelaide: 9.5 hours. It is 3 hours from Melbourne's Tullamarine Airport, and 2.5 hours from Albury airport. Hire cars are available from both airports.
Contact: http://bike.mtbuller.com.au
Green Valley Mountain Bike Park – Greenvalleys is a Boutique Mountain Bike Park on private property, located in the foothills of the Macquarie Pass National Park, Tongarra, NSW, Australia.
Contact: www.greenvalleysmountainbikepark.com
Stromlo – Ten minutes drive from the center of Canberra, Stromlo Forest Park is open to the public at most times.
Contact: www.stromloforestpark.com.au
LIKE and FOLLOW us: Bikezilla Facebook Page • Bikezilla Bikers Singapore Group Page • BikezillaSG Instagram • Bikezilla STRAVA
All photos by Destination NSW, Dee Kramer, Thredbo
All information from Destination NSW, Thredbo, Buller Bike, Green Valley Mountain Bike Park, Stromlo