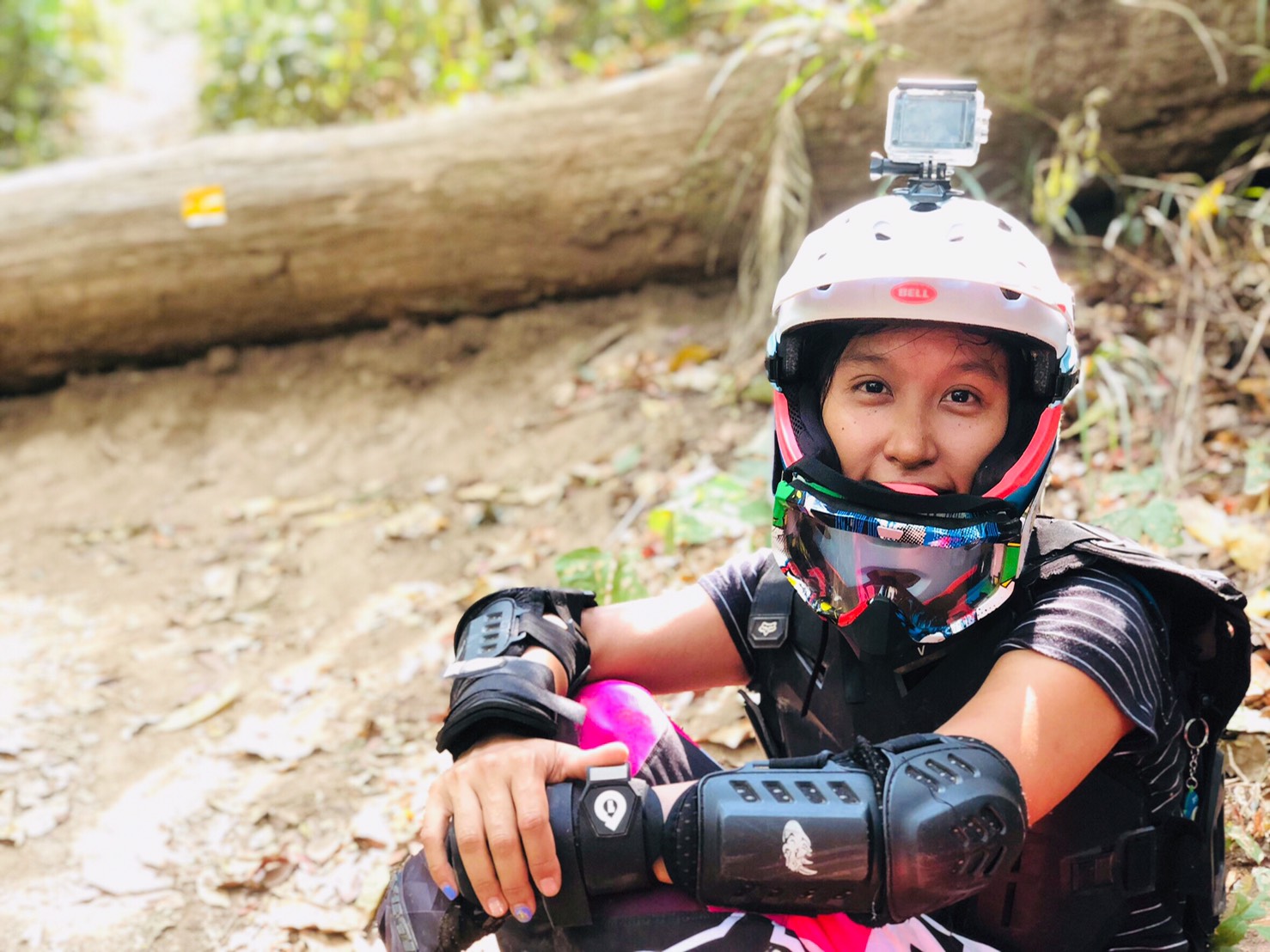 PERSONALITY: THE GIFT OF STRENGTH AND HOPE 
NEW-GIRL-ON-THE-BLOCK TO THE CHIANG MAI DOWNHILL SCENE SHARES AN INSPIRING STORY OF BATTLING SICKNESS AND THE POSITIVITY THAT COMES FROM CYCLING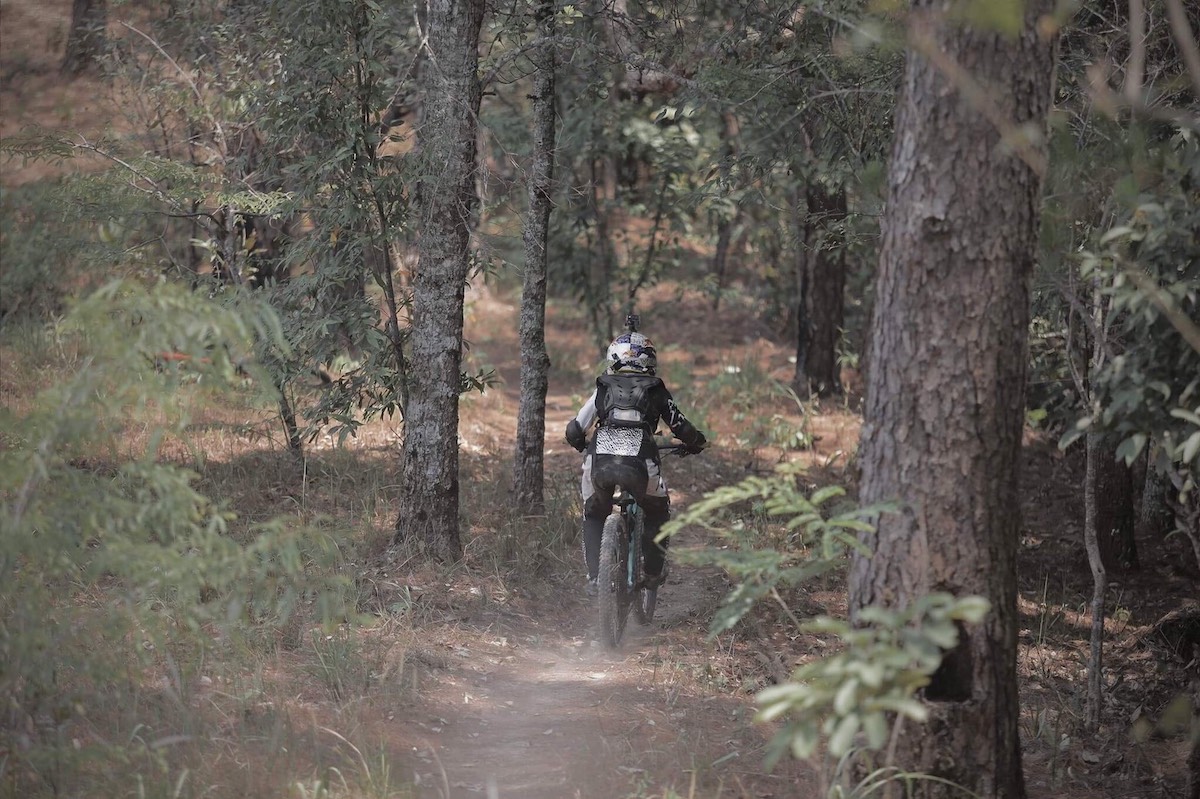 When we first met Gift, we had the casual impression that she's one of those sporty fun-loving Chiang Mai mountain bikers that is always cheerful, full of energy and extremely fit. Little did we know that as we chatted on, we discovered more from her than we had expected. If you think inspirational stories are distant social media material, here's one that's really close to our heart. It's from our best riding brothers and sisters in Chiang Mai. That's "tight story" by Bikezilla standards.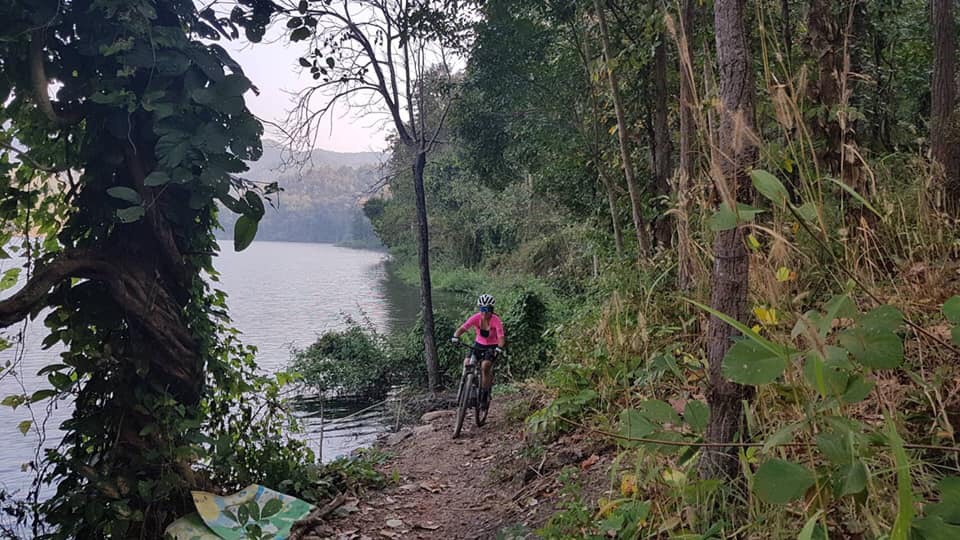 A GIFT OF LIFE
Gift was quite surprised why we wanted to interview her, considering she is a new-girl-on-the-block in the Chiang Mai downhill scene. 4 months into mountain biking and she was already in the midst of one of the best riding spots in Asia – Doi Sutep Chiang Mai, and shredding with the local downhill homies. Lucky girl. With her road biking experience, competition level endurance and nature-loving personality, we see her moving up the game pretty fast.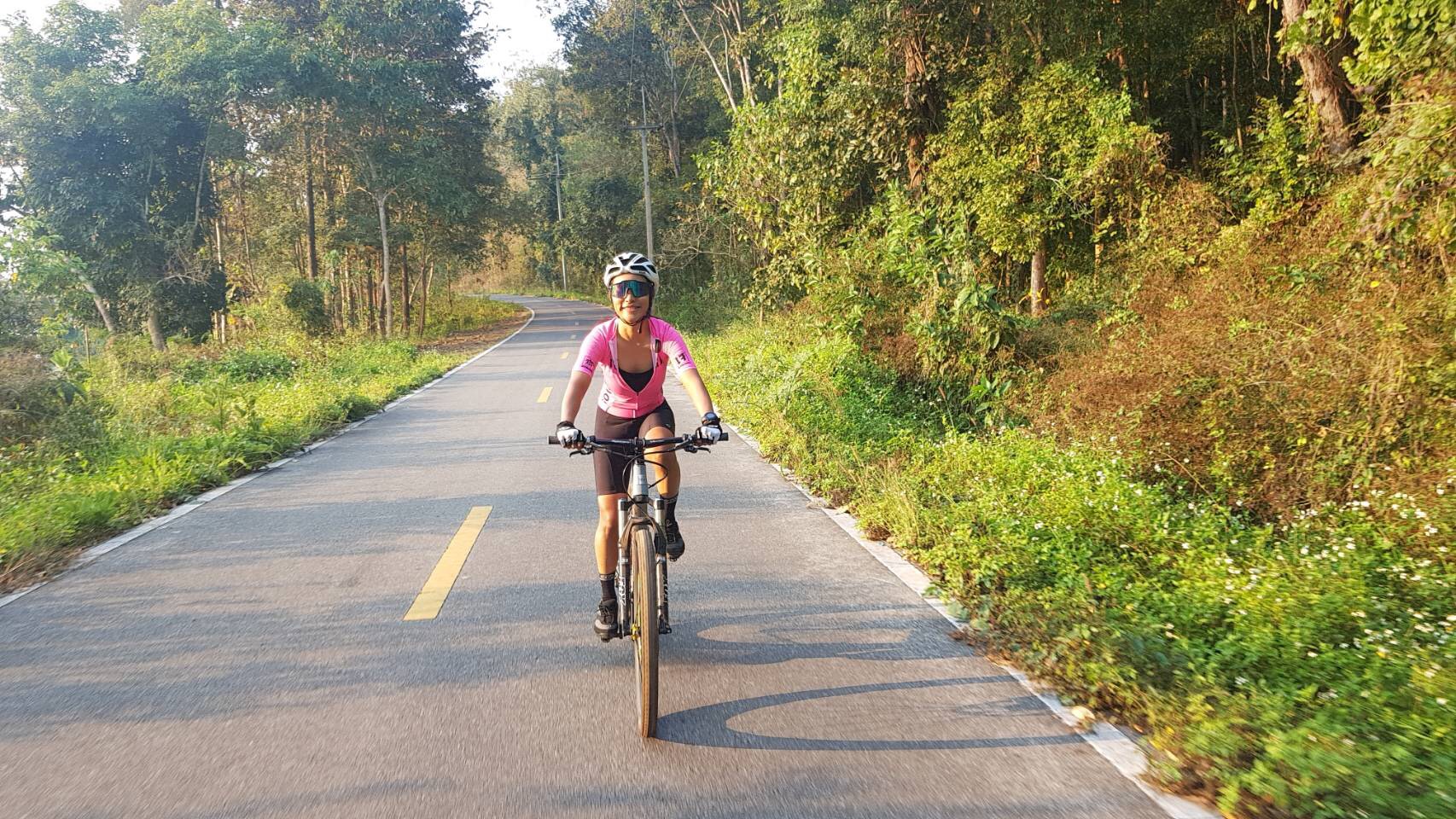 LET'S INTRODUCE THE NEW KID
Name: Khanittha Tantisaneepong  (Nickname: Gift)
Age: 33
Years on Wheels: Aged 9 to 15; StopPED for study then contracted cancer. Started cycling again at aged 28 till now…. 13 years so far
Years Mountain Biking: Rode MTB from 9 years old til 12 years old. Started again 4 months ago. (2018)
Countries Ridden: Only in Thailand, all around the northern provinces. In the south, I have ridden in Hat Yai and Songkla. I once rode from Chiang Mai to Bangkok on a road bike.
Races Joined: I started aged 9 on MTB and rode 40 races until I was 12. I qualified for the national junior games representing northern Thailand on 3 occasions. Of these I won one inline race, came second in another. I did the team time trial and won once and came 2nd once.
Team: Bike Zone
Work: Bike Zone Chiang Mai, Freelance Yoga teacher. I also have a juice & smoothie bar at the night market.
Current: Santa Cruz Bronson
What do you Like about your Bike: My bike is very positive and that gives me confidence when downhilling at speed and jumping because it is easy to control
What do you Dislike about your Bike: Nothing!
Favourite Trail: Viewpoint at Doi Suthep. I like it because there's a good 6 km ride up and then the descent is very fast and technical. You have to stay focused all the time. It's short and sweet – you don't have to work too long! If I have free time I also like to go to Gee's House Trail, Bamboo Trail, ATV Trail and Ironman Trail as they are all good too.
Mountain Bike Idol: Danny MacAskill
Dream Bike: Santa Cruz V10
Favourite Food: Everything vegan
Favourite Hangout Spot in Chiang Mai: No time to hangout. Cycling with friends is my hangout time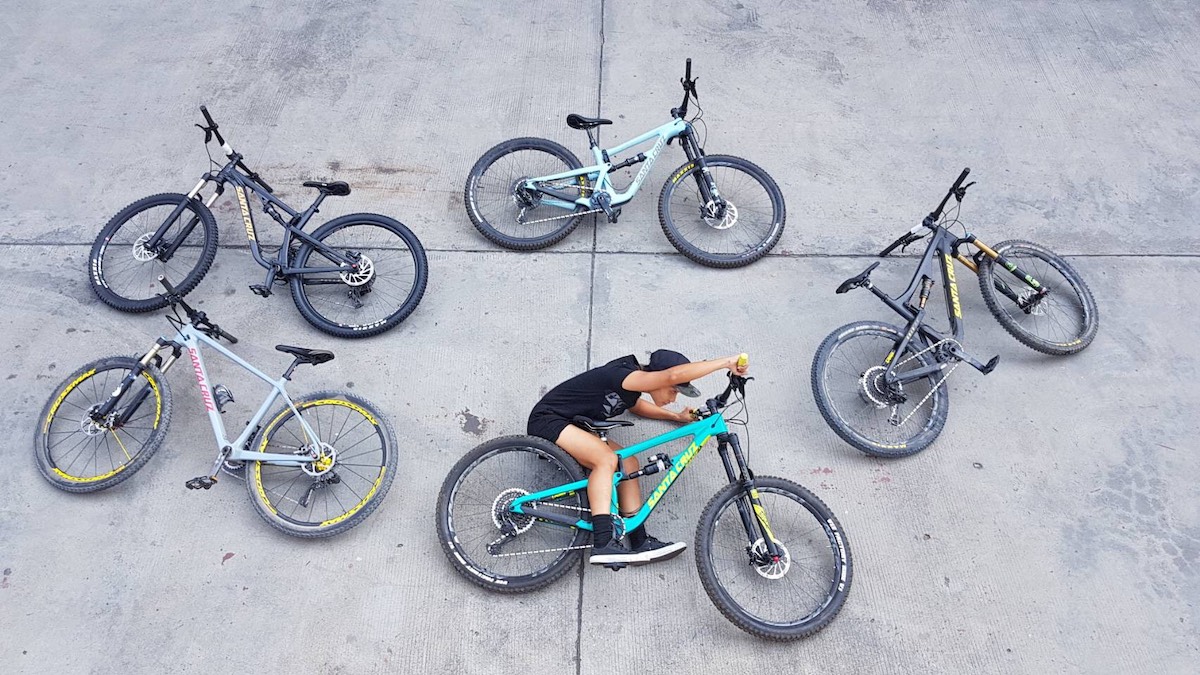 FIGHTER SPIRIT GENTLE SOUL 
How did cycling become a big part of your life?
I was born in Chiang Mai and started cycling when I was 9 years old with my elder brother and father. My brother used to ride competitively. Then, I too start to join races. During my first race, I got champion, but there were only 3 girls in my age group! So every one of us wasa podium winner! I loved cycling so much because I could go to many places with this sport. We went camping with our bikes and I loved those experiences. When I was 13, I switched to a road bike and rode with the Chiang Mai Juniors which gave me the opportunity to qualify for the National Junior Games. It was then that I found the pressure from the team a little too much for me. The coaches pushed us too hard and it took the fun out of cycling. So I withdrew from the term eventually and decide to concentrate on my studies.
When I was 19 I went to University to study Fine Art but I was sick all the time and did not know what was wrong with me. I subsequently changed university and studied Applied Art but by the time I was 21, I learnt that I had cancer in my liver and lungs. The doctor told my father that I would only survive 3 months. I had chemotherapy 9 times and the cancer went into remission. I went back to my studies after that. This was a key event to me and had led me to change my course to Nutrition and Foods. Some time later, due to working too hard and had not given myself enough time to recover, the cancer came back to my liver which was enlarged by then. I turned down further chemotherapy because I knew in my mind that I could beat this cancer.
I took up Yoga, Meditation eat only healthy food and cultivate more positive thinking. I was only 26 and was determined to enjoy a healthy life. Two years later I went back to my favorite sport – cycling. This time, I would cycle for fun, ride some AUDAX and enjoy biking without pressure.
When I started cycling again, I met my coach Ian Franklin at the Chiang Mai Velodrome.Ian has been most helpful and had given me many valuable advice. I appreciate that a lot. I am more confident now and  feel that I can get more success on my bike which I am enjoying so much.
Cycling was in my family and that was how I got introduced to the sport.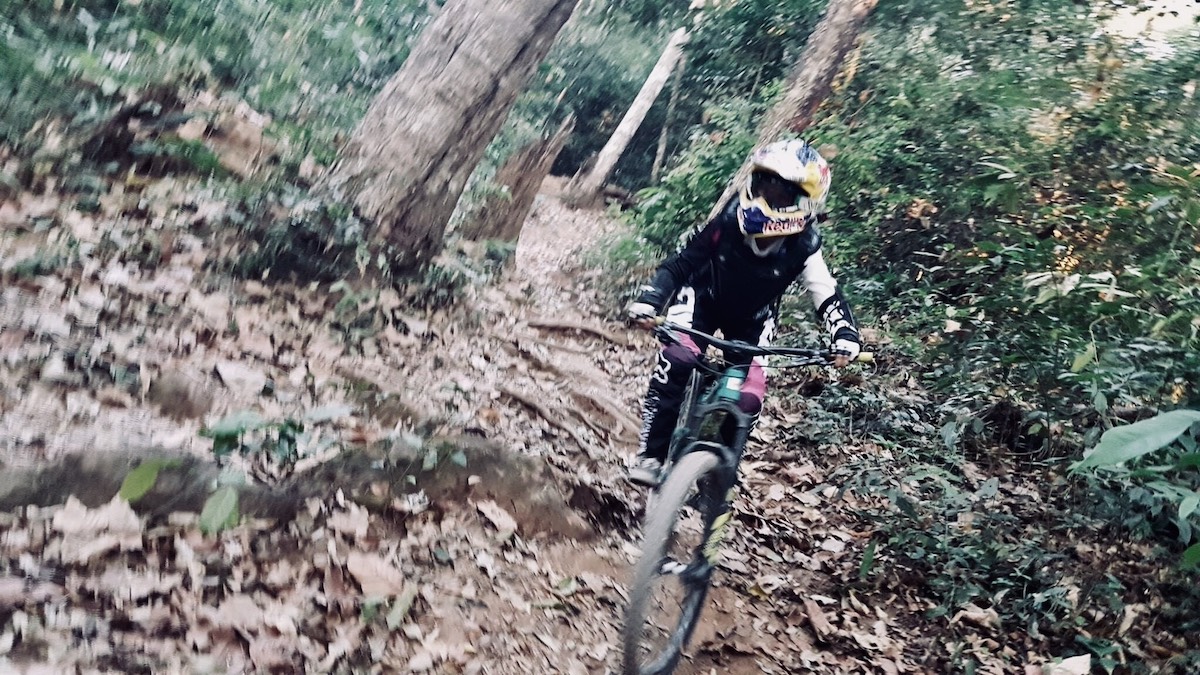 In your opinion, what is the main difference between road and mountain biking?
I like mountain biking because I do downhilling –the skills and thrills involved are very different from riding on the road. I like the road too because of the speed and teamwork.
What do you like/dislike about road biking and mountain biking?:
I like everything about both disciplines but on the downhill trails there is no traffic! The Chiang Mai mountain biking community is a friendly group, which means that there are always people to help each other in the forest.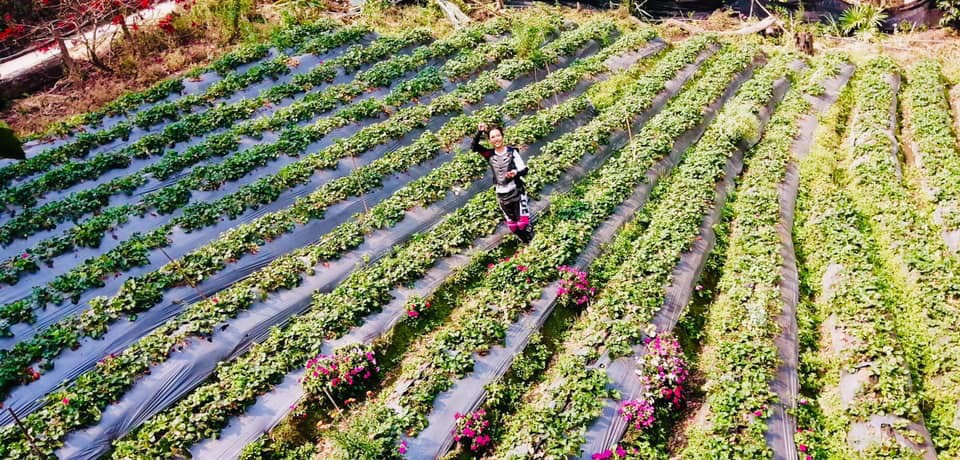 Are you a mechanic?
I can do all the regular maintenance work on my bike but for the big jobs, Valentine – the mechanic at K Bikes always does a brilliant job.
What is your role at Bike Zone?
I do everything! But I like working with customers and selling bikes to them. I can also help customers by guiding them on their new bikes!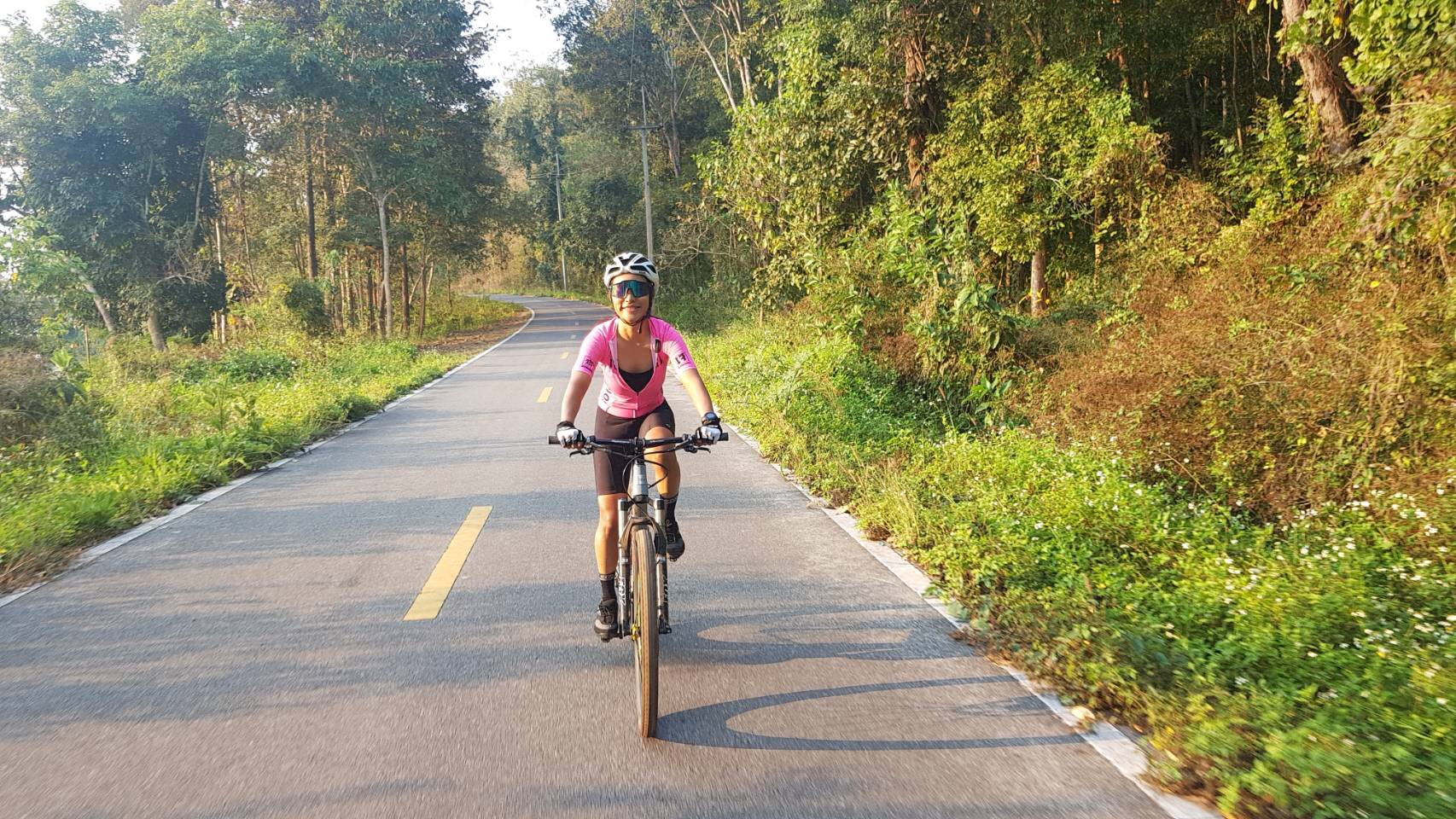 Does Yoga and cycling goes well with each other? 
Yes! First of all Yoga encourages stretching which is important for every cyclist. During Yoga sessions there are some meditation. This would help cyclists by teaching the importance of "Self-Awareness". Cyclists should be in touch with their own bodies and Yoga really helps with this. Finally, the breathing we use in Yoga is also beneficial for the cyclist.
Are there any training goals you have for mountain biking?
I want to continue to develop my skills, get fitter and stronger. My eventual goal is to enter some international downhill competitions within South East Asia and travel to Singapore, Malaysia, Indonesia, amongst many other countries.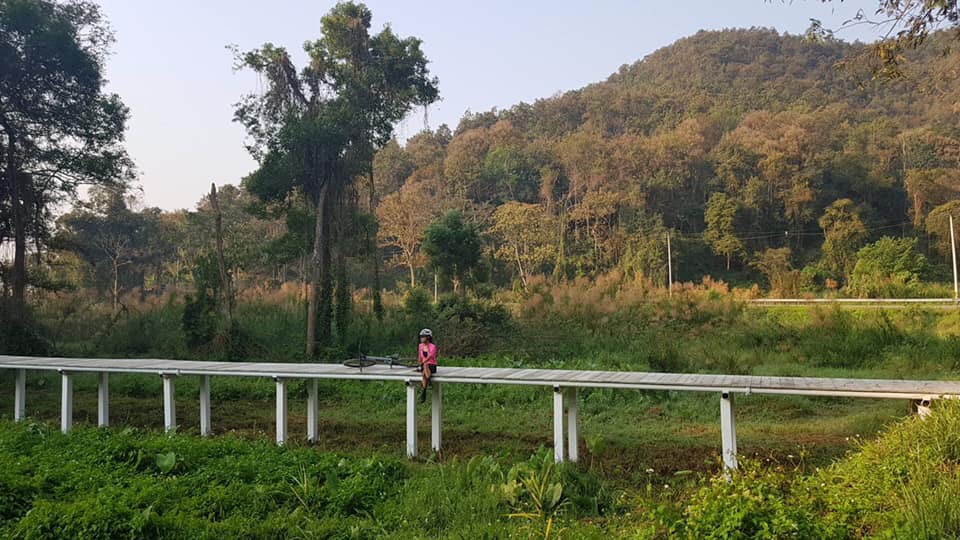 Will we be seeing you in any future races?
Yes I plan to ride the Enduro series race when it comes to Chiang Mai in November.
If you are given a chance to ride in any country where would you go and with what bike?
I would love to go all over Europe where there are a lot of opportunities to race downhill on my Santa Cruz bike!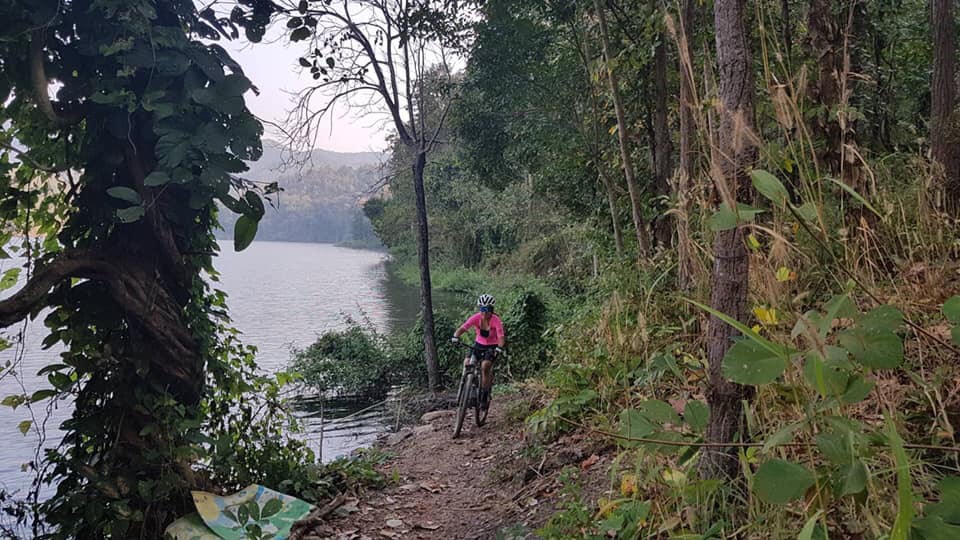 What other stuff keep you busy? 
Reading, cooking Thai vegan food, looking after my cat, listening to music and watching cartoons.
What would you say to a friend if you want the to start mountain biking?
"Here's a bike. Come with me. You'll love it!"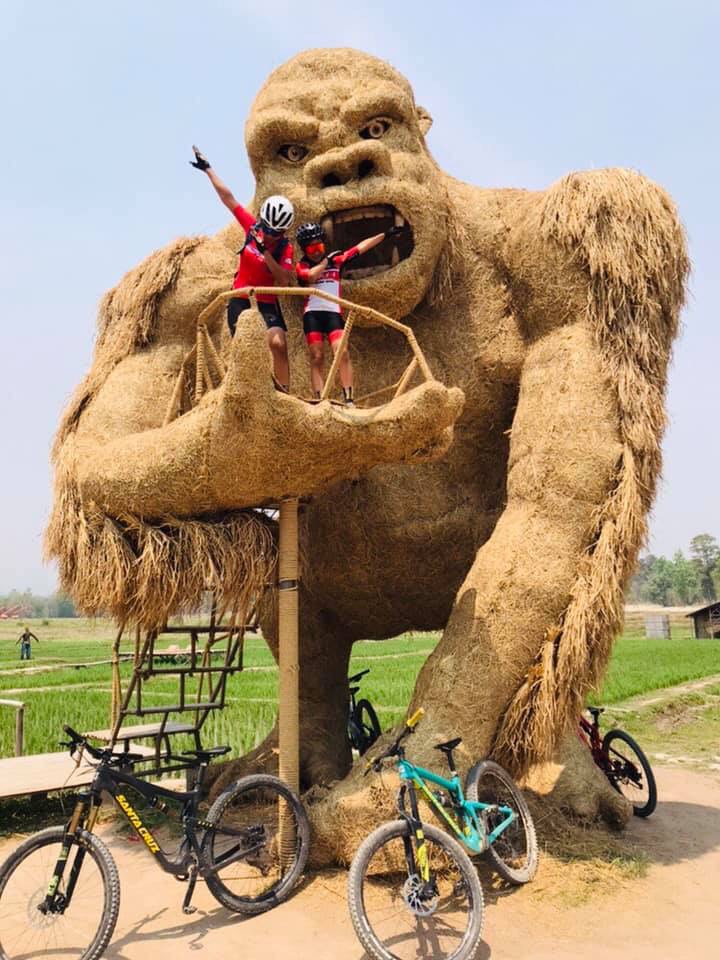 All photos by Gift 
Bike Zone is at:
34/3 Biz Point 2, Mae Hia, Mueng Chiang Mai
50100 Chiang Mai, Thailand
website: www.bikezone.co.th
Facebook: www.facebook.com/bikezonecm
LIKE and FOLLOW us: Bikezilla Facebook Page  • Bikezilla Bikers Singapore Group Page • BikezillaSG Instagram • Bikezilla STRAVA