GO-GREEN MOUNTAIN BIKER NEUA PANCHAREON'S ONGOING EFFORT FOR A BETTER WORLD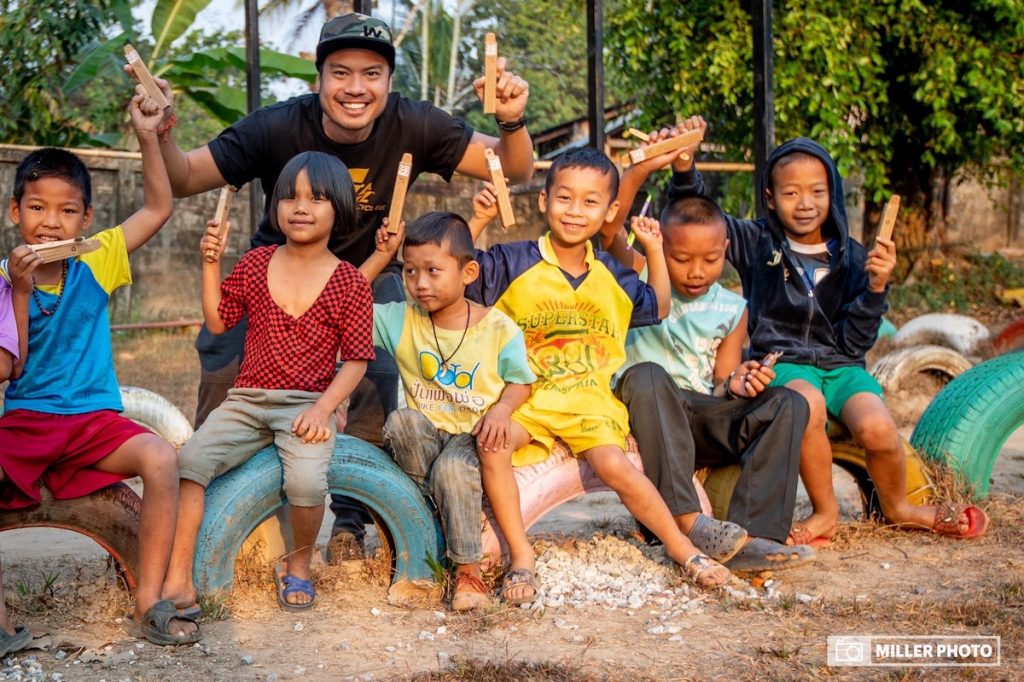 The current BUG situation has impacted the world greatly and changed the ways we work and think. When times are good, everybody tend to take things for granted, an unnecessary byproducts of business competitions turned slightly off the healthy limits or simply a matter of bloated ego. We could say that crises have the side effect of being a sort of universal reboot catalyst, and we are in the midst of one such reboots. Amidst the bleak outlook, we see some good coming out from it – the good side of humanity becomes more apparent.
One fine example we spotted and would like to mention is the Daily Free Food Supply from Leaf Greener Me with Food4Thought. (Ed: Yes, we grabbed this opportunity to single out a bike-related charitable act, and I'm sure our readers would love such stories).
Just how does Leaf Greener Me, Daily Free Food Supply with Food4Thought and biking goes together? We let the dude behind this project share it in his own words.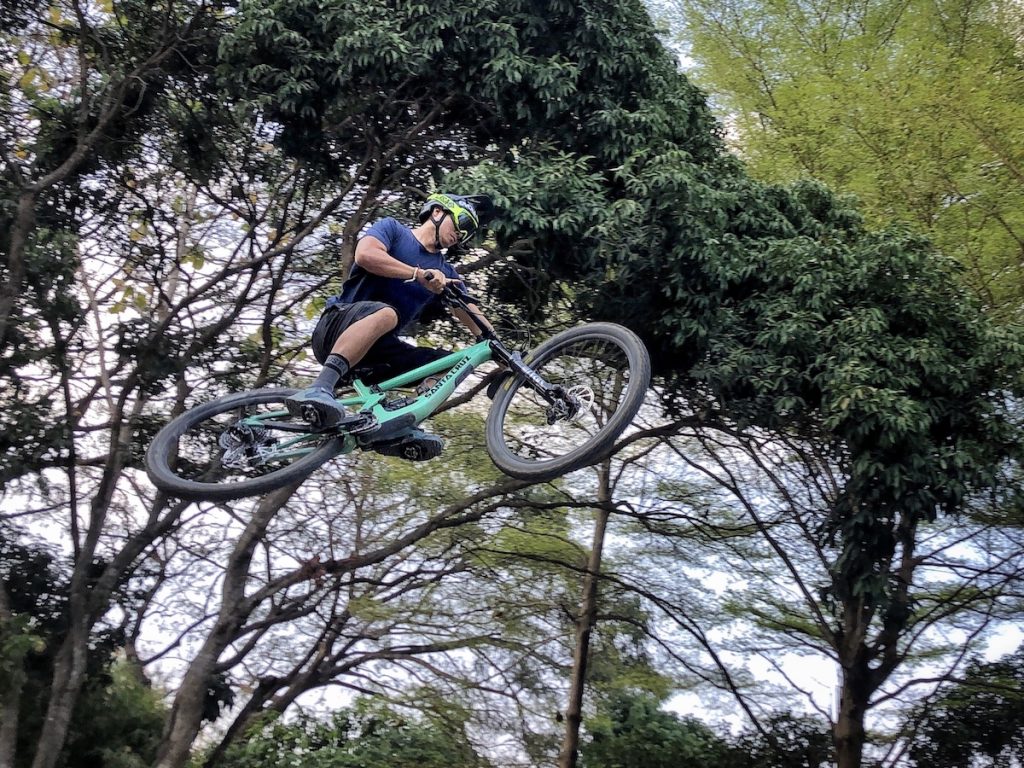 QUICK INTRO
The man behind this project: Neua Panchareon
(FB: Neua Panchareon, IG: @neuapanchareon)
Daily grind : Mountain Biker (yes, I also get paid for riding my bike), business owner, I founded and own a few businesses in Chiang Mai. These are WILDSIDE, Leaf Greener Me, CM Bike Playground. I'm also a business partner of X-Biking Chiang Mai..
Years on 2 wheels and pedals: Over 20 years
Age: 27
Currently residing at: Chiang Mai, Thailand (have been living in Australia, Canada, Spain and Germany in the last 10 years)
Sponsors: WILDSIDE, Bike Zone, Santa Cruz Bicycles Thailand, Evoc, X-Biking, Leaf, Sparta Lifestyle, ION
Current Bikes: Santa Cruz Megatower, Santa Cruz 5010
Favorite trail: I've been travelling all over the world from Australia to Africa to Asia to Europe to South America and to North America, even to some remote islands in the Pacific and Atlantic to ride bikes and I got to say that I cannot pinpoint just one favourite trail. All the trails are my favourites, as they are all different, all have different characters and they are all amazing because I get to ride my bike.
What do you see yourself doing in 5 years' time: Riding bikes and having fun while leading a sustainable life. Maybe starting a family.
Trail dog (trail pet): Currently not, would defo like to get one. I want to adopt a street dog that needs a home.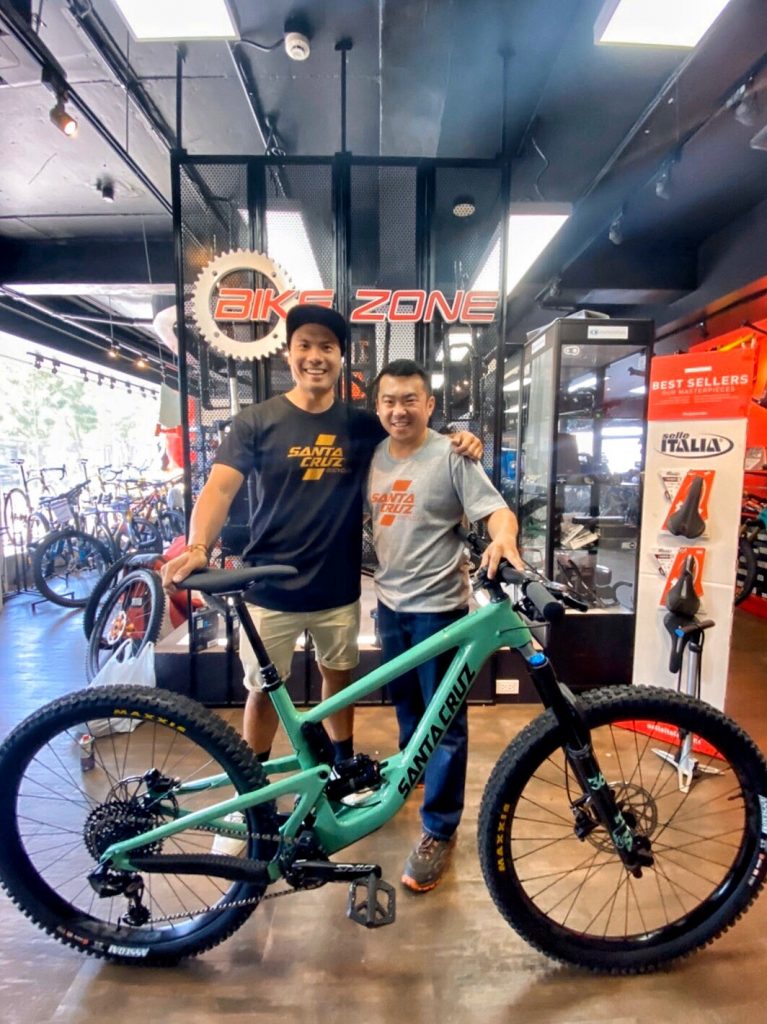 GREEN LIFE AND MOUNTAIN BIKING
PLEASE TELL US ABOUT THE DAILY FOOD SUPPLY PROJECT. WHAT SPARKED THIS IDEA/PROJECT? AND WHAT ARE YOUR THOUGHTS ABOUT DOING THIS PROJECT?

The idea started when I realised the impacts that the Covid-19 pandemic have on the people around the world. I can't help everyone, but I can surely do something to help the people in my community. I see that many have lost their jobs, but they still have families to feed. Many people in Chiang Mai don't have any savings, if they don't work, then they can't eat, it's that simple. I want to cook foods for people, but I don't have a big kitchen that I can cook a lot of meals to feed people, but luckily I know people that are able to. Food4Thought is one of my most favourite restaurants in Chiang Mai and they are also a dealer for the products of my sustainability company, Leaf Greener Me. They started the free food giving program and I jumped on board as soon as I found out. I've donated a significant amount of cash through Leaf as well as, products to be given out to those in needs for free food. Overall, Food4Thought has been cooking up over 300 meals per day to give out to people affected by the pandemic and I will continue to support this effort until the situation becomes normal again. Since the start of the free food program, Food4Thought has been given out over 10,000 free meals, and the program is still on-going.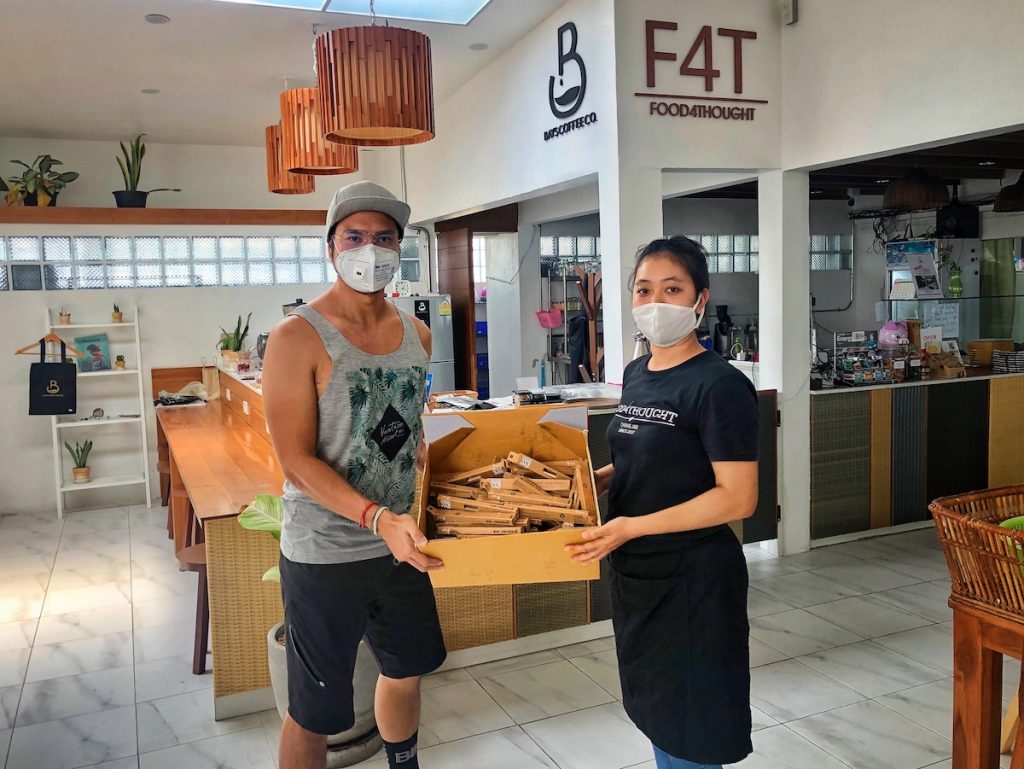 WITH SALES DECLINING FOR BUSINESSES, IS THIS PROJECT AFFECTING YOU AND YOUR COMPANY?

Of course, our sales have declined, most of our dealers are closed due to the pandemic, but we have been quite fortunate that we can move our products to online platforms and that is doing quite alright. This free food giving program is part of our company's value of social responsibility, we want to be able to support our community when they need us. Personally, helping people gives me a lot of joy and I think with the current situation, it is more important than ever. I'm lucky that at the end of the day, I have a house to go back to, I have a fridge full of food and a comfortable bed to sleep in. Many people around the world are not as lucky, and if those fortunate fews are not willing to help out, then this world is not a nice place to live… WE NEED TO HELP EACH OTHER!

HOW LONG DO YOU INTEND TO CARRY ON WITH THIS PROJECT?

As long as it takes. I also have many other community service projects that I participate in every year. My family runs a foundation called, Time to Share. We provide rural villages across Thailand with water filtration systems that do not rely on electricity. Electricity haven't reach these villages yet. We go to these villages every year to build the system for them to ensure that they all have access to clean drinking water, all expenses are from our own pockets and also donations from our friends and colleagues. We also build schools, donate medical supplies and cook food for the villagers. We always invite all those that makes donations to go on these construction trips deep in these rural villages with us. You can see photos from the latest trip on Miller Photo Facebook Page. Up until now, we have already installed the water filtration systems in over 500 rural villages across Thailand!
Click here to view one of Time to Share's water filtration system trip with Henrik Miller here.
PLEASE SHARE WITH US YOUR GO-GREEN SENTIMENTS.

If we take the current pandemic as a case study, then you can see that with the lock down all over the world, the environment is recovering. If each of us only do our parts in reducing our carbon emission, we can do a lot for our environment. I'm definitely not perfect as I travel a lot all over the world for work and pleasure. However, I'm doing my best to reduce my impacts on the environment by not using single-used plastics, I try my best not to order take-aways, always carry reusable straws, cotton bags and I use bamboo toothbrushes. I only shop for my groceries from markets where I can get fruits and vegetables without any packaging. With these simple actions, I can already eliminate a lot of plastics from my daily life. I also always pay extra to offset my carbon footprints when I fly. I definitely think that more can be done to reduce plastics from our daily lives. People should not think that using plastic is a norm. We should take this pandemic as a resetting point and creating a new norm for our environment. "Let's not go back to normal because normal was the problem," (Green Peace, 2020).

AND WHAT ARE SOME THINGS MOUNTAIN BIKERS COULD OBSERVE AND DO THEIR PART IN THE WHOLE GO-GREEN LOVE OUR EARTH MOVEMENT?

Very easy, first of all, carry all your drinks in your drink bladder, do not buy bottled water. Never throw away anything at the trails, keep all your garbage with you and properly dispose them. Go for biodegradable chain oil, lube and cleaning detergents, they might be a bit more expensive, but definitely better for our environment. You can also offset your carbon emission when you fly for a bike trip or event.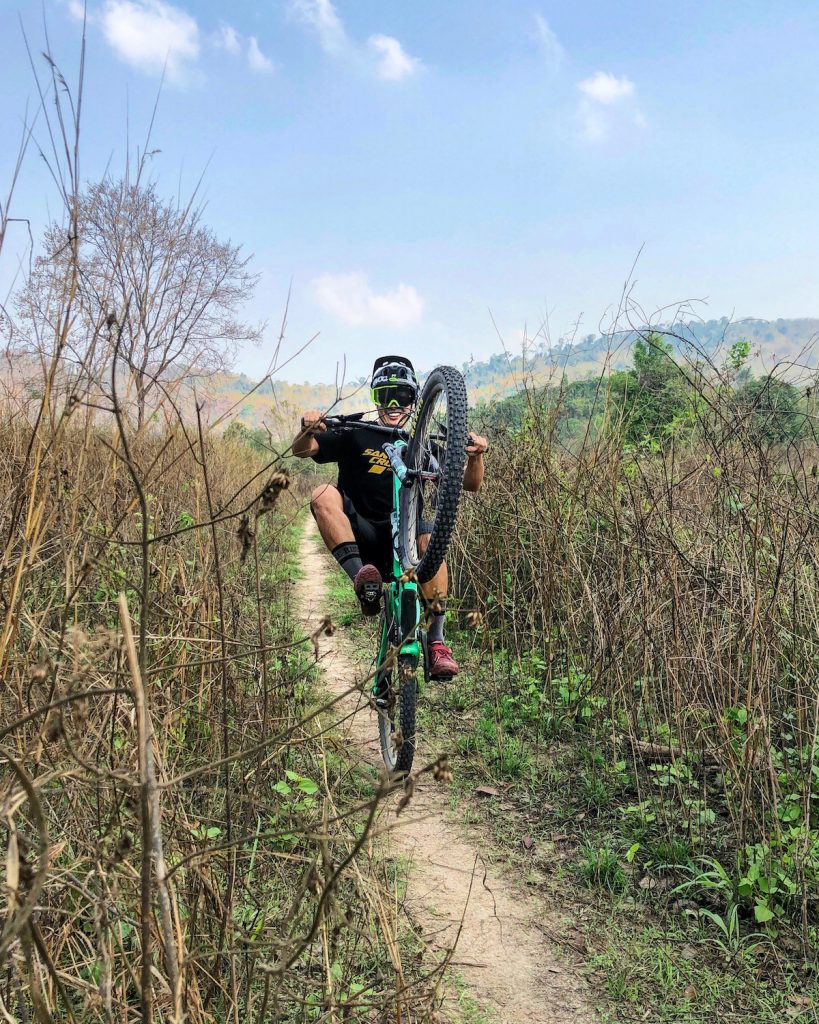 PLEASE TELL US MORE ABOUT LEAF GREENER ME.

The idea behind Leaf was born on the long roads of Iceland inside a small Ford Transit Connect. Up until this point, my girlfriend, Mona, and I have traveled the world, across all inhabited continents, in search of the amazing natural wonders that Mother Nature has to offer. We have seen many wonderful and remarkable natural landscapes on our journeys, and we also want our future generations to see and experience them.

We have always been conscious of our ecological footprints and have always looked for sustainable alternatives for our everyday-use products. It became clear on our travels that searching for sustainable everyday-use alternatives is not always an easy task. We have first-handedly experienced the plastic problems during our travels in Asia and South America. It was not easy to avoid plastic products in many destinations, but we have tried our best to avoid them.
On our road trip to explore the natural wonders of Iceland, armed with very basic toothbrushes made out of bamboo, the idea came to our mind… What if we start a brand in Thailand, offering high quality, good looking, sustainable everyday-use products, such as toothbrushes, straws, and other basic necessities that people needs everyday? It is relatively difficult to find these plastic alternatives in Thailand and we want to change that. What if we can make these sustainable alternatives become accessible for everyone? That was when the idea for "Leaf" was born and our journey continues…

In 2019, after a few years of extended research and meeting different manufacturers, we founded the Leaf brand. We want to provide everyone with high quality, trendy and sustainable products that are fair-priced and they can use everyday instead of the plastic counterparts.

Our story begins on the road, and in a way, it will continue on the road… the road to a more sustainable lifestyle.

You can learn more about Leaf through our FB, IG and website
FB: https://www.facebook.com/leafgreenerme/?ref=bookmarks
IG: @leafgreenerme
Website: leafgreenerme.com

… as mountain bikers can only enjoy this awesome activity because of Mother Nature. Without the mountains, we can't be riding mountain bikes.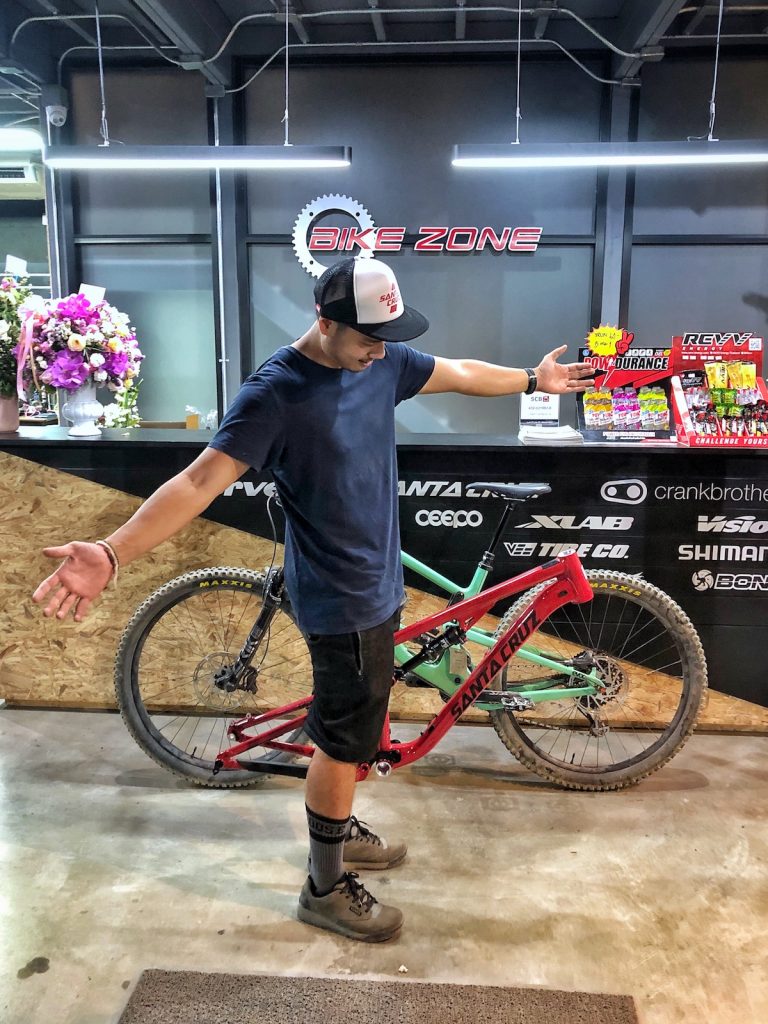 WHILE THE LEAF GREENER ME STORE CAN BE SITUATED ANYWHERE AROUND TOWN OR EVEN SIMPLY ONLINE ALONE, WE UNDERSTAND THAT IT IS NOW LOCATE AT WILDSIDE CHIANG MAI. HOW WOULD YOU MAKE THE BEST OUT OF THIS BIKER-MEETS-GO GREEN OPPORTUNITY?

Leaf currently has around 30 stores across Thailand through our dealers, as well as, our online store and online shop via third-party platforms, such as Lazada and Facebook. Our head-office is located at WILDSIDE (WS) due to convenience. However, we take full advantage of being located at WS to promote sustainable lifestyle. Myself, as the founder of WS, want to personally promote WS to be a sustainable outdoor community and that's why I've been asking all the shops within the complex to obey to certain sustainability rules. There are no one-use plastics given in WS, there are bins that are clearly marked for recyclable wastes such as PET bottle, aluminium cans or glass bottles, even the hand-soap in the toilets are organic, chemical free and biodegradable. Leaf is located at WS to offer sustainable lifestyle products to all the outdoor enthusiasts that are visiting.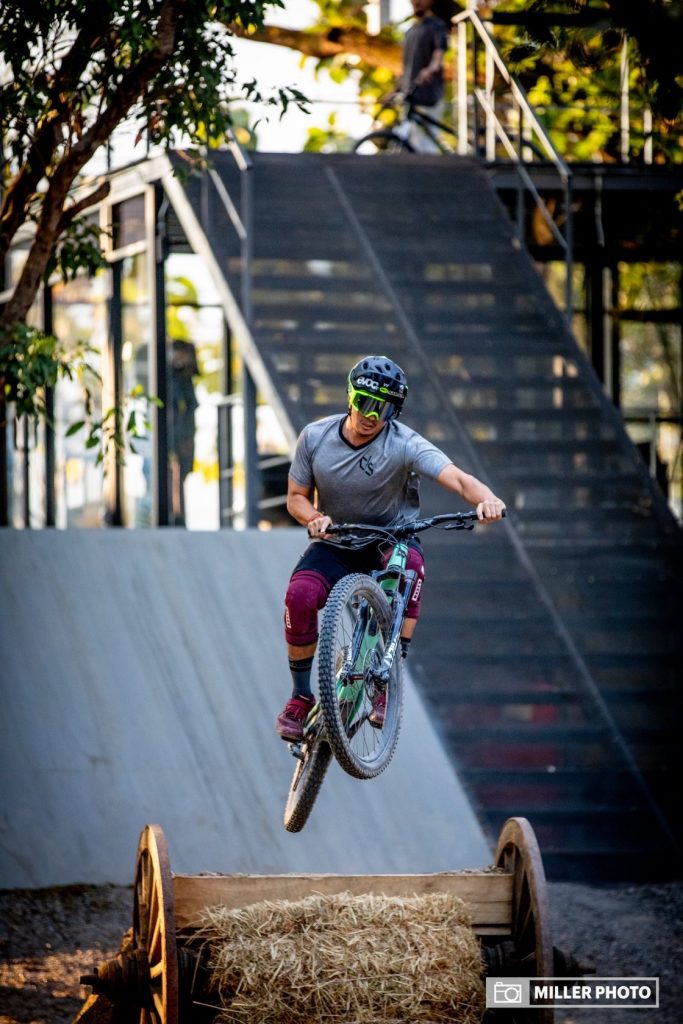 IS THERE ANY OTHER GO-GREEN RELATED ACTIVITIES COMING UP AT WILDSIDE CHIANG MAI ON THE CALENDAR?

Many! Keep your eyes on the WILDSIDE and Leaf social media platforms for updates.

ANY OTHER STUFF YOU WISH TO SHARE WITH OUR READERS?

Remember, we as mountain bikers can only enjoy this awesome activity because of Mother Nature. Without the mountains, we can't be riding mountain bikes. Mother Nature have created the most perfect playgrounds for us that no man can ever dream of building. It is our responsibility as mountain bikers and as humans to take care of the nature. It makes me so angry to see mountain bikers refusing to pay more for products that are environmentally friendly, but have no problem spending lots of money on expensive bikes and parts. People should realise that all actions even the smallest ones matters for the environment. Please be willing to spend a bit more to buy products that are environmentally friendly, to buy higher quality foods that are sustainably grown and support brands that are doing good for the world. Remember to live sustainably.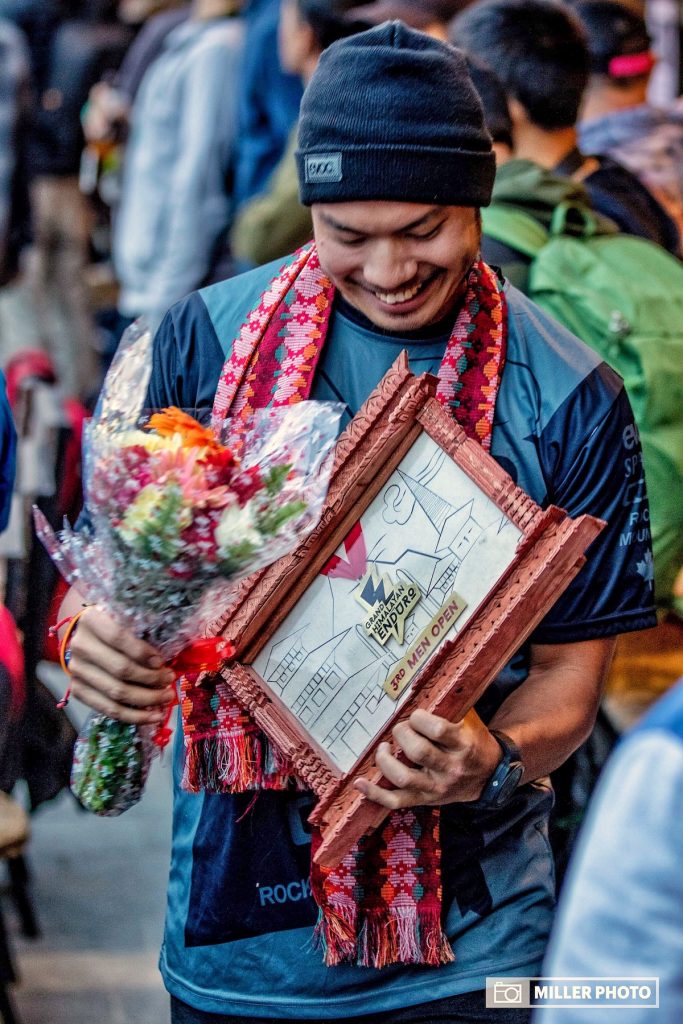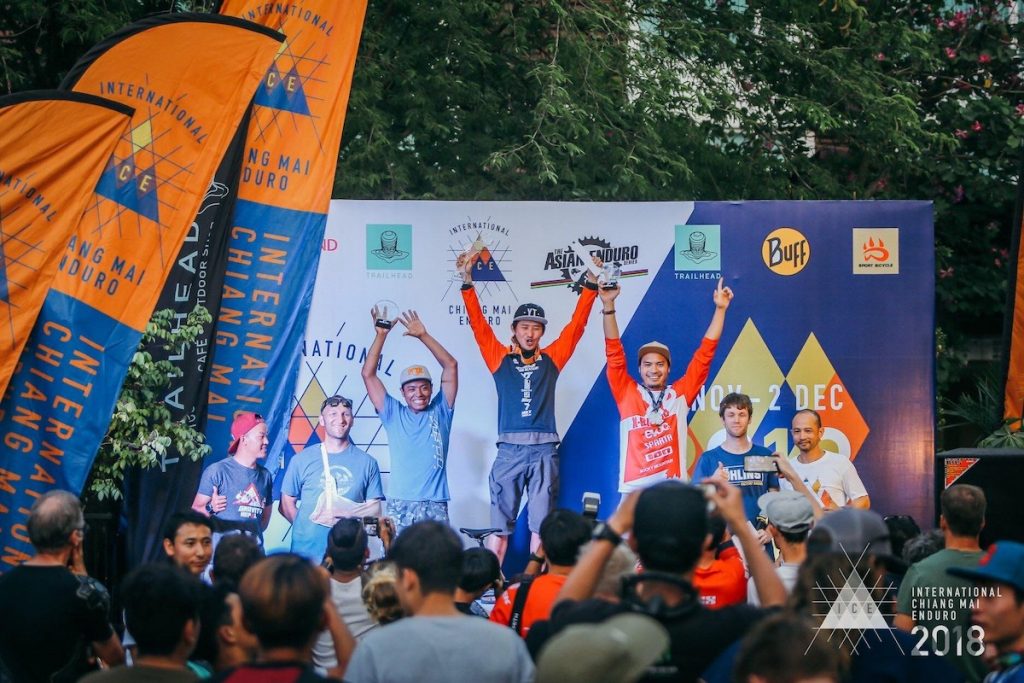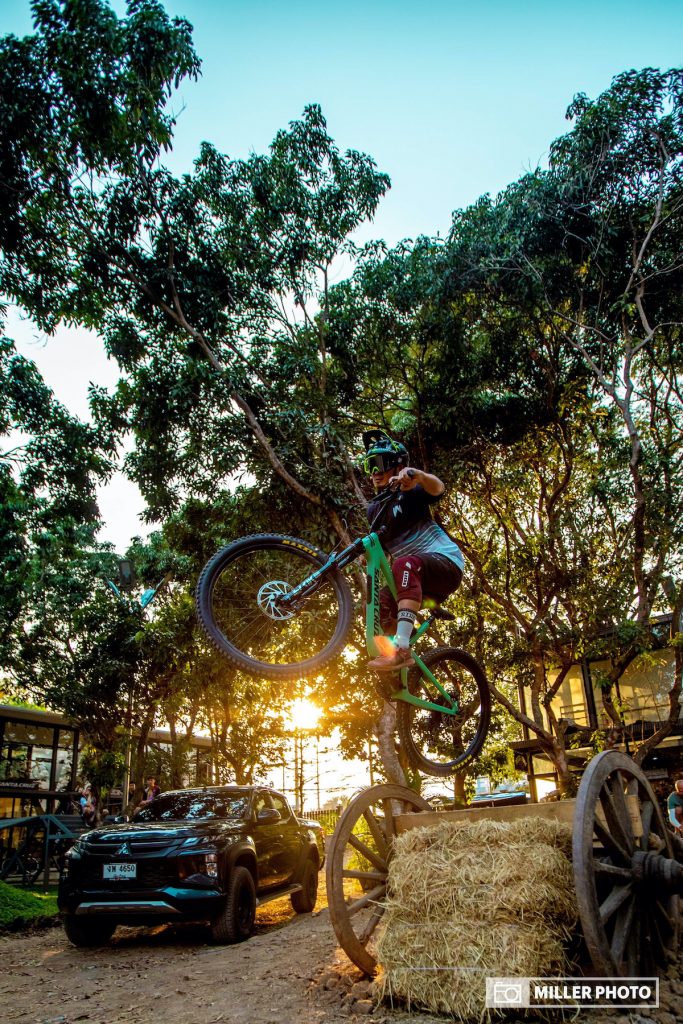 LIKE and FOLLOW us: Bikezilla Facebook Page • Bikezilla Bikers Group Page • BikezillaWorld Instagram • BikezillaSG Instagram • Bikezilla STRAVA
Photos by Miller Photo, Neua Panchareon, Wildside Chiang Mai and Trailhead Ching Mai