DESTINATION: CYCLE AND CRUISE 2014 IN TAIWAN AND JAPAN 
A CYCLE TOUR WITH A DIFFERENCE!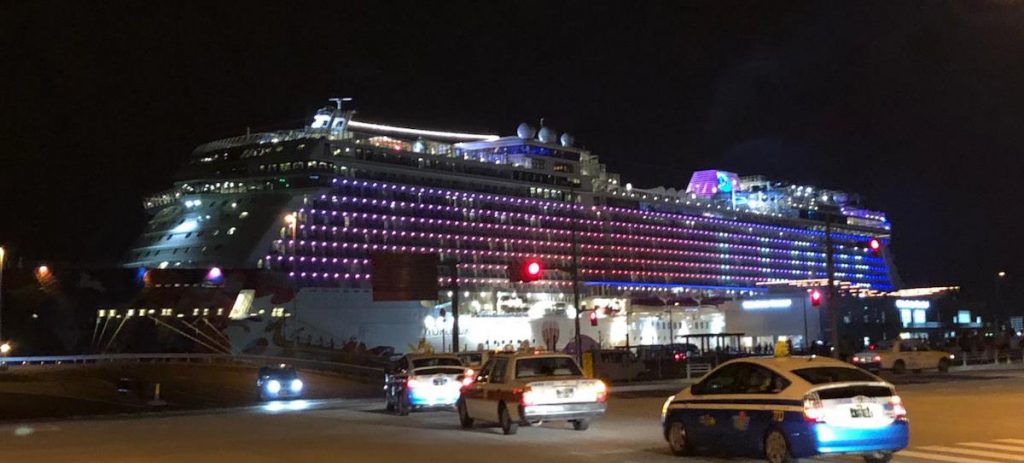 Promoting cycling has always been one of the backbone objectives of Bikezilla. Regardless of whether it is to promote the sport to existing cyclists to try out different cycling disciplines, rekindling mundane love for the sport or introducing the sport to new-comers – we always give our full support. One area that had us wrecking our heads for a long time was to find ways to get our spouses, boyfriends/girlfriends or buddies who are not enthusiastic cyclists to join in our rides and hopefully in the course of doing so, develop an interest in it. Enter Star Cruises with a brilliant solution!
What has a cruise line got to do with cycling? How about: Perking up an otherwise singularly-focused cycling trip itinerary? Check. Opportunities to cycle in different parts of the world? Check. Hassle free tour and logistic planning? Check. Cycling guides and technical support? Check. We can go on and on with the reasons but these few points mentioned rank tops for most. And that's what Star Cruises did – the Star Cruises Cycling Cruise 2014 to Taiwan and Japan.
THE STAR CRUISES CYCLING CRUISE TO TAIWAN AND JAPAN!
The Cycling Cruise 2014 to Taiwan and Japan is a 6-days/5-nights special Fly-Cruise-Cycle tour that happened from 20 – 25 September 2014. The tour included a cycling expedition that was supposed to cover a ride from Tamsui in New Taipei City to Keelung City, round trips in Naha and Ishigaki in Okinawa, Japan. All these would be covered in 3 stages of cycling over 3 days, each ride about 50-60 km. The recent trip had the Naha stage cancelled due to typhoon, with the port at Naha closing for the storm. The ride then continued at Keelung. While the bad weather dampened the group's mood initially, the subsequent rides and fun pumped the group's morale up again.
THE ORGANIZER AND THE SUPPORT
The cycling portion of the tour was handled by Giant Adventure from Taiwan. These guys are highly experienced in organizing long expedition trips. They were a great asset to this trip for the technical and safety support. This is the third time Star Cruises organized cycling cruise tour, and the experience they acquired from previous trips were evident. Logistic planning and on-site management were well executed. The tour group were definitely in safe hands throughout the ride. In addition to the Taiwanese guides, Singapore national team cyclist Mohd FazBoi also joined the tour and provided a lot of motivation and mentoring for the group.
THE CYCLING EXPEDITION
Before each ride, the cyclists were briefed about the day's ride, had their bikes checked and tuned up (where necessary) and made to do warm-up and stretching exercises to get them ready. The support/safety van would also had its supplies replenished. There were always ample water, fruits and energy-boosting snacks ready for the cyclists.
The first stage of the expedition sent the group to Taipei's Yangmingshan National Park, a 800m altitude mountain with winding tarmac roads that stretches for approximately 20km uphill. The ride started from Tamsui Furong Hotel with a leisurely paced 5km ride to the foot of Yangmingshan National Park. And from there it was a long climb up to the top. As the group was made up of cyclists of varying fitness levels, the guides kept the cycling speed to a comfortable level. The faster cyclists were given the go-ahead to move forward faster with one of the guides. All cyclists' safety were well monitored. The support/safety van stopped at intervals to replenish water, offer fruits and energy boosters or to pick up cyclists that may not wish to continue their ride for the day.
The group eventually climbed up to a scenic point's car park, rested a short while for some much deserved photo-taking and descended the mountain from the way they came. The exhilarating descend was pure joy and the group were all grinning from ear-to-ear at the rendezvous point. It is this feeling of "earning the right to descend" that made it worthwhile to climb the mountain.
The guide from Giant Adventure are superb cyclists and could cater to any group's preferred speed and distance. This would make a ride trip more rewarding and enjoyable as it would be based on each tour group's skills, stamina and objectives. In some cases, they could even split the group up so that the faster and stronger group would ride a longer and more challenging route.
(Grey shade denotes cycled distance)
The second ride was in Keelung. Due to the typhoon, the Naha ride had to be canceled so the group decide to take a more leisurely ride around Keelung heading towards the port where the ship would be berthed. Of course, we could have opted for another Yanmingshan National Park challenge and ended it at Keelung but, as mentioned, the group had cyclist of different skills and stamina levels, so the guides decided to bring us on a more leisurely route which runs along the scenic coastal roads.
(Grey shade denotes cycled distance)
The 3rd ride at Ishigaki is a relatively easy ride as the terrain is quite moderate throughout the route. For this group, it is a good recovery plus sight-seeing ride across a small Japanese town with photography opportunities at many spots.
(Grey shade denotes cycled distance)
GROUP DYNAMICS
While seasoned cyclists may not think much about doing a 20 km tarmac road climb uphill with varying gradients, it would give beginners sweaty palm or butterflies in their stomachs just by thinking about it. But the surprising thing about this trip is that; more than half of the cyclist reached the upper hill rendezvous point within the allotted time! Such is the wonder of riding together in a group and motivating each other. While the better cyclists were up front showing the others that the climb uphill is achievable, the cycling guides from both Singapore and Taiwan were there to motivate and offer assistance for the cyclists whenever they needed help. Tiring? Definitely. Rewarding? More than the group can describe!
The ride up Yangmingshan National Park proved a few things:
– Your bike is your best friend, tune it to the way you are most comfortable with and you can do wonders with it!
– Your riding friends are very strong mental (and sometimes physical) support to you – you can race them, get encouragements from them or just simply having them near you to feel good.
– Cycling is indeed for everybody! Ride up the hill fast if you feel up to it, otherwise just enjoy the ride and soak in the beautiful scenery.
– The sense of achievement when you conquer a cycling objective is usually beyond words – you have to experience it personally to know it!
– You will be surprised at what you can do (when you put your mind to it) versus what you THINK you can do.
And by the time they finished the descend, the group had became best riding buddies! Yes, another wonder of being in a group of like-minded people. In this case – cycling.
SEEING CYCLING FROM ANOTHER PERSPECTIVE (THE BIKEZILLA VIEW)
"Ride as much or as little, or as long or as short as you feel. But ride." ~ Eddy Merckx
This cycling cruise tour let Bikezilla think of this quote by Eddy Merckx. For those who ride "too much", it is easy to forget the true meaning to cycling after having cycled for many years. Beating the clock or getting the best Strava timings need not be the only reason to wanting to cycle. We can ride anywhere we like, in any discipline and on any bike, and push ourselves to whatever levels over different times. But as long as we cycles, we would feel that the virtues of cycling go beyond the physical pedaling and the physical fitness of the body. It is mental. It is emotional and it is also social. Different riding standards? No problem! Just ride and go as far as we can together!
With the above perspective stated, we would like to say that this cycling cruise is suitable for every level of cyclists as long as you love cycling and exploring. For the regular cyclists, this is one of the best opportunity to mix some leisure time with cycling and get your friends or loved ones who aren't regular cyclists (yet) to join in the fun. There is a high chance they will become cycle enthusiasts after the trip. A cycle-cruise tour also serves as an alternative to the other cycling-focused trips that you would usually go on your own. To the intermediate and beginner cyclists who has a variety of sport interests, this tour provides the activities and the sweet perks that make it a complete holiday. What better way to learn more about cycling, meet like-minded sport friends while making time for other holiday fun. And for those who do not cycle at all but wish to accompany your other halves or buddies for the trip, the ship is probably one of the best place for entertainment while they ride.
THE FOLLOW-UP AND MORE DESTINATIONS TO COME!
It was noted that many of those who joined this tour are now more interested in cycling than before! Now this is one big leap for promoting cycling and it stoked us. We would be expecting calls and messages from some of the new friends for advices on choosing suitable bikes for themselves. Way to go! As for the organizer Star Cruises, we look forward to them announcing more destinations for their cycling cruise tours. We are sure cycling cruises are going to be a popular way to spice up a cycling holiday, and it would continue to be a good avenue to promote cycling.
Visit www.starcruises.com
Photos by Bikezilla and Star Cruises
Maps and tracking via Nike